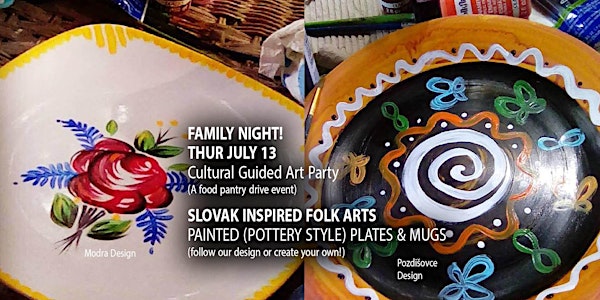 All Ages - Slovak Inspired Folk (Pottery) Art Party by Mesaros & Food Drive
When and where
Location
VOMA (Venue Of Merging Arts) 307 Chestnut Street Johnstown, PA 15906
Refund Policy
Contact the organizer to request a refund.
Description

*** SPECIAL EVENT*** WEST END FOOD PANTRY DRIVE & ART PARTY. THIS IS AN ALL AGES, KID FRIENDLY EVENT w/two ticket prices.
Guests who bring non-perishable food or personal care items will receive a $5 off coupon to a future public Mesaros A&E event. Donations benefit the West End Food Pantry--see enclosed list.
CREATE TWO Take-Home Masterpieces (plates or mugs) based on the Slovak Folk art pottery designs (or create your own)!

THURSDAY, July 13, 2017 ~ admission includes brief history on Slovak Modra and Pozdišovce pottery, guided art instruction for TWO ART PIECES, art supplies and coupon for future public Mesaros A&E event for those who bring a food pantry donation (excludes fundraisers).
First in a Cultural Arts Series featuring Slovak Inspired Folk Art (Pottery) - Painted Plates or Mugs in the style of Slovak Modra or Pozdišovce pottery. Learn about this centuries long Central European craft and then create your own! Join us THURSDAY, Junly 13 at The Venue of Merging Arts for this educational and creative guided art party with Mesaros Arts & Entertainment - Johnstown PA. (a Mesaros LLC brand).

Advance reservations ARE REQUIRED for this event VIA EVENTBRITE!!! Seating is limited. Payment options include credit (online), or check and cash (at the door) with reservation. We welcome all skill levels.

This is a FAMILY NIGHT - KID FRIENDLY EVENT with both adult and youth ticket pricing. Light refreshments will be providied, guests are also welcome to bring a sweet or salty treat to share.
FOOD PANTRY SUGGESTED DONATIONS - Although any non-perishable, food items are welcome, the center is especially in need of healthy kid's snacks, juices, applesauce and fruit cups, non-refrigerated yogurt pouches, oatmeal, oatmeal bars, trail mix, sugar, small bottles of instant coffee (especially decaf), baby diagpers, bottled water and quart zip lock bags. Toilletries needed include shampoo, perfume and soap.

Event admission includes:
-- Step-by-step instruction of select artistic inspiration.
-- Advanced skilled levels will given inspiration to explore their own creativity

Take home TWO masterpiece at the end of the session

Plan to arrive early to assure parking and to get started on time.
Great for community groups, fundraisers, corporate team building, reunions, non-profits and private parties. For private bookings and group discount, please email mesaros22@gmail.com to request details. Karen A. Mesaros is the former co-founder and co-owner of StudioPM LLC.