Sales Have Ended
Ticket sales have ended
Please contact Dianne White at white.dianne@icloud.com or call (316) 213-9626 if you wish to attend.
Sales Have Ended
Ticket sales have ended
Please contact Dianne White at white.dianne@icloud.com or call (316) 213-9626 if you wish to attend.
Description
The U.S. Naval Academy MO-KAN Parents Club, along with the Parents Clubs of the U.S. Military Academy & the U.S. Air Force Academy, cordially invites you to the 30th Annual All-Academy Holiday Celebration on Friday, December 30, 2016, 6 - 11 p.m.


Cocktails 6 p.m.
Grand Entrance: 6:45 p.m.
Dinner followed by
Guest speaker: 7:15 p.m.
Dance 8:00 p.m.
(featuring The Suburbans)
Dress: Military or Civilian Formal Attire
Cadets & Midshipmen attend free of charge. Cadets & Mids have the option to change into casual gear at the conclusion of the dinner. Large separate changing rooms will be available. Each will receive a commemorative t-shirt, which they are welcome to put it on for the dance!

Parking is free. Enter Arrowhead Stadium from the south side of the building.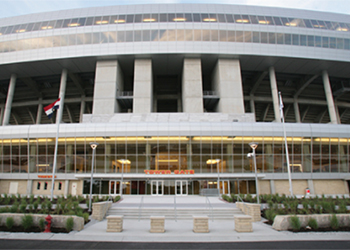 ---
Parents: Please provide 2-3 pictures of your Cadet or Midshipman for inclusion in the slideshow. Send photos to: kcacademyball@gmail.com
You will be asked to make your meal choice during the check-out process.
---
Donations Needed!
If you are unable to attend, consider making a donation so that we may make the event an outstanding one for our Cadets and Midshipmen.
In addition, we are asking businesses and individuals to help us sponsor this patriotic event. In doing so, you enable Cadets and Midshipmen to attend a memorable evening featuring an inspirational presentation from a top military leader, as well as great food and music. Your tax-deductible contribution will also provide the means necessary to send every Cadet and Midshipman home with a meaningful gift as an additional thank you. If you would like to become a sponsor, please contact Dianne White at 316.213.9626 or white.dianne@icloud.com.
There are two ways to donate:
Make a credit card donation via PayPal by clicking HERE.
Write a check and send it to: USNA Mo-Kan Parents Club, Lynn Gentleman, Treasurer, 11648 Bond St., Overland Park, KS 66210.
---
About the Guest Speaker
Rear Admiral (Ret) James I. Maslowski

The 2016 U.S. All-Academy Ball welcomes James I. (Jim) Maslowski as its keynote speaker. Among his many accomplishments throughout his distinguished Navy career, Maslowski is a decorated Naval aviator, former Blue Angels demonstration pilot, former commanding officer of the USS Kitty Hawk, and was designated while on active duty as a "Gray Eagle" for being the longest serving Naval aviator.
A native of Virginia, Minnesota, he entered the naval service as an enlisted man in January 1962. After two years as a missile technician in fleet ballistic missile submarines, he was selected for the Naval Aviation Cadet Program. He received his commission and was designated a Naval aviator in June 1965.
Maslowski's operational tours as a Light Attack pilot were with VA-56, VA-113 and VA-94. He has made nine extended deployments to the western Pacific, including three combat tours during the Vietnam conflict, and has logged more than 4,000 flight hours flying the A-4 Skyhawk, F-4J Phantom II, A-7E Corsair II and the F/A-18 Hornet.
He has flown from the aircraft carriers USS Constellation (CV 64), USS Ticonderoga (CV 14), USS Enterprise (CVN 65), USS Ranger (CV 61), and USS Kitty Hawk (CV 63). His senior operational tours were as Executive Officer and Commanding Officer of VA-94; Executive Officer of USS Kitty Hawk; Commanding Officer of combat stores ship, USS Concord (AFS 5); and finally as Commanding Officer, USS Kitty Hawk.
Among his many significant shore duty assignments include: demonstration pilot with the U.S. Navy Flight Demonstration Team, The Blue Angels; instructor pilot and A-7E NATOPS Manager with VA-122; executive assistant to the Superintendent, U.S. Naval Academy; executive assistant to Commander in Chief, U.S. Pacific Fleet; executive assistant to Commander in Chief, U.S. Pacific Command; executive assistant to Director, Joint Staff; and assistant chief of naval personnel for distribution.
Maslowski is authorized to wear the Defense Superior Service Medal, Legion of Merit with silver star (six awards), Meritorious Service Medal, 16 Strike/Flight Air Medals, Navy Commendation Medal with four Gold Stars and Combat "V," Good Conduct Medal and 21 various campaign/service awards. He was also designated as "Gray Eagle," the active duty Naval aviator who has worn wings of gold the longest; and Mustang ONE, the senior ranking officer on active duty with prior enlisted service.
Maslowski graduated Magna Cum Laude from Chapman College in Orange, California, with a degree in Criminal Justice and holds a master's degree in Criminal Justice Administration. He was class president for the National War College Class of 1994. He is married to Billie Jean and together they have two daughters, Michelle and Kelly, and two sons, Skip and Chris. Chris is a 1992 graduate of the U.S. Naval Academy and was dual-designated as a Surface Warfare Officer and Naval aviator. Jim and B.J. currently reside in Wichita, Kansas.