What will you choose at LA's new State Historic Park? History walk, run clinic, pedicab rides, volunteer beautification, scavenger hunt?
About this event
Nature for All invites you to walk, run and roll on All Aboard for Nature! Public Lands Day L.A., at Los Angeles State Historic Park in Chinatown - just a short trip (one stop) via Metro Gold Line from Union Station. From 10:00 am-1:00 pm, we're offering an activity hub of options thanks to collaboration with our partners: National Park Service, California State Parks, Asian Pacific Islander Forward Movement (APIFM) and Active San Gabriel Valley (Active SGV).
This rare open space is a gem in the City! Wander pathways and enjoy a view of downtown Los Angeles, as well as discover the natural and cultural heritage of LA. History runs deep in this park - once home to the Union Pacific Railroad and historic Zanja Madre channeling water from the Los Angeles River just north of the park.
Inspiring community activism brought people together to fight warehouse plans and envision a new creative, central park for Los Angeles. The future of this park space is just beginning!
LA State Historic Park has a storied history dating back to the indigenous peoples, water, transportation hub and a gathering place over the centuries, Today, rare park open space for us to enjoy. Learn more HERE. Hope you can join us for Public Lands Day in the Park!
-----------------------------------------------------------------------------
Schedule (subject to change):
8:00 am All Aboard for Nature! Morning Festival begins at Union Station. Enjoy activities and honored speakers. Visit booths and fill your passport to win raffle prizes!
8:00-9:00 am TRIP CHECK-IN. Show your Eventbrite ticket (phone is fine), at the Trip Check-in table to confirm your reserved seat, and find out where to meet your group. If you do not have a ticket, we will be taking a Wait List if any seats open up. Note: If you are not checked in by 9:00 am, we will have to release your seat(s) to those on the Wait List.
10:00 am TRIP DEPARTS Group will take the Metro Gold Line one stop to Chinatown Station, and walk 5 minutes to Los Angeles State Historic Park.
Activity Hub Options at L.A. State Historic Park Welcome Pavilion:
Get dirty: Volunteer for park beautification. Join the National Park Service and CA Park's Public Lands Day work event and help with mulching & weeding in the park anytime from 10am-12pm. Bring your work gloves!
Get rolling: Bicycle Rides Pedicabs & Cargo Bikes. Hop in for a ride around the park, thanks to Active SGV. People with mobility challenges (e.g. seniors, disabled) will be prioritized so they can enjoy the feeling and freedom of bicycling.
Get snapping: iNaturalist. Learn how to use the iNaturalist app on your mobile device to upload your photos of living species and advance science!
Cool off inside the Welcome Center for wildlife photo identifying game. Download the App Zooniverse, led by the National Park Service.
Get exploring: Agents of Discovery App Scavenger Hunt. Download (ahead of time) the new, free augmented-reality Agents of Discovery mobile app from Google Play or the App Store. After downloading the app, find the participating park's mission within the app and download it BEFORE heading to the park. No data or Wi-Fi is required to play the mission once it has been downloaded. Discover hidden secrets while exploring the park in an engaging way!
Get Limber: Stretch & Warm Up Tai Chi . API Forward Movement will get us ready for the day in the park with mindful movement Tai Chi starting at 10:00am -11:00 am
Get physical: API FM will host Run Walk Skills Clinic: Learn skills to get you efficiently moving around the park! 11:00am
Get cooled down: APIFM will lead stretching cool down exercises at 11:45 am (15 mins).
Get walking: Guided Interpretive Tour. At 12:00 pm, CA State Parks Ranger Luis Rincon will lead a 45-minute interpretive walking tour covering the park's fascinating history.
1:00 pm Activity Hub at L.A. State Historic Park concludes. Thank you for participating! You may depart on your own - by Metro Gold Line, walk, scoot, etc.! Feel free to explore the park further, and find lunch options in Chinatown and El Pueblo Historic Monument as well!
-----------------------------------------------------------------------------
What to bring:
Snacks, water bottle.
Sunscreen, sunglasses, hat. Good shoes for walking, running, biking.
Appropriate clothes if you would like to participate in volunteer weeding, beautification, or run-walk clinic.
We are riding Metro for this trip. All participants must bring a TAP card loaded with 1 fare. You may purchase fares at Union Station ($1.75). Please be loaded and ready to go before our 10 am departure.
Cash! Enter our fundraiser raffle & win great prizes including REI & Patagonia goods.
-----------------------------------------------------------------------------
Liability Waiver & Minors:
When registering online, all participants need to click & accept the terms of the liability waiver. Waiver forms will also be available at the event.
Participants under 18 must have a guardian or group guardian on the trip.
For guardians of minors and groups, please download the liability waiver and have your minors' guardians sign the form and bring them when you check in for the trip.
-----------------------------------------------------------------------------
Locations:
Union Station: 800 N Alameda St, Los Angeles, CA 90012
Union Station is Downtown Los Angeles' transit hub. It's easiest to arrive by transit, bike, scoot or walk. Paid parking is available but we encourage you to make this a multi-modal/transit day!
LA State Historic Park: 1245. N. Spring St, Los Angeles, CA 90012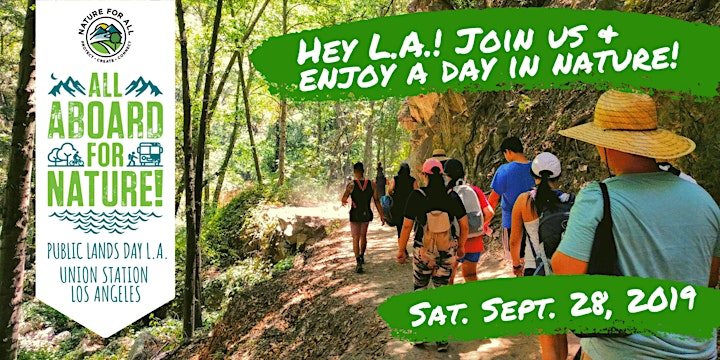 -----------------------------------------------------------------------------
This is just one part of the ALL ABOARD FOR NATURE! Public Lands Day L.A. event, presented by Nature for All on September 28, 2019. First we'll kick off with a family-friendly Morning Festival at Union Station. Then we'll head out for five transit trips: to the beach, the mountains, the L.A. River and parks around Los Angeles County. Find details on the event website. Share the Facebook event. You're invited!
#ALLABOARDFORNATURE! Photo Contest
Share your experience with the hashtag #AllAboardforNature, tag us @lanatureforall and post your photos to enter our social media raffle to win prizes! We want to see all the fun you had getting outdoors on National Public Lands Day! You may also email photos to bryan@lanatureforall.org to be featured on our social media! Contest winners will receive free swag, and all submissions grant Nature for All permission to use photographs.