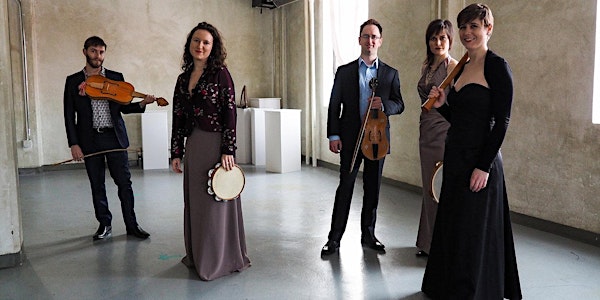 Alkemie "Sweet Friendship" (Sun, 7:00 PM ET, 8/28/22 - 9/4/22)
Alkemie performs in their 4th Musicast, "Sweet Friendship: Courtly Songs & Dances from 15th-century France & Italy"
Refund Policy
Contact the organizer to request a refund.
Eventbrite's fee is nonrefundable.
About this event
Artists
Alkemie & Friends
Tracy Cowart, dancer, voice & harp
Ben Matus, dancer, voice, winds, lute & percussion
Elena Mullins, dancer, voice & percussion
Sian Ricketts, voice & winds
Niccolo Seligmann, composer, vielles, viola a chiavi, lute, lirone & percussion
Alyssa Weathersby, dancer & voice
Program
Click for Printable/Viewable Program
This program includes adaptations of three lively balli and a stately bassadanza choreographed by the fifteenth-century dancing master Guglielmo Ebreo da Pesaro. In the case of the balli, thechoreographies and music (both attributed to Guglielmo) are preserved in his treatise De pratica seu arte tripudii, and we drew other pieces of dance music from the treatises of Guglielmo's predecessor Domenico da Piacenza. The vocal music was drawn from a group of beautifully illuminated fifteenth- century songbooks known as the Loire Valley chansonniers. We've selected two pieces by the great Burgundian composer Antoine Busnois as well as a variety of equally compelling songs by lesser known and anonymous composers.
Le grant pena​
Anon., Amiens MS 162 D
Amoroso​
Guglielmo Ebreo da Pesaro (c. 1420-c. 1484)
Le joly tetin​​
Anon.,Copenhagen no. 17
O Dieu d'amour​
Delahaye (fl. 1465)
Franchoise nouvelle​
Anon., Brussels MS
La Giloxia​
Domenico da Piacenza (c. 1400-c. 1470)
A la longue​
Fede (fl. 1450)
Leonzello​
Domenico da Piacenza
Petit Riense​
Guglielmo Ebreo da Pesaro
A vous sans aultre​
Antoine Busnois
La casoulle nouvelle​
Anon., Toulouze MS
(Improvisation by Niccolo Seligmann)
Verçeppe​
Domenico da Piacenza
Voltate in ça Rosina/Poi che'l ciel e la fortuna​
​Guglielmo Ebreo da Pesaro
Anon.,Frottole libro VII (Ottaviano Petrucci)