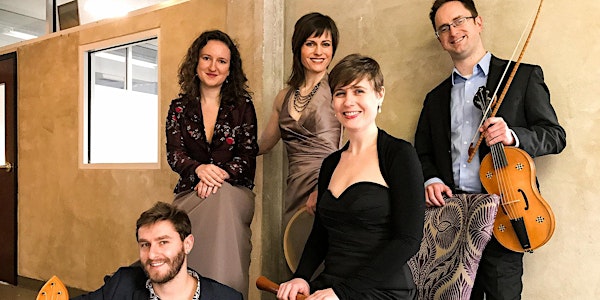 Alkemie: "Sweet Friendship" (Aug. 28-Sept. 4)
Sweet Friendship: Courtly Songs & Dances from 15th-century France & Italy (recast from November 2021)
Refund Policy
Contact the organizer to request a refund.
Eventbrite's fee is nonrefundable.
About this event
Alkemie: Sweet Friendship
Artists
Alkemie & Friends
Tracy Cowart, dancer, voice & harp
Ben Matus, dancer, voice, winds, lute & percussion
Elena Mullins, dancer, voice & percussion
Sian Ricketts, voice & winds
Niccolo Seligmann, composer, vielles, viola a chiavi, lute, lirone & percussion
Alyssa Weathersby, dancer & voice
Program
Sweet Friendship: Courtly Songs & Dances from 15th-century France & Italy
Recast from November 2021
Program Page: https://musicivic.net/mc21-0030
This program includes adaptations of three lively balli and a stately bassadanza choreographed by the fifteenth-century dancing master Guglielmo Ebreo da Pesaro. In the case of the balli, thechoreographies and music (both attributed to Guglielmo) are preserved in his treatise De pratica seu arte tripudii, and we drew other pieces of dance music from the treatises of Guglielmo's predecessor Domenico da Piacenza. The vocal music was drawn from a group of beautifully illuminated fifteenth- century songbooks known as the Loire Valley chansonniers. We've selected two pieces by the great Burgundian composer Antoine Busnois as well as a variety of equally compelling songs by lesser known and anonymous composers.
Le grant pena​
Anon., Amiens MS 162 D
Amoroso​
Guglielmo Ebreo da Pesaro (c. 1420-c. 1484)
Le joly tetin​​
Anon.,Copenhagen no. 17
O Dieu d'amour​
Delahaye (fl. 1465)
Franchoise nouvelle​
Anon., Brussels MS
La Giloxia​
Domenico da Piacenza (c. 1400-c. 1470)
A la longue​
Fede (fl. 1450)
Leonzello​
Domenico da Piacenza
Petit Riense​
Guglielmo Ebreo da Pesaro
A vous sans aultre​
Antoine Busnois
La casoulle nouvelle
Anon., Toulouze MS
(Improvisation by Niccolo Seligmann)
Verçeppe
Domenico da Piacenza
Voltate in ça Rosina/Poi che'l ciel e la fortuna
Guglielmo Ebreo da Pesaro
Anon.,Frottole libro VII (Ottaviano Petrucci)
Performance Times
Program premieres on Sunday, August 28th at 7pm and is available on demand for a week.
Support
Musicivic Musicast Fund (2022)
All donations made to Musicivic through the end of the year will be dedicated to our 2022 Musicast Program. To date we have commissioned twelve new programs and others are under negotiation.
About Alkemie
Alkemie exists to explore and share the life-affirming and alternative perspectives to be experienced in the sounds of centuries past. Comprised of singer-performers playing over a dozen instruments (including vielles, harps, psaltery, gittern, recorders, douçaines, and percussion), the ensemble has a particular interest in the porous boundaries between the court and folk music of the Medieval period. Grounded in historical performance practice and fed by a love of experimentation, Alkemie's performance on the Indianapolis Early Music Festival in June 2018 was lauded as "enchanting" and "indicating [the] future health of the field of early music."
Founded in 2013, Alkemie is based in Brooklyn and also performs nationally; since 2018 they have maintained a partnership with the Medieval Studies program at Fordham University. In addition to growing a series in NYC, Alkemie has appeared at the Amherst Early Music Festival (New London, CT), Amherst Glebe Arts Response (AGAR – Amherst, VA), Beacon Hill Concert Series (Stroudsburg, PA), the Cambridge Society for Early Music (Cambridge, MA), the Capitol Early Music Series (Washington, DC), Five Boroughs Music Series (NYC) Gotham Early Music Scene (NYC), Music Before 1800 series (NYC), and the War Memorial Arts Initiative (Baltimore).
In 2020-2021, Alkemie debuted a recorded program of Medieval Ashkenazi and German music("Mirroring the Other"), early American and English ballads and Renaissance consort repertoire("Blood, Booze, and Betrayal"), and "Florilegium," all of which featured new works from ensemble members and collaborators. With the support of the Arizona Early Music Society, Capitol Early Music, and the Amherst Early Music Festival, Alkemie also produced two recorded programs ("Sweet Friendship" and "Love to My Liking"); and a livestreamed concert of the music of Hildegard von Bingen in collaboration with the Johns Hopkins Program in Arts, Humanities & Health and Fordham University.
Later this season, Alkemie looks forward to a collaboration with Grammy-nominated duo Chapter House featuring music inspired by the fables of Marie de France and a reprise of their "Verdant Medicine: Hildegard's Resonant Apothecary" program with pre-eminent vielle player and composer Shira Kammen.
Alkemie's members are also committed to the lively teaching of medieval and Renaissanceperformance practice and history. Alkemie has presented workshops and educational outreachprograms at the Capitol Early Music Series (VA), Ramaz High School (NY), and at FordhamUniversity (NY), and Alkemie members teach collegiate and amateur students at Case WesternReserve University (OH), Fordham University (NY), the Strathmore Arts Center (MD), AmherstEarly Music Festival (CT), the Baroque Performance Institute at Oberlin (OH), and through the Early Music Access Project (VA).