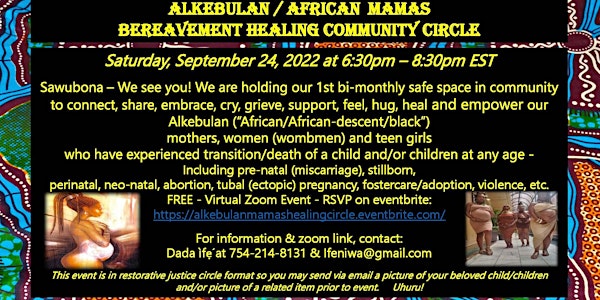 Alkebulan/African Mamas Bereavement Healing Community Circle
Coming together in community supporting Alkebulan/African/African-descent mamas sharing and grieving for the loss of their child/children.
About this event
Sawubona - We see you...
We are holding our 1st bi-monthly safe space in community to connect, share, embrace, cry, grieve, support, feel, hug and heal and empower our Alkebulan ("African/African-descent/black") mothers, women (wombmen) and teen girls who have experienced transition/death of a child and/or children at any age - Including pre-natal (miscarriage), stillborn, perinatal, neo-natal, abortion, tubal (ectopic) pregnancy, fostercare/adoption, violence, etc.
FREE - Virtual Zoom Event - RSVP on eventbrite: https://alkebulanmamashealingcircle.eventbrite.com/
Then zoom link registration email will be sent to you to receive the link for attendance.
For additional information, please contact: Dada ìfẹ́ at 754-214-8131 & Ifeniwa@gmail.com
This event is in restorative justice circle format so you may send via email a picture of your beloved child/children and/or picture of a related item prior to event.
We go together! Uhuru!