A journey into the history of the African continent, its people, its civilizations and Her great contributions to the world.
About this event
This series will be hybrid. A zoom registration will be sent several days before the start of the first event.
Feb. 3, 2022
Africa's Civilizations and Her Great Contributions to the World
Who are we, and where did we come from? This session will cover the period of time before the 16th century. It will provide a historical overview of the continent when our forefathers and foremothers called Africa Alkebulan. Alkebulan means Mother of Civilizations.
Archeological and anthropological findings confirm that Alkebulan, now Africa, is the origin of humankind/homo sapiens. Highlights of this opening night will include Aethipioa and its contributions to civilizations from 5000 B.C. followed by the Nile Valley from 3150 B.C. It will end with an overview of how Northern Alkebulians traversed the globe and occupied parts of Europe from 700 B.C. until 1492 A.D. Focal areas of discussion will include spirituality as a way of life, communal societies, and the origin of democracy. Finally, learn about the great kings and queens of the Nile Valley, along with the continent's various artifacts and resources from the era.
Feb. 10, 2022
The Other Great Empires of Alkebulan
The journey continues with a look at early societies throughout Africa. The West African civilizations of Ghana, Mali, and Songhai will be explored with a glimpse into Nok and Akan cultures, as well as Yoruba and Igbo societies.
Central Africa and the Kingdom of Kongo (1390 A.D. - 1888 A.D.) will be discussed,including its pivotal role in the Atlantic slave trade and two powerful women who ruled during this time. Finally, Great Zimbabwe in Southern Africa will be reviewed. A look at societies that developed around present-day Zimbabwe will include Mapungubwi (1075 A.D. - 1220 A.D.) and the Rozvi Empire (1684 A.D. - 1866 A.D.).
Feb. 17, 2022
The European's Exploitation of Africa Through the Slave Trade and Carving up the Continent
This presentation will cover two significant periods, the Slave Trade (1503 A.D. - 1883 A.D.) and the Colonization Era (1885 A.D. - 1950 A.D.). Gain insights into when European nations kidnapped and enslaved Africans via the Transatlantic SlaveTrade, followed by The Berlin Conference of 1884- 85, whereby European countries carved up the continent to extract resources from Africa. Learn about the rush to extract resources from Africa and the resistance within the African Diaspora.
Special guest, Dr. Kenneth Ombongi, will shed light on the fact that Africans did not surrender their home or their family to the Maafa (African Holocaust). He will discuss Africa's independence of nations from the French, British, Spanish, Dutch, and Portuguese invaders and the struggle that continues to rob the continent of its resources.
Feb. 24, 2022
What now and where do we go from here? How do we stop the miseducation of our children and decolonize the minds of Africans? This thought-provoking, very interactive session will take attendees from 1950 to the present day. Invited guests, Dr. Desta Meghoo, Dr. Kenneth Ombongi, and Chief Nathaniel Styles, will join Dr. Pamela Hall and Mr.Tony Bennett.
Ancient spiritual and cultural tools that helped Africans thrive for thousands of years will be reintroduced. Mental slavery will be defined, and current roadblocks to the new African/Alkebulian Renaissance will be explored. The session will conclude with a dance concert presented by The Department of Fine Arts Dance Program under the Direction of Professor Yvonne Jones Goodridge. Alkebulan Dance Diaspora will take you on a dance journey from Africa to the Caribbean and into the United States.
Presented by:
Dr. Pamela D. Hall is an Associate Professor of Psychology, Director of the Africana Studies Program, and AssociateDean of Graduate Studies for the College of Arts and Sciences at Barry University in Miami Shores, Florida.
Mr. Bennett is focused on helping the African continent and people of African origin prosper by educating others on the continent, its people, history, and Africa's contributions to world civilization. He is one of the original funders of South Florida People of Color and continues to be a primary contributor.
Historians & Invited Guests:
Dr. Kenneth S. Ombongi is a Senior Lecturer and the Head of the Department of History and Archaeology, University of Nairobi, Kenya.
Dr. Desta Y. Meghoo is the Ghana-based Diaspora African Forum's chief curator and liaison to the African Union, and a writer and weekly contributor for the Capital Newspaper in Ethiopia.
Otunba (High Chief) Nathaniel B. Styles, Jr. is the Nana Kwaku Ankibeahene II of the Ashanti Kingdom, the Otunba Fosungbade of Alayemore Ido Osun-oruba Kingdom West Africa, more commonly known as "Chief Styles" Styles utilizes West African art and culture as foundational elements to synergize and connect multicultural communities in South Florida, the African Diaspora (Brazil & Cuba) and West Africa (Ghana & Nigeria).
Barry University Repertory Dance Ensemble, BURDE, will perform traditional African dance, Contemporary African dance, Jazz dance, Hip Hop and Modern dance on the final night of the program led by Yvonne Jones Goodridge, Assistant Professor of Dance at Barry University (BU).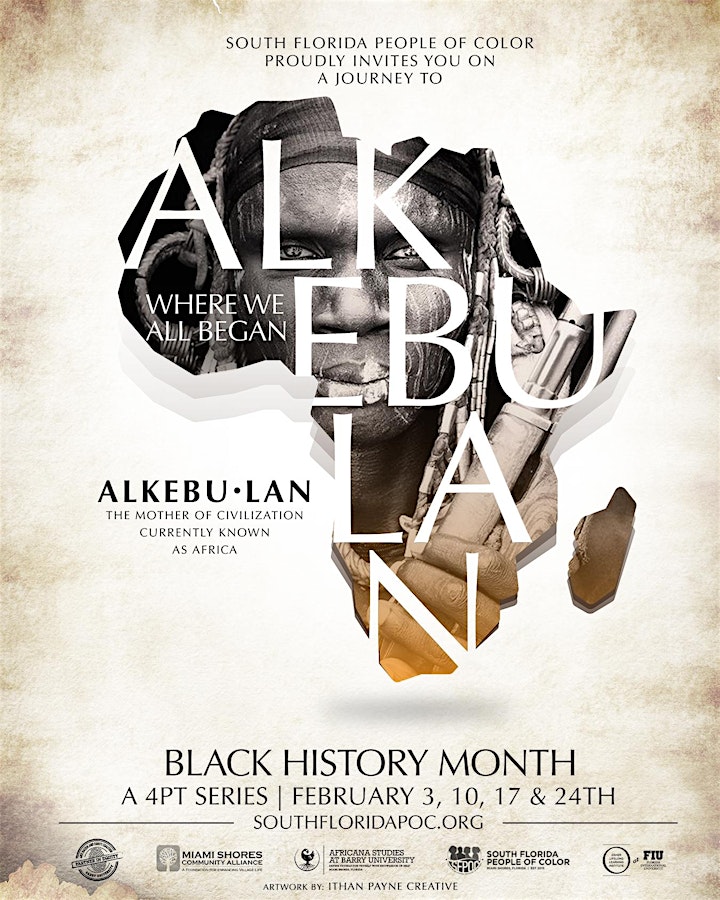 Organizer of Alkebulan: Shining Light on the African Continent