Description
Alive and Awake Retreat takes you on a journey of holistic wellness where care for your mind, body and soul takes priority. With optimal nutrition, movement with breath, listening in silence, cultivating gratitude we can transform our lives bringing joy and healing from the inside out.

This retreat is open to beginners and regular practitioners of yoga asana and pranayama. There are no requirements of flexibility or knowledge, but an open mind will be helpful. It is a great opportunity to learn about the subtle body that supports the gross and how they are connected through the breath.

Focus and Benefits of the Retreat:
The focus will be to unwind and rewire ourselves. You will go home having learned tools that continue to support your wellbeing. These learned tools and knowledge include:
Learning techniques to manage stress in our daily lives

Gaining stability, strength and flexibility in our bodies

Oxygenating, detoxing, awakening and energising our internal organs and systems

Decongesting the nervous system

Cultivating body and breath awareness

Choosing food and lifestyle that are healthy for our unique constitutions

About the instructor
Nadia Faruki is a certified Holistic Health Specialist who has been studying and practicing yoga and holistic wellness since 2002. Her interest in the field stemmed from understanding and resolving her own health issues. Her personal journey revealed her passion to learn, teach and to serve.

Dates and daily rundown:
6-13 October, 2018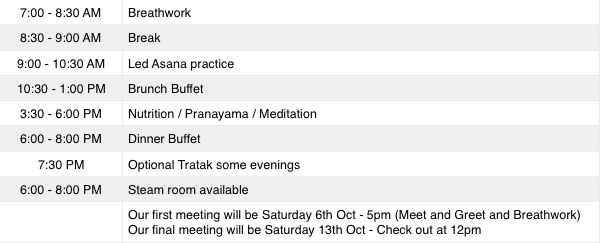 Location:
55/20-24 Moo 4 T. Namuang
Koh Samui Surat Thani 84140
Thailand

Fee
Rates are inclusive of course fee, accommodation, all buffet meals, and full use of the facilities.
Private Room – $1,866
Private Room Couple – $1,586
Semi Private Room – $1,726
Shared Two Bedroom Loft – $1,586

Airport Transfers:
Students can book their airport transfers directly online: http://www.samahitaretreat.com/retreats-samui.html

Special Offers and Collaboration:
Dance/movement lesson(s) with Natasha Devalia
Photography to capture special moments that serve as memory with Sarah Peiroz

Complimentary Excursions:
Tuesdays 1-3pm: Temple walk, weather permitting
Wednesdays 1-4pm: Boat & Snorkeling trip, weather permitting
Fridays 6.30 – 9pm: Night market at the Fisherman's Village in Bophut

Additional Days Pre / Post Retreat:
You are welcome to stay extra days before or after the retreat and join YogaCoreCycle program, subject to availability. You can book directly with the reservations team : info@centeredyoga.com