Description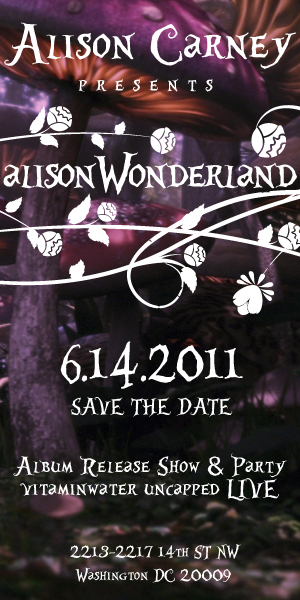 The last time singer/songwriter Alison Carney released a project was in 2007....wait....2007? Four years later, she is inviting us all into a new musical world which was clearly years in the making. alisonWonderland, her new project, is an introduction to the singer's idea of HONEST music.
So, inquiring minds want to know: is it a mixtape or an LP? Call it what you will...a Mix P, an L-Tape...who cares? Just make sure you check it out, cause its amazing and its FREE! With sounds borrowed from some of the most respected producers in the industry (Diplo, Benzi, J Dilla, and Flying Lotus to name a few) and new creations by some of her favorite homegrown phenoms (j.laine, T.FOX, and DJ Roddyrod), Alison takes elements of her roots (soul and r&b) and throws us into the electronically delightful world of alisonWonderland. We even have guest appearances on this one! (MC/Producer/Engineer Awthentik and Grammy Nominated MC/Producer/Musical Mentor Kokayi...only two of the DOPEST MCs in all the land)
June 14th is the day we want you to jump down the rabbit hole! Paired with art, fashion, the Brightest Young Things, art v. commerce, and A LOT of vitaminwater, allow yourself to to let go of boundaries, rules, and what you consider lady-like behavior. So, balls to the wall, and japanese candy in hand...we're gonna take you on a journey to WONDERLAND. Consider this your personal invitation!
Alison Carney presents alisonWonderland
Tuesday, June 14th
8pm-11pm
vitaminwater uncapped LIVE!
2213-2217 14th St NW
Washington, DC
FREE EVENT
special performance by Awthentik
Spinser Tracy on the 1s & 2s
Downloads:
@alison_carney
Press Kit:
Bookings: