Description
Aligning On Healthcare: Trends, Compliance, Cost and Employee Expectations
hosted by
The Chicago CFO Leadership Council
Thursday, December 14, 2017
7:30 AM to 8:00 AM Registration, Networking, and Breakfast 8:00 AM to 9:30 AM Program


---
If not managed effectively, healthcare becomes the Achilles Heel that challenges a company's profitability and growth. Finance executives face four interrelated daunting challenges:
• Evolving trends in healthcare delivery,
• Changing and complex compliance regulations,
• Increasing trends in cost via claim and premium increases, and
• Retaining talent in the face of heightened benefit expectations.

Thus, how can finance executives lead their organization to understand the implications of today's changing healthcare environment while balancing the need to realize effective compliance while achieving reasonable cost levels and meeting employee expectations?
---
Speakers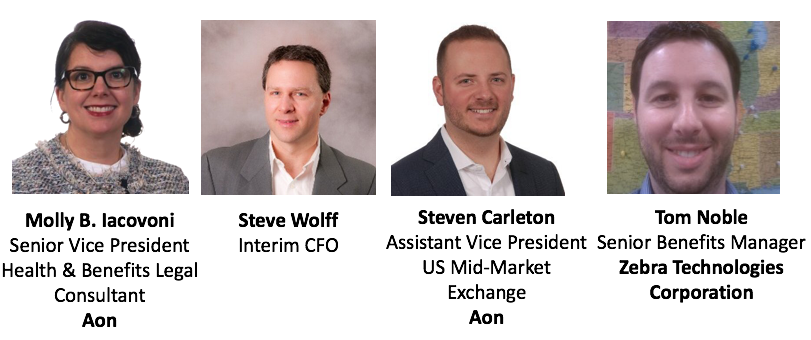 Hear an engaging panel share best practices on how to survive and even thrive in today's complex healthcare environment.
---
Learning Objectives:
• Gain an understanding of trends in healthcare delivery and their impact on costs;
• Develop an understanding of changing compliance requirements;
• Gain insights to trends in costs due to claim submissions and their impact on premiums or self administered plans;
• Understand changing employee healthcare benefit expectations and strategies employers are applying to increase retention levels
---
Click here to learn more about CFO Leadership Council.
Registration
All current CFO Leadership Council members may attend this program for free. Non-member senior financial executives who are CFOs, Vice Presidents of Finance, Directors of Finance and Controllers (or the like) are welcome to attend this program for $50.

Please note that service providers or any executives who are not senior financial executives (CFOs, Vice Presidents of Finance, Controllers, Directors of Finance, etc.) cannot attend this event. The CFO Leadership Council reserves the right to decline any registration.
---
More Information
For more information about this program or The CFO Leadership Council, please contact John Gimpert, Chicago Area Director, The CFO Leadership Council, at john@cfolc.com or Emily Smith, Marketing Director, The CFO Leadership Council, at emily@cfolc.com.

---
Cancellation Policy
If you would like to cancel your ticket or request a refund, please contact Emily Smith at email above. Refunds are available up to 48 hours prior to the program.

---
CPE Information

Program level: Advanced
Field of Study: Specialized Knowledge
Recommended CPE: 1.5 CPE
Program Prerequisites: None
Advanced Preparation: None
Delivery Method: Live/Group
The CFO Leadership Council is registered with the National Association of State Boards-of-Accountancy (NASBA) as a sponsor of continuing professional education on the National Registry of CPE Sponsors (Sponsor ID 109063). State boards of accountancy have final authority on the acceptance of individual courses for CPE credit. Complaints regarding registered sponsors may be addressed to the National Registry of CPE Sponsors, 150 Fourth Avenue North, Suite 700, Nashville, TN, 37219-2417. Website: www.nasba.org
---
About our Speakers
Molly B. Iacovoni - Senior Vice President, Health & Benefits Legal Consultant, Aon Molly is an attorney in the Aon Health & Benefits Practice (Consulting) and is based in our Lincolnshire, IL office. She has been with Aon for more than 20 years. Molly began her career at Hewitt in 1990 in its defined contribution administration practice. After attending law school and practicing employee benefits law, she rejoined Hewitt in 1997 and spent a number of years providing legal support to Hewitt's outsourcing practice and, then, Aon's health and welfare consulting practice. Molly assists clients and clients' counsel with employee benefits issues, primarily focusing on health and welfare plan requirements under ERISA and the Internal Revenue Code. Molly's specialty includes requirements under the Affordable Care Act (i.e., health care reform), ERISA reporting and disclosure, cafeteria plan rules, COBRA, Medicare, including the retiree drug subsidy, and various state laws. Molly has spent a significant amount of time over her tenure at Aon assisting a fortune 50 employer with ongoing collective bargaining matters pertaining to health and welfare benefits. Molly also is a key contributor in the drafting of Aon's Knowledge Alerts, speaks to various industry groups, and from time to time provides comments to the IRS and U.S. Department of Labor on guidance related to health and welfare legal matters. Due to Molly's administrative and design background, Molly is sensitive to both the administrative and design impact of the various federal and state employee benefit laws. Molly has been quoted in various periodicals including the Chicago Tribune, Business Insurance, and the Wall Street Journal on health and welfare technical matters and was named a 2015 Risk & Insurance® Power Broker®.

Steve Wolff - Interim CFO Steve Wolff currently works as an Interim CFO. His previous position was the Comptroller of A Safe Haven Foundation, a not-for-profit social business enterprise with a mission to solve the root causes of homelessness and poverty. Steve is a multilingual financial and corporate executive with 20+ years solving complex business problems in the U.S. and abroad. Steve has served as CFO, controller and general manager delivering results in profitable and distressed environments, entrepreneurial, family, private equity and large company cultures, and for mature and high growth businesses. After completing his undergraduate degree at Emory University, Steve was selected as one of the first program directors to lead U.S. developmental assistance in the nascent states of the former Soviet Union. After several years as an expatriate executive establishing a track record of effective financial and people management, Steve attained his first CFO role while still in his 20s with a subsidiary of one of the largest global industrial gas manufacturers, Linde AG. Success in this role gave Steve a strong sign that his future lay in financial leadership, and he then sought to bolster his skills by earning his MBA from the University of Chicago Booth School of Business. From there, Steve followed a controller and FP&A-leadership development track through roles with top U.S. brands Allstate, Hewitt, and Trimble. This progression through multiple industries, financial disciplines and business challenges has helped Steve emerge as a multi-faceted leader with the proven ability to quickly assimilate into new environments and lead teams to higher levels of performance and impact. A native of Chicago, Steve is proud to have joined as an inaugural member of the CFO Leadership Council's Chicago chapter and welcomes the opportunity for personal growth and to network with and counsel fellow financial leaders.
Steven Carleton - Assistant Vice President, Mid-Market Exchange, Aon Steve is an Assistant Vice President and Sales Leader within Aon's Health & Benefits practice, with primary focus on Aon's Mid-Market Exchange and Benefits Administration solutions. Steven's responsibilities include education and thought leadership around Aon's integrated solution of consulting and administration, support in new business pursuits and subject matter expertise with all of Aon's Middle Market benefits solutions. Additionally, Steve is a member of Aon's Middle Market Steering Committee, which develops and implements Middle Market Health & Benefits strategic initiatives, creates innovative solutions and positions our Middle Market colleagues to provide all clients with the best possible outcomes.
Tom Noble - Senior Benefits Manager, Zebra Technologies Corporation Tom Noble is the Senior Benefits Manager for Zebra Technologies with eighteen years of combined HR outsourcing, benefits design consulting and corporate benefits experience. Tom has an extensive background in Health & Wellness strategy and program development and is responsible for designing, evaluating, implementing, and delivering market-competitive and cost effective benefit and wellness programs in the NALA region (U.S., Canada, and Latin America). Along with delivering on Zebra's overall health and wellness strategy, Tom is focused on strategy, administration and compliance for Zebra's Retirement and Savings Plans. Tom earned his Bachelor Degree in Communication from St. Norbert College.