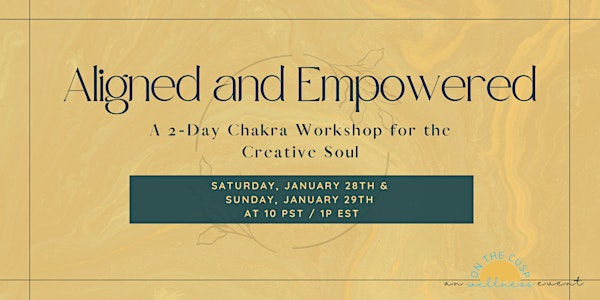 Aligned and Empowered: A 2-Day Chakra Workshop for the Creative Soul
Learn the foundational elements for aligning with each of the 7 main chakra centers so you can live a more authentic and inspired life.
Refund Policy
Contact the organizer to request a refund.
Eventbrite's fee is nonrefundable.
About this event
This workshop will ONLY take place in (2) one hour segments, one on Saturday, Jan. 28th @ 10a PST/1pm EST & Sunday, Jan. 29th @ 10a PST/1PM EST. Please be sure to register for the main workshop event if you plan to purchase the group healing session as well.
Saturday's workshop will consist of the 1st-4th chakra centers.
Sunday's workshop will consist of the 4th-7th chakras.
The goal of this interactive workshop is to give you a comprehensive overview of what each of the 7 main chakra centers are, how they work, and what you can do to begin healing the limiting beliefs imprinted on each chakra center.
As you begin to understand the imprints that are preventing you from aligning with your authentic truth, you will be able to better connect with your soul's purpose, which is the heart of your creative expression.
You will also have the opportunity to join me in a group healing session on Sunday at 11:30a PST/2:30p EST following the end of the workshop. In this 60 minute session, I will guide you through a meditative exercise to help you cleanse and align all 7 chakra centers.
This session will also include a Q+A segment to help you integrate any insights you receive during the meditation. This group healing session will be offered for $25 and you will have access to the replay (along with the workshop replays).
For those who *only* sign up for the 2-day workshop, you will gain access for both workshop replays as well.
MEET YOUR GUIDE:
Amickoleh Imani is an intuitive guide, chakra energy facilitator, oracle card reader, multi-faceted creative, podcast host, and the founder of On The Cusp Wellness. A virtual healing space that started as a photography blog, and has since evolved into a podcast (On the Cusp of Something Beautiful), 1-on-1 sessions, and a group course (Activate Your Soul).
Through her offerings she helps conscious creatives reactivate their intuitive gifts so they can reconnect with and express their authentic soul essence, using chakra medicine, emotional awareness, meditative visualizations and soul-care practices.
As a creative, she is a singer-songwriter, photographer, and writer of poetry and intuitive channelings. As a guide, she is deeply passionate about holding safe spaces for creatives to be able to see their authentic selves more clearly and feel inspired to embody their soul's truth. Encouraging them to trust in their unique gifts, and to live so authentically that their light inspires everyone around them to be just as authentic.
IG: @onthecuspwellness