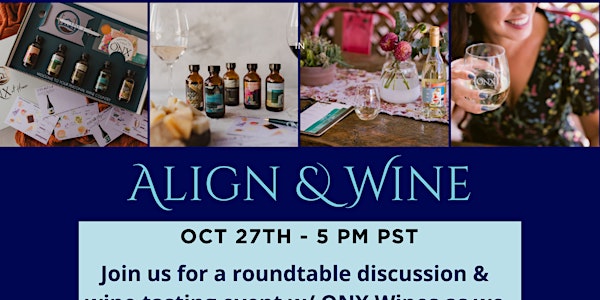 "Align & Wine" with ONX Wines & Wonder Women Tech! Private Wine Tasting!
Join us for a private in-home wine tasting event and conversation with Wonder Women Tech and ONX Wines to build community and belonging!
About this event
Wonder Women Tech has partnered with ONX Wines to create a special event where we will gather around wine (or mocktails)and enjoy a "Conversation Pairing" with the Wonder Women Tech team!
We will share stories about wine, being a Founder, and explore how WWT can better serve our community, create meaningful relationships, and build better conferences, events, platforms and programs!
We'll be treated to a private at-home wine tasting event as the team at ONX Wines (pronounced Onyx) will guide us through a wine tasting during the conversation and a Q & A.
We have curated a wonderful event where we can learn more about our community and enjoy a fun experience with our Partners at ONX Wines!
We have crafted a unique "Conversation Pairing" to go with the flight of wine sampling and wine tasting experience you will be enjoying:
Indie Rose -- We'll share the origin Founder story of WWT and explore our original purpose and Legacy. We invite you to share your origin story as well! This is where we share stories being a Founder!
Mad Crush -- This is your opportunity to let us know what you love about us? What are we doing well How has WWT impacted you? What do you love about what you do? We want to know!
Reckoning -- We care about you. So tell us where we are falling short so we can build better. What does our community feel we need to do more of? Where are our opportunities for growth? Share your stories of pivoting and vulnerability. This is a time for open sharing!
Noble Intrigue -- AMA: This is an open Town Hall where you can Ask Us Anything!
Post Script -- You'll be the first to learn about what we have up our sleeve for the future. We will share our 2023 (and beyond) roadmap, some giveaways, and surprise announcements! Only the people in the Zoom Room will get to be part of something exciting! ; )
Last day to reserve your spot is Oct 21st! Wine orders ship out Oct 24th. An adult 21+ must be present and available to sign for the package.
About ONX Wines:
ONX is a small, family-owned premium winery in Paso Robles, CA, specializing in red blends. They farm estate certified-sustainable vineyards and each wine has its own unique personality, many of which are highly scored by major wine critics. Their virtual tasting division is called 'ONX at Home' and is run by women! ❤
Tasting Experience and Kit:
Tasting kit includes a full flight of five different wines in small bottles. The total volume equals about 2 glasses of wine.
Fun materials are packed in the kit for following along with our event sommelier.
Interactive tasting that will be approachable for wine newbies and connoisseurs alike.
We look forward to having you part of our first "Align & Wine" Event with ONX Wines!
*Not drinking alcohol? No worries! We have you covered. We'll send over a delicious mocktail Sangria recipe so you can join us for conversation and networking!