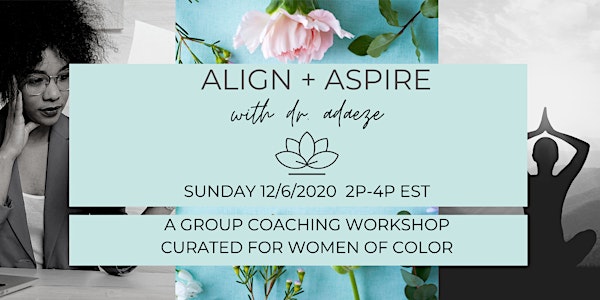 ALIGN + ASPIRE: A 2-Hr Group Coaching Workshop Curated for Women of Color
A Two-Hour Group Coaching Workshop Curated for Women of Color who are ready shift to a state of flourishing and flow.
About this event
Do any of the following resonate with you?
I feel stuck.
I am burned out.
I am stressed and overwhelmed.
Everyone thinks I am superwoman - everyone else comes first.
My career does not fulfill me and I know there is more.
I feel disconnected from myself.
I feel like life is passing me by - like I am surviving, not thriving.
I want to shift from being a "strong black woman" to an "empowered black woman".
Are you ready to hop off the hamster wheel? Then the Align + Aspire Workshop is the right place for you and we can't wait for you to join us!
This 2-hour group coaching workshop is curated for women of color, and aims to create a structured, nourishing environment to support high-achieving black women in their journey to cultivate an authentic, heart-centered, uniquely purpose-driven life. Dr. Adaeze - a Board Certified Physician and Certified Personal Development + Executive Coach - will introduce integrative mind-body practices, research-based positive psychology principles, and personal development coaching frameworks, fused with her medical expertise to provide a venue to start slowing down and reconnecting to your deepest intentions. From there, we curate a strategic action plan to move you forward with clearer vision, a more solid foundation, and in better alignment with what truly ignites your soul. The end results are a shift from frazzled to flourishing - which manifests as decreased stress, decreased burnout, increased creativity/motivation, increased work-life balance, increased resiliency, and increased overall life satisfaction.
What will we be doing?
Integrative Mind-Body Grounding Practice
Review Physiologic Effects of Stress
Personal Development Group Coaching Exercises 
Gain Clarity on Values and Unique Strengths
Curate a Personalized Vision Statement
Create an Aligned Strategic Action Plan 
Cultivate Community
Establish an Accountability Structure
ALIGN with your deepest intentions. ASPIRE with purpose. ACT with clarity.
Note: ALIGN+ASPIRE wants to be sure to provide this workshop to those who need it most. We recognize these are challenging times, and as such, we have created a sliding scale ticket price. Additionally, the first 3 participants to sign up for the workshop will get a Complimentary 1-on-1 60 - minute Coaching Session! ($125 Value). Must attend workshop to redeem free coaching session.