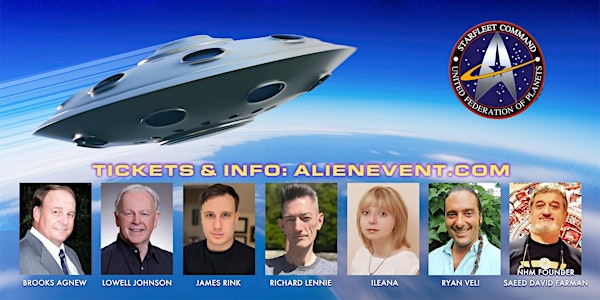 ALIENEVENT ZOOM WEBINAR
3 hours of Global Live Zoom Webinar on: Disclosure, Extraterrestrials, ET contact, Artificial Intelligence, Consciousness & Humanity.
About this event
ALIENEVENT ZOOM WEBINAR
3 hours of Global Live Zoom Webinar on: Disclosure, Extraterrestrials, ET contact, Artificial Intelligence, Consciousness, Timelines, Humanity, Cosmology & Alientology.
Time: Saturday DEC 3RD, 2022, from 11 AM to 2 PM, PST Time Zone (New York: 2 PM to 5 PM, London: 7 PM to 10 PM)
Speakers: Dr. Brooks Agnew, Lowell Johnson, Ryan Veli and Saeed David Farman
Eventbrite Ticket: https://www.eventbrite.com/e/alienevent-zoom-webinar-tickets-472337683727
Website: https://alienevent.com
Speakers BIO:
Brooks Agnew, Physicist, Researcher, Explorer & 7 Time Amazon Best Selling Author
Brooks grew up in Pasadena, California hanging around JPL and Caltech. He entered the Air Force in 1973, where he graduated top in his class in electronics engineering.
He received his Bachelor of Science with honors in Chemistry from Tennessee Technological University. He is a Certified Quality Engineer, a Six Sigma Master, and a member of the Society of Automotive Engineering. His scientific consulting company has served for 30 years with the Fortune 100 to save or bring back to America more than ten thousand highly productive jobs. After publishing more than 10 thousand articles and technical documents, he authored 7 Amazon best-selling books with 12 titles in print. He is one of the world's most recognized voices in podcasting today after 18 years on the web. He has been featured on dozens of TV and hundreds of radio programs as well as numerous scientific documentaries. He is an expert engineer consulting the Fortune 500 in advanced manufacturing methods. Brooks is a multi-patented engineer and currently the CEO of an electric truck manufacturer in North Carolina.
One of his Books: Remembering the Future – The physics of the soul and time travel
The first 40 years you did everything you had to do. Now, it is time to do what you dreamed to do with your life. This book breaks the myth of manifestation by explaining the physics of the soul. You will learn that tiny amounts of energy, like our consciousness, can be applied at the right time on the right activities to make hit our targets. Learn how to breathe, focus, and convert your journal into a time machine. The universe has no choice but to yield to your energy. The audio version is a free bonus for the asking when you buy the paperback or Kindle versions.
https://brooksagnew.blog
LOWELL JOHNSON, Telos Contactee
Lowell spent most of his professional career as a hospitality executive, willing to take on leadership roles in industries and/or communities in every part of the country where he lived. He has spoken publicly numerous times at events over the course of his career in preparation, he believes, to present something bigger down the road. Chasing "things" we were all conditioned to do and becoming successful began to leave him empty. It took a wake-up call in the form of a TIA, or mini stroke, late in 2015 for him to realize how much he wanted to learn more about spirituality. This is when his quest for the truth began. He finally began listening to the universe and its messages, fully realizing his obligation to share what he'd been shown and told. Lowell understands what he is doing here and the truth of the 3-D world experiment.
Hiking alone in the forests of Mount Shasta, he was intentionally seeking an audience with ascended masters. Unaware of Telos and the Lemurians, he certainly didn't expect the mountain to open up and invite him inside. That experience triggered an awakening meant to be shared with all of humanity—wisdom that came from higher places. It is one thing to think of communicating with extraterrestrials, but his contact wasn't with beings from other places in the universe; it was with beings that have been here on Earth for hundreds of thousands of years. Since then, the DNA awakening process and recall have set the stage for countless multidimensional experiences beyond just Telos. Leading to a greater comprehension of the enhanced photon Light we are receiving and how it's meant to be used. It is now time to share these multidimensional experiences and remind those who have been triggered by this story. These same abilities are dormant within you as well waiting to be brought back into your awareness. Realizing how to maintain high vibrations is happening right now.
Website: https://40kftview.com
RYAN VELI, EX- Military Analyst
Ryan began his career as an enlisted military officer for the USANG in 1997. Transitioning into the Information Operations (IO) field after 2001 and later contracting for the USAF as a Subject Matter Expert (SME) in 2007.
In civilian life, serving as a resolute technology teacher for over 22 years. Mentoring tech students in University, College, and the military. In relation to the business world. Ryan has participated in many Startups and conducted security consulting for several fortune 500 companies.
As a dedicated seeker, Ryan has studied many occulted and obscure subjects and has firsthand experience with piercing the veil through multiple NDE's and other Psychonautic techniques. With decades of knowledge in technology, the US Military, and the Occult. Ryan is giving notice to the world regarding both the threat and potential that lies in Artificial Intelligence and the Digital Control Grid.
Ryan speaks on AI VS Humanity and both VS Aliens, a journey from the self into the digital future. Examining human consciousness transformation into a new trans-human life.
SAEED DAVID FARMAN, New Humanity Movement Founder
Saeed is the CEO of BIOED EXPO, Founder of New Humanity Movement & Founder of B3 Sciences, Inc.
Saeed David Farman is an international Icon a Futurist, New Humanity Movement Founder a global consciousness movement. 5D events.
Saeed is a Health and Wellness Researcher; he is a Pioneer of Quantum Transcendental Transformation Shift in ASCENSION. Since 1985 he has been in consciousness research. Saeed has traveled to Energy sites in Cusco, Machu Picchu in Peru, Brazil, Iran, Thailand, Mexico, France, Italy, Turkey, Serbia, Bulgaria and Glastonbury, UK. Saeed is the CEO/ Director of 5D Events a Science & Consciousness event business in Los Angeles, Berkley, Las Vegas, and London for past 12 years which it has changed many lives in each event for many people.
For past 25 years Saeed has been researching different fields and sciences such as UFOLOGY, ET contact, MARS, Terra Forming, Teleportation, Time travel, Spiritual UFOLOGY in ET Contact, Quantum Physics, Mysticism, Sufism, Bible Code, Pyramidology, Meditation, Prophecy, Energy Healing, Remote Viewing, Telepathy, Future Life Regression 30,000 years forward, had few Near Death experiences, Flotation Tank out of body research that has changed his views in life. Saeed Studied Advanced Pure Mathematics in UK passed the university of London test plus Computer Science extension courses in UCLA, California.
Saeed has 27 years of Management experience in computer industry been CEO, President, and Vice President of different companies in Distribution and manufacturing with managing over 30 employees he has achieved over $20 million in annual sales record in D& B record in 1994. Saeed has also studied Sufism of Grand Saint of all saints Ibn Arabi of Andalusia, Spain & Moulana Jalaaudin Rumi's Philosophy under Sufi Master PIR Vilayat Inayat Khan former head of Sufi order of America the Chishti Sufi order for many years. Saeed is IET (Integrated Energy Therapy) Advanced Energy Healer and is a Life and Relationship Coach.
Saeed Organizes Health and Wellness, Disclosure and Consciousness EXPO/ Conference, Join us in person 3 events more info on: https://biomedexpo.com
Saeed has New Visions for New Humanity that will change the future like nothing before!
New Humanity Movement consists of a global group of Awakened, Humanitarian, Peace loving humans who believe in a new Earth with common goals for a totally different future outcome, our Movement is currently rewriting a new Future in a positive direction for mankind by bringing forward new ideas and ways for living in harmony and peace with a universal code of ethics and standards, New Humanity Movement is a Global one has no borders & looks at humanity as one entity, members discuss, share, research and implement new possibilities in Science, Technology, Health, Healing, ET contact, Space exploration, Spiritual expansion & Transformation of Consciousness, Permaculture and how to create a new path for Humanity with Global Peace, Freedom, Free energy, Free Speech, moving away from current banking system, Geo Engineering, GMO food industrialization, Mind control spying systems, Militarization, Secret societies, Nuclearization of the planet, Warmongering strategies & Enslavement of masses, purpose of the New Humanity Movement is to help assist our whole planet to shift into a higher state of consciousness & awareness.
Website: https://alienevent.com
https://www.facebook.com/pages/SAEED-DAVID-FARMAN/337750599668813
https://www.facebook.com/NewHumanityGroup
Ileana the Star Traveler
Ileana the Star Traveler is a certified Native American Shaman, Psychic, Crystal Healer, Energy Healer, Past
Life Regression and Soul Retrieval Practitioner, Hypnosis Practitioner, Remote Viewer and an Akashic
Records Reader.
Ileana is a successful self-published author on Amazon of a booked called Crystal Grids: The Art of Healing
with Crystals. This book teaches about various healing crystal modalities and how to work with crystal
grids in order to manifest your success and achieve your goals in life. As well Ileana is author of a new
book titled Messages from a Star Traveler Research Archive Vol. 1 that is self-published recently to find
out more about the book check out the below book links.
Through self-hypnosis protocols Ileana was able to learn much about her Secret Space Program
experiences of being an SSP Asset working on the Mars bases for the Planetary Corporations in the
cybernetics labs, creating biological drug serums, biological human cyborgs, neurolink implants, and
operating regenerative technologies that are the holographic medical pods and the Meditech units.
Through doing Past Life Regressions Ileana learned that she is an EL/ Andromedan/ Pleiadian Hybrid who
is a star traveler. The EL race of extraterrestrials are 12th dimensional beings who embody both female
and male forms, they are able to change their biology to look like different beings and change the forms
of their bodies, etc. They a race of beings who can change mater on a biological scale and they have bio
living light ships that they travel in. The EL race are negotiators, and they help to bring peace to different
planetary systems and prevent wars in galaxies.
Throughout her life Ileana has had recall memories of experiencing having reptilian abductions especially
since her mid-twenties where she had been taken into underground bases in Europe where her blood and
immune system had been experimented on with nanite technologies to try and kill her, yet she survived
and is now disclosing what happens with ET abductions, ET contact experiences, and Secret
Space Program service.
Contact Info:
YouTube Channel:
Awakening Cosmic Reality Show
https://www.youtube.com/channel/UC9PcTR0qDgtjpBJ4cJGiz7g
Websites:
Messages from a Star Traveler Mystic Arts & Healing
https://seekingthetruthinr.wixsite.com/startravelermessages
Ileana's Messages from a Star Traveler Notifications & Blog
https://awakeningcosmicrea.wixsite.com/startravelermessages
Crystal Grid Creations Mystic Arts & Healing
https://elenaka.wixsite.com/crystalgridcreations
Books:
On Amazon: Crystal Grids: The Art of Healing with Crystals
https://www.amazon.com/dp/B08GV91VC2
On Amazon: Ileana's Star Journeys with the UFO's, ET's, SSP's & Past Lifetimes Volume 1
https://www.amazon.com/dp/B09XZD3GKT
On Amazon: Ileana's Star Journeys with the UFO's, ET's, SSP's & Past Lifetimes Volume 2
https://www.amazon.com/dp/B09XZC4WQM
James Rink, Monarch Supper Soldier
James has a B.S. degree in Business Administration in Finance, after being frustrated with the lies he was told about the banking system he authored the book and documentary "Change is on the Horizon." Which became a three hour documentary covering a variety of topics delving into banking, finance, constitutional law, and NESARA – which is the National Economic Security and Reformation Act.
James Rink is a meditation practitioner, researcher, author, and video producer of the you tube series Super Soldier Talk. Under different alias and timelines has spent a total cumulative of 330 years in the SSP. Including 75 years on Mars as Derrick Reinhold, a Super Soldier for the Nazi military contractor Kruger and Colonel in Upper Management and Logistics at the MCC (Mars Colony Corporation).
He also spent 20 Years at Lunar Operations Command on the moon under the alias of James Jaison Ring, where he worked alongside with John F Kennedy Junior. Additionally, he spent 10 years on Planet Centurion in a SS training program, a Navigation Manager at Dark Fleet for 20 years, 18 months in the Dolphin Super Soldier Hybrid Program at the Jackson Facility where he was paired with a dolphin named Osiris, three years at Black Shield in Antarctica where he was inserted into a cloned Licthsoldaten super soldier known as the Blue Angel, three years in the Hulk Program at Umbrella Corporation under the name of Rob Richter, 20 years with US Army Delta One Division under the name of James Martin Rilsbourgh. Part of his training also included 40 years at Montauk where he was kept in a cage, subject to exploitation by the elite, and reaged over and over as a child whom they nicknamed alien boy, 10 years at a Monarch MK ULTRA MILAB facility, 10 years at a Nazi Abotawah Extermination Prison Camp in an alternate reality in which the Nazi's won World War II. He was eventually rescued by positive planetary corporations in our future who recruited him for mission work to defend the planet and humanity to assist in raising its consciousness. During these bleed over timelines James was inserted into a surrogated family here on planet earth under his new assumed identity of James Rink. His self-awakening is described in his book, Lone Wolf, which chronicles these projects, as well as through his Super Soldier Talk YouTube series has helped awaken humanity to the secret activities of the covert government. Uncovering topics such brainwashing, trauma, milabs (which stands for military abductions), and covert harassment; all of which he has had to endure his entire life as a product of Project Surrogate, Project Name Recovery, and MK ULTRA MILAB Super Soldier experimentation.
He has also developed the "Neo Meditation Device" found at neologicaltech.com which is a chi energizer & relaxation device based on sacred geometry to help people relax and release stress. He also founded the 501c3 Nonprofit Healing Soul Survivors, INC to provide PTSD support.
https://www.youtube.com/c/SuperSoldierTalk
http://www.supersoldiertalk.com
www.neologicaltech.com
www.healingsoulsurvivors.org
Richard Lennie
For more than 30 years Richard Lennie has been one of the premiere researchers in the field of Ufology in the United Kingdom. Richard has become a voice of authority on the UFO phenomenon and Extraterrestrial contact and abduction. From a sighting in December 1980 above my old school where I observed seven red lights to ''Fast walkers'' seen only thru night vision equipment discovered by my late great friend Mr. Ed Grimsley to daytime UFOs seen thru infrared by using filters and ''night-shot'' function on old camcorders. Since then I have discovered we are not alone here on planet Earth or in space. I continue to search for the reason WHY they are here and what if any is there intentions. I am 60 years old and live in West Somerset, England. I have done TV and many radio shows throughout the world along with doing power points around the country. You can find me on Facebook under Richard Lennie (Ufologist) or you can just Google me to see what I have done.
Webinar Director & Host: David Farman
Event Group on Facebook: https://www.facebook.com/groups/5DEVENT
Media contact: info@alienevent.com
or call 1-310-908-6682
https://alienevent.com