The Sound of Deliverance is a Live Recording that will take place on 11/22/19. Come out and experience this worship encounter!!!
About this event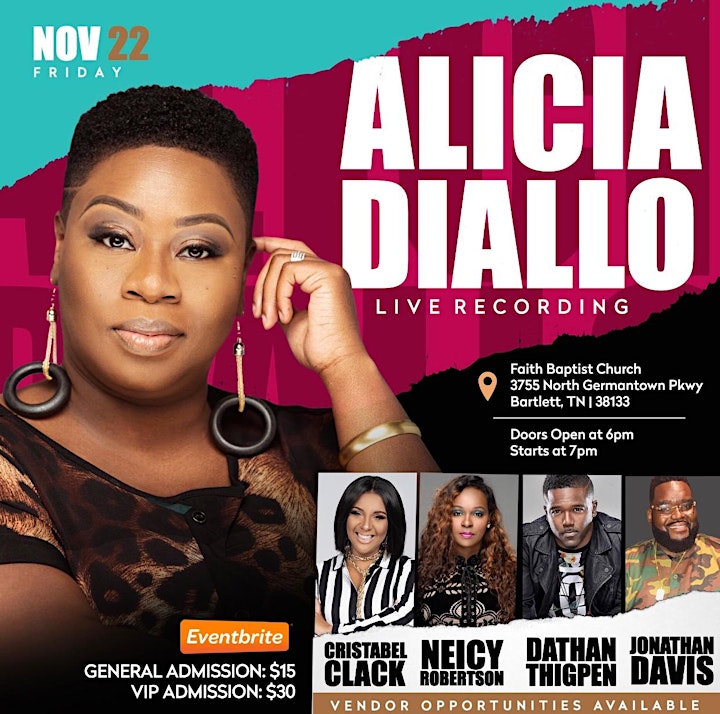 Join Alicia Diallo as she presents "The Sound of Deliverance", a Live Recording that will take place on November 22, 2019. Featured artists include: Cristabel Clack, Neicy Robertson, Dathan Thigpen, and Jonathan Davis. Come out and experience a worship encounter that you will never forget!!!
Location: Faith Baptist Church, 3755 N Germantown Pkwy, Bartlett, TN 38133.
Time: 7:00 pm (Doors open at 6:00 pm)
Vending and Sponsorship opportunities are available: Contact Shay at 901-602-6856 or via email: events@croshayme.com
For more information/bookings please contact adiallomusic@gmail.com or (901) 859-2164.
Organizer of Alicia Diallo: Live Recording "The Sound of Deliverance"
Alicia Diallo is a prophetic psalmist called to the kingdom of God for such a time as this. A native of West Memphis, AR, she was raised in a family that taugh
t her the fear of the Lord and helped to cultivate her musical gifts. She began singing at age 7. Her participation in various choirs and ensembles caused her to develop an appreciation for diverse musical styles.  Over the past few years, she has come to love and respect the healing and transformative power of praise and worship music.

Alicia currently serves on the praise and worship team at All Nations Worship Assembly Memphis. Although active in local ministry, her call extends far beyond the four walls of the church. She has a global mandate to bring healing, deliverance, and restoration to members of the body of Christ by exposing them to unadulterated worship.  

She released her debut praise and worship album, "Access Granted" on August 23, 2015. The power of God on this CD is undeniable. Her worship transcends racial, cultural, ethnic and religious barriers and reaches the very heart of God.



Alicia's greatest desire is to bring God pleasure through the gifts that he has given her.
  This is why she is excited to present "The Sound of Deliverance", a live recording here in the Memphis area.  Join her on November 22, 2019 where over 1500 people from all across the mid-south region will come together on one accord in one place to experience an authentic worship encounter.
For Bookings contact 
adiallomusic
@gmail.com