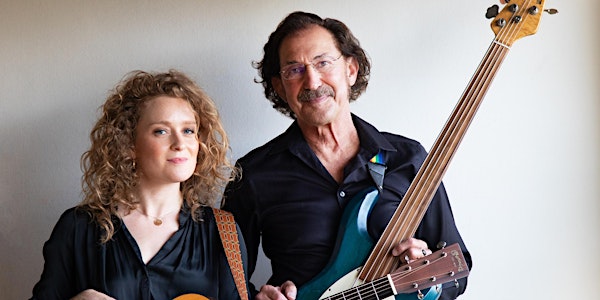 Alice Howe Album Release with special guest Freebo @ BALLARD HOMESTEAD
Abbey Arts presents: Alice Howe Album Release with special guest Freebo at Ballard Homestead
Date and time
Starts on Friday, May 12 · 7:30pm PDT
Location
Ballard Homestead 6541 Jones Avenue Northwest Seattle, WA 98117
Refund Policy
Refunds up to 7 days before event
About this event
To hear Alice Howe sing is to be enraptured by the natural, unaffected beauty of her voice. There's no artifice, no histrionics — just honest, authentic, emotionally resonant singing in the tradition of the roots music that shaped her. On Circumstance, her second and latest album, the Los Angeles-based singer-songwriter guitarist displays her vocal prowess and introspective writing in abundance, mining both her heart and her musical tastes for a deep, personal journey across an Americana soundscape dotted with blues, folk, country, soul and rock. Recorded in two sessions at the legendary Fame Studios in Muscle Shoals, Alabama, where Etta James and Wilson Pickett once shook the walls, the record channels their spirits with 11 stirring tracks that pull no punches diving into the vagaries of the heart and her own personal journey.
As an old soul inside a 30-something millennial, Alice puts her stamp on Americana's venerable strands with 10 standout originals evoking both the classic singer-songwriters and the seminal music that once filled airwaves, roadhouses and juke joints. Circumstance follows her debut 2019 album Visions and the earlier EP You've Been Away So Long, both of which led to being dubbed a rising star in the folk world. Now, she has built on that success, expanding her horizons and continuing along the path that began long ago in Newton, Massachusetts with her absorbing her parents' eclectic record collection. Produced and arranged by her creative partner, Freebo, a veteran bass player and former Bonnie Raitt band member, Circumstance presents a powerful, poetic collection of heartfelt expression — Alice Howe's answer to the call that keeps whispering in her ear.
Freebo is best known for his decade of touring and recording with Bonnie Raitt, and has distinguished himself as one of the great bassists of our time, playing on records with CSN, Maria Muldaur, John Mayall, Ringo Starr, Dr. John, and Neil Young as well as appearing on Saturday Night Live, The Midnight Special, The Muppet Show, and in concert with the legendary Spinal Tap. Not willing to simply rest on those achievements, Freebo delved more deeply into his creativity and has become a highly regarded singer/songwriter, now working on his 6th full-length solo CD. A multi award winner and finalist in numerous songwriting contests, Freebo's music reflects his compassionate concern for the world and people around him, and his lyrics and open stage banter have helped him connect with listeners worldwide.
A live musical experience with Freebo is astute, insightful, clever, and truly melodic. Alice Howe and Freebo present a unique study in contrasts, bringing together a rising voice in Americana music and a venerable rock, folk, and blues icon. Each a compelling performer in their own right, they both lead and support each other in their well-crafted songs with flawless harmonies and tasteful instrumentation.
"When these two get together, prepare yourself for an extraordinary evening of song and smiles, and maybe a tear or two. Powerful songwriting combined with mesmerizing vocals, outstanding musicianship and a palpable camaraderie make for an experience unsurpassed on the contemporary acoustic scene!" - Ron Olesko, Folk Music Notebook, WFDU-FM
@ Ballard Homestead
7:00p doors, 7:30p show
All ages, mostly seated
--------------------------------------------------
EVENT & VENUE INFO:
Check tickets for show times
Ballard Homestead is ADA accessible
Service animals as defined by the ADA are allowed. Service animals are defined as dogs that are individually trained to do work or perform tasks for people with disabilities.
Please refrain from talking during songs.
Please enter quietly if the show has already begun.
Please leave quietly, it's a very quiet neighborhood. I sense a trend here.
Quiet Picnics Welcome. Big surprise there right?
Light snacks & non-alcoholic beverages may be available for purchase, but no other food or bar service at Ballard Homestead shows.
We have a mix of normal chairs, some tall chairs, and standing room in back.
Seating is not reserved unless noted.
Please limit photos during the show so as to not distract other attendees from the experience.
We are an all ages venue. Kids 10 & under are free at Abbey Arts concerts & arts events unless noted.
Entering the venue indicates agreement to adhere to the Abbey Respect Policy. All are welcome.
--------------------------------------------------
ABOUT ABBEY ARTS, SEATTLE:
NONPROFIT 501C3, NON-RELIGIOUS, EST. 2005
Presenting welcoming music, arts & cultural experiences for people of all ages & incomes.
Home Venue: Fremont Abbey, 4272 Fremont Ave North, Seattle, WA 98103 / 206-414-8325 Ballard Homestead: 6541 Jones Ave NW, Seattle | + South Park Hall, Woodlawn Hall Greenlake, UHeights Auditorium (UDistrict), St Mark's Cathedral (Capitol Hill), & more
--------------------------------------------------
See Updated Public Health Safety Info at the bottom of this page under Abbey Arts Presents. All Abbey Arts venues adhere to WA State & King County health guidelines. Thanks for helping keep our community safe!
--------------------------------------------------
About the organizer
Public Health Info:
Be sure to check your events ticketing page for any special requirements per event.
That being said, we still strongly encourage people attending to follow all safety protocols shown below and per King County Public Health.
Attendees are welcome to wear masks at their discretion, all are welcome. Please don't discriminate based on mask or no mask. Some people may opt to wear a N95 for their own protection.
Please check your specific event details before purchasing a ticket.
THESE GUIDELINES MAY CHANGE AT ANY TIME DUE TO PUBLIC HEALTH GUIDELINES
-----------MORE INFO--------------
All Abbey Arts employees & volunteers are vaccinated.
We are operating at full capacity and do not have any capacity restrictions unless otherwise noted in the event description.
We have added hand sanitizing stations and air filtration systems around our venues. We encourage you to regularly sanitize and fully wash hands when you use the restroom.
****
By entering the Venue, you and the members of your group voluntarily assume the risks of contracting COVID-19 and agree to release, waive, discharge and covenant not to sue any Artist performing or Abbey employee or company (including their owners, officers, employees, volunteers, agents and the City of Seattle), and hold these entities and persons harmless from liability regarding any and all claims relating to COVID-19 and indirectly or directly arising out of or relating to the Venue or event.
****
Individual events may have additional safety measures in place, see Ticketing pages for details.
-----------------------
ABBEY ARTS, SEATTLE:
NONPROFIT 501C3, NON-RELIGIOUS, EST. 2005
Fremont Abbey | Ballard Homestead | South Park Hall | St Mark's Capitol Hill | The Auditorium @ UHeights |  & more
Independent nonprofit, non-religious, all ages/incomes. 
Low Fee Tickets! No hidden high fees like Ticktmstr. :-)
[ Click here to subscribe to our optional text messages. ]
[The views and opinions expressed at events are those of the artists and performers and do not necessarily reflect Abbey Arts. About Page | Respect Policy.]
Refunds may be available per event settings.
No refunds due to support act changes.
Tickets for rental events may be via their website. 
Note: Entry requirements are subject to change. By purchasing tickets to this event you agree to abide by entry requirements in effect at the time of the event. Check the venue website leading up to your event for the latest protocols.