ALICE: Active Shooter Response Training Instructor Course / Casper WY
Description
ACTIVE SHOOTER RESPONSE TRAINING INSTRUCTOR COURSE
Please do not enroll anyone other than yourself
Hosted By: Natrona County School District #1
And Wyoming Division of Criminal Investigation's School Safety Office

ALICE (Alert, Lockdown, Inform, Counter, and Evacuate) is a set of proactive, options-based strategies that increase your chances of survival during a violent intruder or Active Shooter event. For 14 years, the ALICE Training Institute has provided violent intruder response training to individuals and organizations across the nation.

This 2-Day Instructor training course is designed to teach law enforcement as well as school employee's skills and strategies that bridge the gap between the time a violent event begins and law enforcement arrives.

---
When: September 29th and 30th, 2016 0800-1700 each day
Where: Natrona County School District
1044 Foster Road
Casper, Wyoming 82601
Who: Wyoming School District personnel and Wyoming Law Enforcement Officers only

Cost: Free tuition
*Per Diem and Sleeping Rooms may be reimbursed through the School Safety Office.
Attendees who live 50 miles or more from the training site may submit for reimbursements.


This Reimbursement goes directly to students who expend their funds to attend training, not Agencies
Questions can be directed to the POC at the bottom of this page
Below is a link for the reimbursement form:
please forward completed forms to:
School Safety Office
C/O DCI
208 S. College Drive
Cheyenne, Wy 82001
Ref: ALICE Training Reimbursement
---
Safety Equipment:
Safety gear for this training will be issued onsite by the training provider but long pants and long sleeved shirts are recommended
Weapons Safety:
During this course, there will be multiple training exercises involving weapons simulations. Officer-issued weapons, both primary and secondary, are not required for this course. Each officer is responsible for properly securing his or her weapon(s) during the training course. No personal or agency weapon (including impact and less-than-lethal weapons), live ammunition, weapon magazines, or flash bangs are to be on the officer or in the training area (including classroom) at any time during this course.
Please feel free to wear civilian attire
---
Details: Natrona County School District #1 and the Wyoming Division of Criminal Investigation's School Safety Office are proud to announce this training opportunity to provide The ALICE Training Institutes' train-the-trainer program for active shooter response in schools.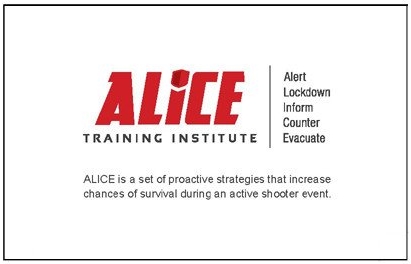 This class seeks to build a school district/law enforcement training nexus for response to school-based threats. Attendees will receive trainer level instruction in the ALICE program to take back to their organization. We are looking for school districts to work with their local law enforcement agency in identifying members of their staff who can work together with this training in the school environment to help provide safer schools. There is an expectation that upon completion of this training, the trainer will present training within their jurisdiction and school districts.
Point of Contact:
Mark Trimble
mark.trimble2@wyo.gov
Enrollment Question
russell.clark@wyo.gov