Description
Alibaba Business School - Transform Your Business Digitally
Learn E-commerce know-how in 3 days with expert from Alibaba Business School (HRDF CLAIMABLE)


About the Course

Developed by Alibaba business school which has more than 10 years of experience in e-commerce jointly with Chinese e-commerce entrepreneurs. Combining theory, case and practice, multiple group discussions and exercises led by lecturers, speeding up the absorption of course knowledge. In-depth links with Internet e-commerce operations and marketing experts to help you get started quickly with online store operations.



WHAT YOU WILL LEARN:


Understand the latest and advanced e-commerce operation strategy and methods, so as to help your online business development.

Grasp how to set your operation targets scientifically and how to make your operation plan to achieve your targets.

Know the future operation trend of the newest content marketing. Understand how to start and make your content marketing strategy in southeast Asia.



Master the completed process of how to create an effective e-commerce campaign to boost your sales. Be able to use data to evaluate campaign effect.


Why is this course important?

Let the experts from Alibaba Business School change your perception towards E-commerce with their 10 years experience! class to master E-commerce knowledge and operation!

Why digital transformation is so important to all SMEs now?

"Because Digital transformation is closing the gap between customer expectations and business services."

This course will uncover the secrets of E-commerce, E-commerce operation, Content Marketing and e-Shop Activities management.

This program is aim to help more Malaysia enterprises to earn brand awareness and boost sales online.

Do E-commerce, Be like Alibaba.
----------------------------------------------------------------------------------


Who should come?


Individuals who has a certain e-commerce knowledge and wants to engage in e-commerce operation.
Traditional business who wish to transform their business online.

Digital business who wish to improve their business operation and master the latest E-commerce trend.
Programme agenda
The Facilitators all the way from Alibaba Business School


*This course will be conducted in English

-----------------------------------------------------------------------------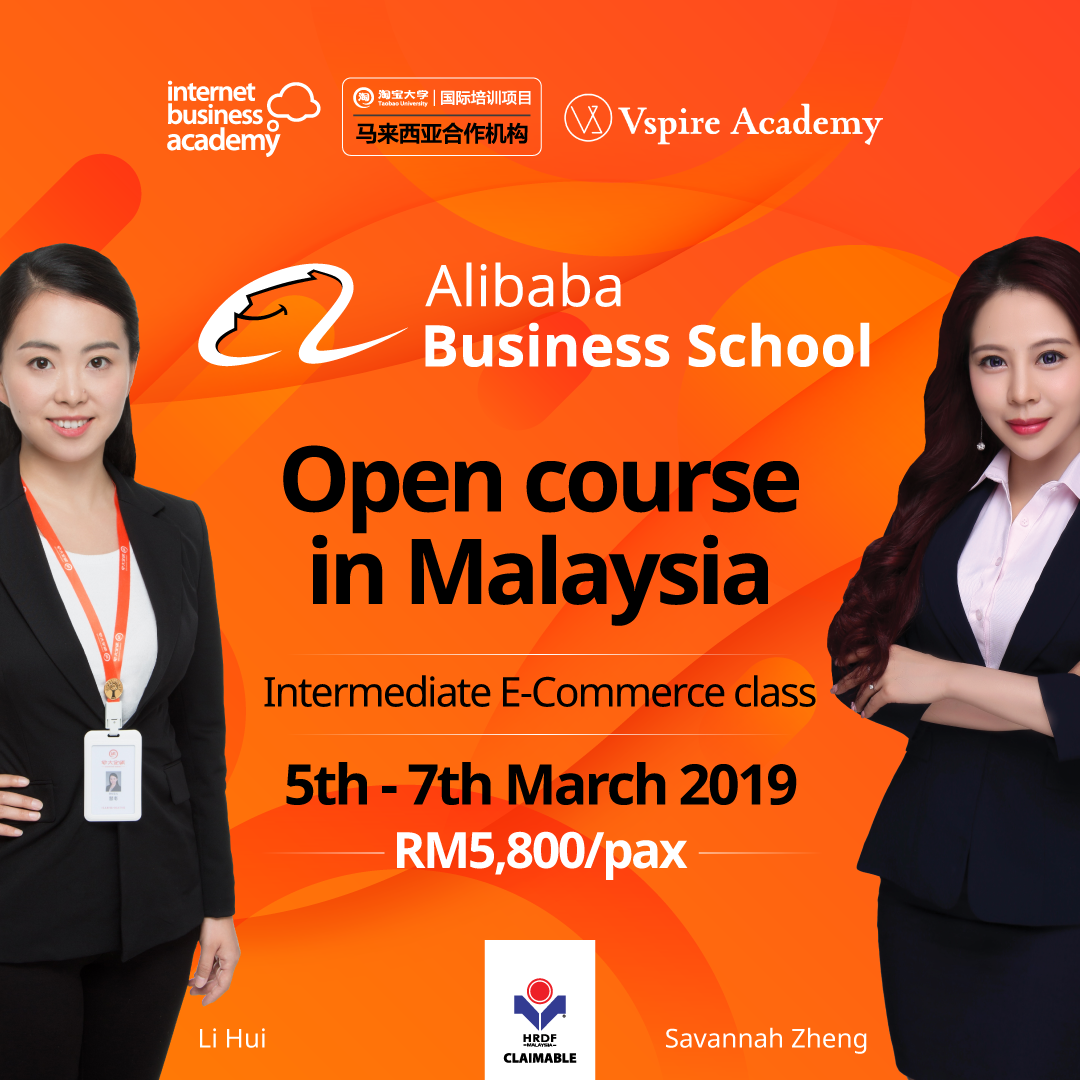 STANDARD TICKET: RM5,800/PAX


CNY PROMOTION PERIOD 5/2/2019 - 20/2/2019 : RM4,800/PAX
LIMITED SEATS AVAILABLE.





Payment Method
Bank in/ Direct transfer to:
Account Name: Vspire Media
Account Number: 514440536498 (Maybank)
Email address: academy@vspiremedia.com
Please email your bank in/transfer receipt to us with your name and contact number (same as the ticket registration) for the confirmation.

Please contact us if you need more information or any enquiries:
Call/WhatsApp: 016-662 2616

Follow our Facebook Page: Vspire Academy