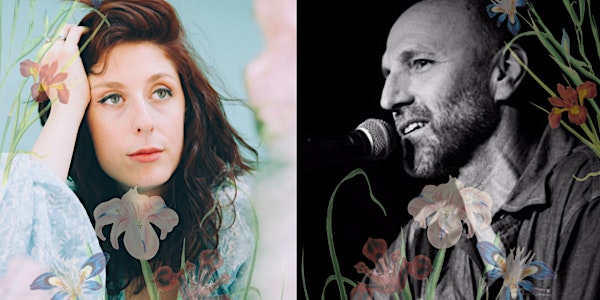 Ali Holder & Nathan Hamilton
ALL AGES
Presented by Nicely Done Co-op
Nicely Done and Captain Quack's are proud to host a songwriter swap with Ali Holder & Nathan Hamilton at Soundstage!
When and where
Location
Captain Quackenbush's Coffeehouse 5326 Menchaca Rd. Austin, TX 78745
About this event
Ali Holder
Although Holder was raised on outlaw country in Wichita Falls, Texas, she is influenced by a broad swathe of styles including country, jazz, blues, folk and indie. "I use slashes a lot," Holder notes. "Folk/country/blues/Americana/jazz. I don't think I have to be any one thing." She began writing, singing and playing guitar in junior high, and fell in love with songwriters early on- "Janis Joplin and the women of Lilith Fair had a big impact on me growing up".
Over time, Holder discovered Texas songwriters such as Susan Gibson and Walt Wilkins, along with Wilco, Lucinda Williams, Ryan Adams and Tom Waits. In college, she absorbed Patty Griffin, Gillian Welch, Jenny Lewis and Neko Case. After completing her undergraduate degree in art education at the University of Texas at Arlington, Holder relocated to Austin in search of a larger audience. Once settled, Holder fronted two bands: the folk-leaning Ali Holder & the Broken Hearted, and R&B band Ali Holder & the Raindoggs.
In recent times, Holder has expanded her musical palate to include artists such as Brandi Carlile, Susan Tedeschi, Possessed by Paul James and Lera Lynn. These influences can occasionally be heard in the songs, but it's her own sound — a sure voice that leans toward alto but effortlessly reaches far higher, coupled with well-targeted musical sensibilities and intelligent lyrics — that draws the listener in.
Whether her inspirations come from haunting historic sites, communing with cattle or reading Stephen King, Ali Holder clearly has creative blood coursing through her veins. Let her spill some into your ears.
Nathan Hamilton
Nathan Hamilton is a multidisciplinary artist based in Austin, Texas. As a singer songwriter he has been performing professionally for more than 25 years. During that time he has released six solo albums and two as a member of the Good Medicine Band (aka Sharecroppers). He was a winner of the New Folk Award at the 2000 Kerrville Folk Festival and a Top 5 Finalist for Best Americana Song in the 2008 Independent Music Awards. Nathan has toured extensively throughout the US, Europe and Japan and in 2012 was selected as an official musical ambassador for the City of Austin as part of its Sister Cities program. Nathan composed the score for the independent feature film "Fugitive Dreams" and has written original music for videos produced by the homeless outreach group, New York City Relief.
Nathan is a studied visual artist as well and regularly shows work in both solo and group shows. Most recently he exhibited a one man show at the Center for Contemporary Art in his hometown of Abilene,Texas. In 2019, Nathan released "This Engineless Hour" a collection of poetry and photographs.