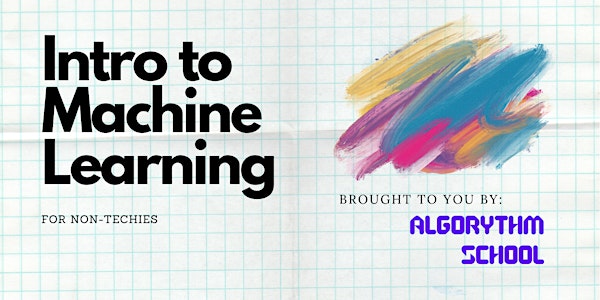 Multiple dates
Algorythm™️| Intro to Machine Learning
Predicting the future is not magic, it's artificial intelligence. – Dave Waters
Date and time
September 13, 2022 · 7pm - July 7, 2026 · 10pm PDT
Location
Mindshop Online Classroom . . SAN FRANCISCO, CA 00000
About this event
WHAT IS THIS ALGORYTHM COURSE ABOUT?
This course provides a robust foundation on machine learning concepts and applications. This course is designed for students who have little to no technical background, yet are committed to venture into the AI space.
WHO IS THIS COURSE FOR?
(Non-tech) Entrepreneurs who want to build AI startups
Career switchers from non-tech background
Students exploring AI space
COURSE AGENDA:
-> Difference between ML, DL and Data Science
-> Introduction of the following concepts:
Supervised learning vs Unsupervised learning
Learning and logic regression
K-means clustering
Decision Tree
Boosting and bagging algorithm
Time series modeling
Kernel SVM
Naive Bayes
Random forest classifiers
-> Existing applications of ML
-> Live Q&A and Case Discussions
P.S More Algorythm courses coming up on each one of these concepts, follow for updates.
About the organizer
Kat Usop is an award-winning digital health innovator/t(h)inkerer. She specializes in implementing gamification models in disease management, consumer health, and precision medicine. A polymath by nature, she has diverse experiences in the facets of research, development, and management of medical devices and de-novo health technologies. She was part of the genesis of gamified virtual workspaces for pre-operative surgical training and communication using anatomical digital twins (biomimicry), this effort was presented at Harvard Medical School (2018) amongst pioneers of VR and AR in Health (VRVoice). Consequently, she was able to drive the selection of Gina Health (Current Venture) to become a finalist at the 2020 NC Tech: Data as a New Resource for its unique design in gamifying a mental health platform. She also contributed to the wearable (biomedical) data management and governance at Duke University - Biomedical Engineering. She was also fortunate to be selected as the youngest adjunct professor of risk management of medical devices at the age of 23. And at the age of 19, she started the IEEE D2S Initiative in the Philippines which focuses on producing innovative yet essential technologies for the aftermath of natural calamities in the Asia-pacific region. This effort was replicated in India, Bangladesh, and Hong Kong. Devoted to the advancement of innovative healthcare, Kat is an active peer-reviewer at key journals (IEEE JBHI, JMIR) and teaches thousands of professionals from all over the world; topics in gamification, design thinking and data science in health. Kat is a graduate of MS in Health Informatics and Bioinformatics from the University of Missouri-Columbia, with a prestigious award of Donald Lindberg's award in Health Innovation (School of Medicine).
"Learn to see. Realize that everything connects to everything else." – Leonardo Da Vinci.
—
Kat Usop,  MSHI
Twitter: @itskatusop
www.katusop.com