ALGEBRA & ANTHONY DAVID LIVE IN CONCERT-SEATS AVAILABLE FOR PURCHASE @ THE...
Description
THE BLUE ROOM | 107 ENTERTAINMENT | HNIC ENTERTAINMENT| BOSS CHIX, JANET JACKSON

& THE SUPER LAWYER AKA

Reginald Greene
FRIDAY NIGHT LIVE EACH & EVERY FRIDAY
W/ THE AFTERWORK ATTITUDE ADJUSTMENT
AND THE "$10" 2 FOR 1 ALL YOU CAN EAT
CRAB LEGS & DINNER BUFFET
SO BRING A FRIEND AND YOU GET 2 BUFFETS FOR THE PRICE OF 1!!!!
AND ALL LADIES IN BEFORE 10PM DRINK ABSOLUTELY "FREE" COURTESY OF THE BOSS CHIX
TEACHERS GET THE FREE BUFFET W/ SCHOOL I.D.
"Get 1 Buffet Serving or Round On Us"
AND... ARE YOU READY? ON NEXT FRIDAY, MAY 26TH, AFTER THE 2 FOR 1 BUFFET
IT'S "A R&B & NEO SOUL EDITION" OF FRIDAY NIGHT LIVE
ALGEBRA AKA
Algebra Blessett
AND ANTHONY DAVID AKA
Anthony David
LIVE IN CONCERT!!!!
RESERVED SEATING PURCHASE IS HIGHLY SUGGESTED; YOU MAY UPGRADE AND PAY FOR SEATING AT THE DOOR, HOWEVER THERE IS NO GUARANTEE THAT THERE WILL BE AVAILABILITY ON THE ACTUAL NIGHT OF THE SHOW...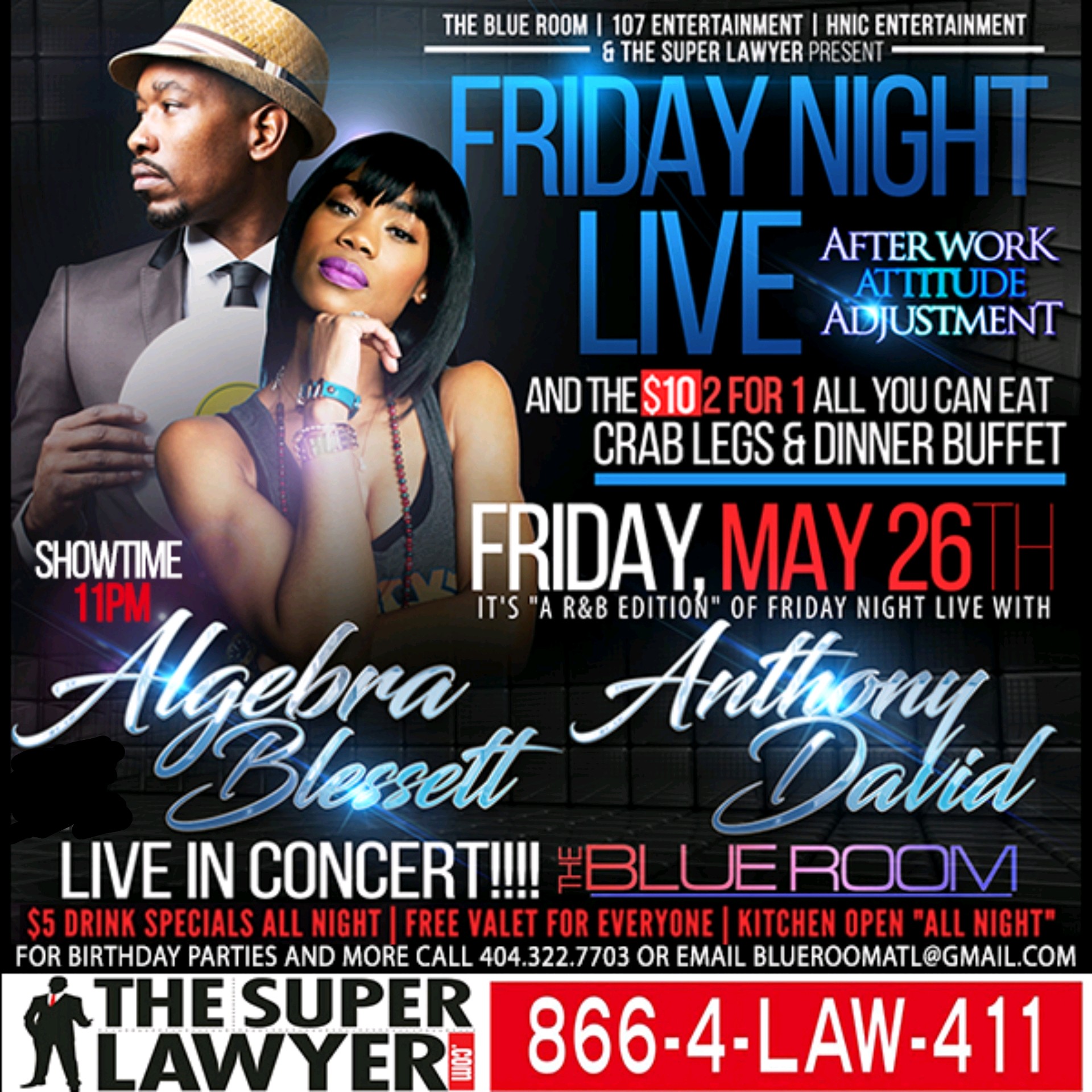 $5 DRINK SPECIALS ALL NIGHT | FREE VALET FOR EVERYONE | KITCHEN OPEN "ALL NIGHT"
FOR BIRTHDAY PARTIES AND OTHER INFO EMAIL: BLUEROOMATL@GMAIL.COM
THE BLUE ROOM IS LOCATED AT
2617 PANOLA ROAD | LITHONIA, GA
FAQ
* MUST BE 21 TO ENTER
* IS THIS A FULL CONCERT- YES
* NO REFUNDS
* COMPLIMENTARY VALET FOR EVERYONE
* CABERNET SEATING FOR INDIVIDUAL SEAT PURCHASES
* THE 2 FOR 1 BUFFET IS FROM 6-9PM
---