Description
We invite you to join us for our Exemplary Leaders Awards Dinner on September 27, 2019 at the Hyatt Regency Sacramento to celebrate regional, diverse and collaborative leadership! It is in this spirit and intention that our Sr. Fellows nominated this year's Exemplary Leaders Awards recipients and our selection committee chose three honorees to recognize at this very special event. We hope to see you there!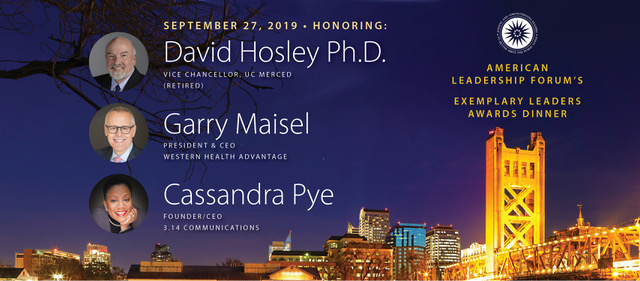 ALF's Exemplary Leaders Awards Dinner
Friday, September 27, 2019
5:30 pm | Reception
6:30 pm | Dinner & Program
9:00 pm | Close
Hyatt Regency Sacramento
1209 L Street
Sacramento, CA 95814
Sponsorships ($2,750+) and Tables of 8 ($1,750) are available!
Contact bonnie@alf-mvc.org or 916-247-5137 for more information.
Funds raised at our annual dinner allow us to provide programs that strengthen collaborative regional leadership: our first-year fellows program, our implicit bias and racial equity initiatives, our capacity-building efforts for nonprofits, leadership development experiences for fellows, and more. Scholarship contributions also ensure diverse participation in these programs.
The Internal Revenue Service recognizes ALF-MVC as a 501(c)(3) nonprofit organization, tax ID no. 91-1792774. The value of goods received for each ticket is $76; the remainder may be considered a tax-deductible contribution.
VISIONARY SPONSORS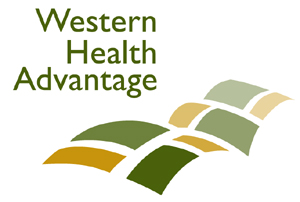 LEADER SPONSORS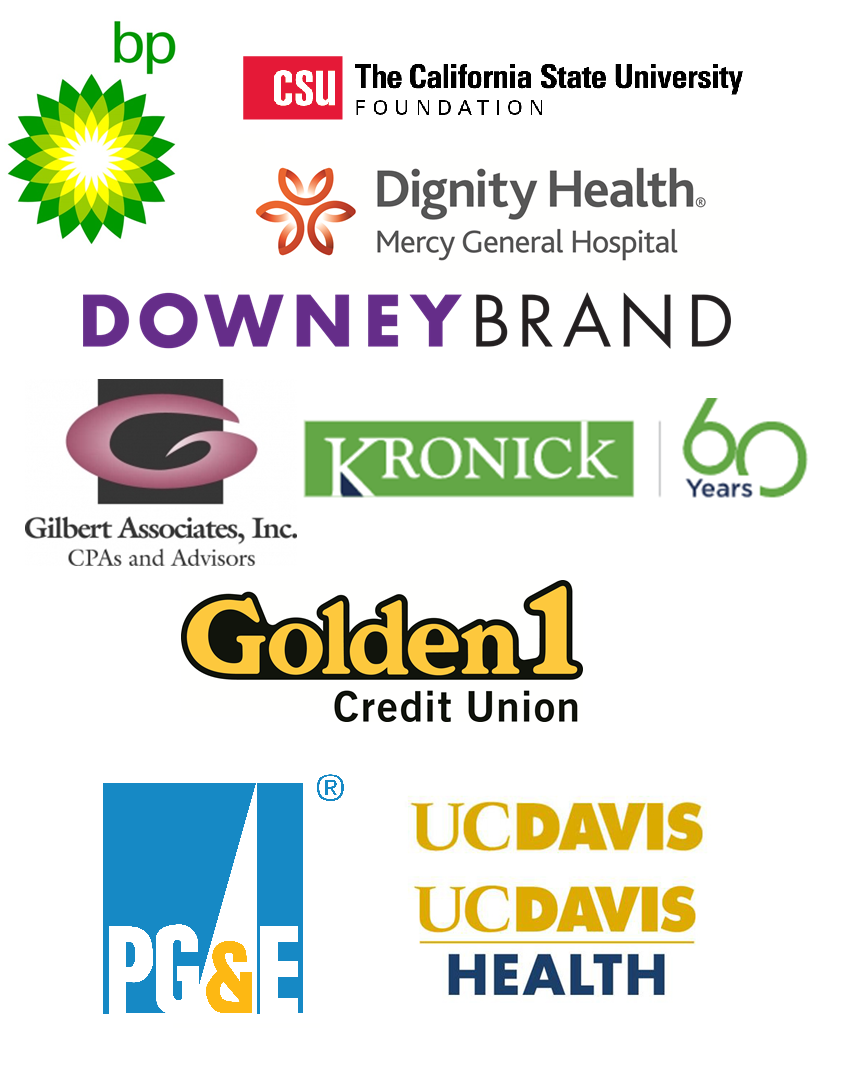 TRAILBLAZER SPONSORS
Capital Public Radio
Five Star
Lucas Public Affairs
PRIDE Industries
Principal Finance Group
Sierra Health Foundation
SMUD
Teichert
University of the Pacific


WINE SPONSOR
Nugget Markets
CREATIVE SPONSOR
Marketing By Design
AUDIO VISUAL SPONSOR
Illuminate Production Services
MEDIA SPONSORS
Riverview Media Photography
About the American Leadership Forum - Mountain Valley Chapter

Our Vision is to improve the social, economic, and political fabric of the Greater Sacramento region through shared commitment to collaborative action.
Our Mission is to:
UNITE boundary-crossing leaders from a diversity of sectors throughout the Greater Sacramento region;
STRENGTHEN their leadership capacity through deepening relationships and transformative experiences; and
SERVE the community by working collaboratively to make significant positive contributions.
About the honorees
Thank you to all of our Fellows who submitted nominations for this year's Exemplary Leaders Awards recipients! Our selection committee chose three honorees for 2019: Cassandra Pye, David Hosley, Ph.D., and Garry Maisel.
Cassandra Pye:
For over 30 years, Cassandra Walker Pye has enjoyed a successful career in communications, government, politics and advocacy for corporate interests in global, national, state and local arenas. In January 2015, she founded 3.14 Communications, LLC.
Prior to launching 3.14 Communications, she was SVP for APCO Worldwide, a global communication consultancy. In 2003, Pye was appointed deputy chief of staff to California Governor Arnold Schwarzenegger and served on his post-recall election transition team. She is former corporate affairs VP and political director for the CA Chamber of Commerce, executive director for the JobsPAC, director of public affairs for the CA Retailers Association, director of governmental relations for the CA Grocers Association and state relations manager for the Food Marketing Institute, headquartered in Washington, DC. An award-winning writer, Pye is a regular contributor to CA Grocer magazine.
Pye is State Board President for California Women Lead, sits on the Board of Directors for New Way CA, is Board Chair for Street Soccer USA (Sacramento), a director of the Sacramento Region Community Foundation and an American Leadership Forum (ALF) senior fellow. She and husband Kelvin have four adult sons. They reside in Sacramento.

Current Board/Community Service:
California Women Lead State Board President
California Women Lead is a nonprofit, nonpartisan association of women holding – or considering holding – elected or appointed office. Our mission is to give California's women the tools they need to be successful in both their political and professional lives.
Sacramento Region Community Foundation Board Member
Sacramento Region Community Foundation transforms our community through focused leadership and advocacy that inspire partnerships and expand giving. As the Sacramento region's primary provider of philanthropic services, we help people who want to give back to their community.
Street Soccer USA, Sacramento Region Board Chair
Our mission is to fight poverty and empower underserved communities through soccer. We provide an alternative to the pay-to-play model of youth sports with a focus on social impact across the United States and beyond. SSUSA brings its programs to kids 6-18 years old, as well as special needs populations including homeless families, adults and people in recovery.
Links, Incorporated – Sacramento Chapter Member
The Links, Incorporated founded in 1946, is one of the oldest and largest volunteer service organizations of women who are committed to enriching, sustaining and ensuring the culture and economic survival of African Americans and other persons of African ancestry.
California Blue Ribbon Commission on Autism Foundation Board Member
The Foundation raises funds to support the efforts of the California Autism Commission. The Commission was established to study and investigate the early identification and intervention of autism spectrum disorders (ASD); gaps in programs and services related to the education and treatment of children, adolescents, transitional youth, and adults with ASD; and the planning required to address the "aging out" of children who comprise the current autism epidemic.
Prior
American Leadership Forum-Mountain Valley Chapter Board Member
The American Leadership Forum is a nonprofit organization whose mission is to join and strengthen diverse leaders to better serve the public good. We do this through a yearlong Fellows Program in each Chapter's community in which leaders can engage in dialogue, differ, and build relationships. ALF strengthens Fellows' capacity to address public issues collaboratively and builds a strong leadership network to work for positive change in our community.
Jack and Jill of America, Sacramento President/Executive Board
Jack and Jill of America, Inc. is a membership organization of mothers with children ages 2-19, dedicated to nurturing future African-American leaders by strengthening children through leadership development, volunteer service, philanthropic giving and civic duty.
Executive Advisory Council, Leadership California Member
Leadership California is a network of accomplished women, dedicated to advancing the leadership role women play in impacting business, social issues and public policy.
UC Davis Foundation Trustee
The UC Davis Foundation is a nonprofit organization that plays an essential role in sustaining and enhancing the excellence of UC Davis by highlighting the impacts of philanthropy and stewarding private donations to the university. It is governed by a distinguished volunteer Board of Trustees.
California Museum for Women and the Arts Board Member
A self-supporting 501(c)3 non-profit, The California Museum — home of the California Hall of Fame — engages, educates and enlightens people about California's rich history and unique contributions to the world through ideas, innovation, the arts and culture. Through interactive and innovative experiences, the Museum inspires men, women and children to pursue the California dream and make a mark on history.
Related
Faculty, Project 2012 – Rutgers' Center for the Study of American Women & Politics
Alumna, Swiss-American Young Leaders Program
David Hosley, Ph.D.:
David Hosley is an expert on mass media and society who has led media and nonprofit organizations in California and Florida. He is currently overseeing the creation of digital content in 4K for a national public television organization.
Dr. Hosley has more than five decades of media experience, starting as a journalist at 14, and serves as executive producer on public television documentaries for the Center for Asian American Media. Halfway Home: Asian American Arts in the Central Valley will be shown on stations across the country in May, 2019.
Last year he won a national award from the Asian American Journalists Association for Arnold Knows Me: The Tommy Kong Story. Previously, he managed KVIE, KCSM and KQED in public broadcasting, and was a producer, reporter and anchor at news radio stations in San Francisco, New York and Miami.
Dr. Hosley has been active in regional planning efforts serving on the boards of the California Asian-American Chamber of Commerce and the Sacramento Metro Chamber as well as the Ironstone Concours Foundation, three of three dozen nonprofit boards on which he has served. He chaired the Dean's Advisory Council for the College of Agriculture and Environmental Science and was a founding member of the advisory board of the Center for Regional Change Advisory Board at UC Davis. Dr. Hosley hosted the Great Valley public affairs series which was carried on three television stations in the Central Valley.
He was the founding executive director of the Great Valley American Leadership Forum chapter and later served on the chapter board while putting in a decade on the ALF National Board. At UC Merced, Dr. Hosley was the President of the Greater Valley Center, Executive Director of the Sierra Nevada Research Institute, and interim Vice Chancellor for University Relations.
Dr. Hosley holds a co-terminal B.A./M.A. from Stanford University in communications and a Ph.D. from Columbia in sociology. He's written a book on the history of foreign correspondence on radio in World War II, and co-authored Hard News on the history of women in broadcast journalism. Dr. Hosley has taught at the University of Florida, Florida International and three times at Stanford, most recently strategic management in the nonprofit environment at the Graduate School of Business.
An avid amateur athlete, Dr. Hosley played rugby for Columbia University and the University of Florida and toured to Australia and New Zealand with the Hastings Old Boys, was an all-star softball player in San Francisco and Sacramento, and has sailed from British Columbia to Maine and the Virgin Islands. He currently is a professional rugby referee and serves on the David Williamson Rugby Referee Scholarship committee.
Dr. Hosley is married to gayle yamada, and they are the proud parents of daughter Heather who works for a technology company in San Francisco.
Garry Maisel:
Garry Maisel's commitment to community is evident in his every action as President and CEO of Western Health Advantage (WHA).
As President, Garry has provided leadership at WHA from its start-up in 1996 to current recorded annual revenue of more than $750 million. WHA focuses on improving healthcare access and affordability and is known for developing innovative programs to expand coverage to the uninsured.
The Company's growth and quality earn it a regular spot on the Sacramento Business Journal's annual list of Top 50 Fastest-Growing Companies, most recently in 2015. Garry leads WHA's growing workforce, which provides award-winning customer service to more than 135,000 members in the Sacramento and North Bay Regions.
In addition to positioning WHA to improve access to healthcare, he also believes in leveraging his organization to support various non-profit organizations and community causes. An active community board member, Garry currently lends his expertise and experience to:
WEAVE – Women Escaping a Violent Environment (Past Board Chair)

Valley Vision – A Leadership Organization Dedicated to the Sacramento Region

Greater Sacramento Area Economic Council (Current Board Vice-Chair)

Sacramento Region Community Foundation

Mercy Foundation (Past Board Chair)

B Street Theatre (Current Board Chair)

Mondavi Center for the Performing Arts (Past Board Chair)

American Heart Association – Sacramento Division (Current Board Chair)

The University Foundation at Sacramento State

The Chevo Foundation – Dedicated to Parkinson's Research and Education

Meristem – Serving Young Adults on the Autism Spectrum

California Association of Health Plans (Past Board Chair)

Health Plan Alliance – A National Organization of Provider-Aligned Health Plans (Current Board Chair)
Garry holds a degree in finance and economics from California State University Sacramento and has accumulated 26 years of experience in healthcare plus 10 years in the banking and finance industry, including time as the Chief Financial Officer for a regional community bank. Garry has received numerous awards, including the Sacramento Metro Chamber 2010 Businessman of the Year Award; the 2011 Individual Arts Leadership Award from the Sacramento Arts & Business Council; the 2014 Executive Leadership Award from Community Link Capital Region, and the 2015 Humanitarian of the Year Award from UCP Sacramento.
Whether he is providing quality healthcare coverage to employers and individuals or expert counsel to nonprofit organizations, Garry Maisel is perfectly suited to lead an organization committed to the people and businesses of the Sacramento and North Bay Regions.
We are looking forward to having you join us in recognizing our 2019 Exemplary Leaders Awards Honorees. Thank you for being a vital part of ALF-MVC!