Alex's Army Official GUINNESS WORLD RECORDS™ attempt & Awareness Event
Actions and Detail Panel
Alex's Army Official GUINNESS WORLD RECORDS™ attempt & Awareness Event
Sat, April 8, 2017, 1:00 PM – 4:00 PM EDT
Description
Have you ever wanted to be a part of an Official

GUINNESS WORLD RECORDS™ attempt

?
Well, here's your chance!
On April 8, 2017, Alex's Army Childhood Cancer Foundation will host an Official GUINNESS WORLD RECORDS™ attempt for the Most people performing push ups on Battlefield High School's Campus to raise awareness for Childhood Cancer and to honor the memory of local Haymarket resident, Alex J. Green, on what would have been his 13th Birthday.


Step 1: Register today!
Step 2: Tell a friend and help spread the word!
Step 3: Practice those push-ups (no seriously, practice!)
Step 4: Print your confirmation ticket and bring it with you to the event
Registration is FREE. All registered participants will receive an official Alex's Army / GUINNESS WORLD RECORDS™ attempt event souvenier. If the record is broken, all registered participants will be able to order an Official GUINNESS WORLD RECORDS™ certificate from the GUINNESS WORLD RECORDS™ website. You MUST register in advance AND bring your ticket to the event in order to be eligible receive the item(s) above.
Attention Students/Staff Members of local area schools:
Alex's Army will be awarding a trophy for your organizations' trophy case to the Sports Organization, High School, Middle School, and Elementary School with the MOST participating students/staff! Be sure to spread the word so that YOUR school will be the one recognized LIVE at the event! When you register, simply select your school affiliation OR enter it into the other option. (*Elementary students must be in 3rd grade and age 8 or older participate in the GUINNESS WORLD RECORDS™ attempt)
About the record
The record for the Most people performing pushups of 1350 people was previously held by Intel Corporation since 2015 and just recently broken by 1645 people on February 16th, 2017 by Ajman Municipality in Ajman, UAE - (Alex's mom's birthday!). Our goal is to break this record (On Alex's birthday!) with a minimum of 2000 people and we need as many people as possible to join us!
Participants must be age 8 in 3rd grade or older AND be able to do consistent straight leg/straight back push-ups (no push-ups on knees and no bottoms in the air!).
See the FAQs section for more details on push-up form and participation restrictions.

About the Event
This event will not only honor our sweet Alex on his 13th birthday but through it we will honor ALL children and families who have fought various childhood cancers. In addition to this being a Birthday Celebration, this will be an awesome awareness event! Non-profit organizations from around the Childhood Cancer community will come together to showcase their efforts and what they are doing to make a difference. We have some powerful guest speakers lined up in addition to music, food trucks, kids' games, entertainment, and of course the push-up attempt itself!
This event is FREE to the public but registration to participate in the GUINNESS WORLD RECORDS™ attempt is required. We will have a GUINNESS WORLD RECORDS™ judge onsite so that the determination will be made that day on whether we have officially created the new world record!
Any proceeds raised by push-up participants or sponsors of this event will be put toward our Alex's Army 2017 research fund. Last year, Alex's Army gave over $100,000.00 for Childhood Cancer research and the proceeds from this event will directly allow us to continue funding better and safer treatments for our children!
About Alex
Alex Green was a student for 5 years at Gravely Elementary school in Haymarket and for 1 year at Bull Run Middle School in Catharpin, he was a member of Park Valley Church and was so blessed by great friendships in his schools and amazing support everywhere in his community. Alex was diagnosed at the age of 5 with Stage IV Wilms tumor. He fought for 7 years through 17+ surgeries one which left him paralyzed from the waist down, 30+ radiation treatments, multiple chemotherapies regimens and various clinical trials. Alex had tremendous faith, and was a fierce competitor and athlete. Through different procedures his family would focus on bible verses for encouragement and strength. Alex's favorite verse was Philippians 4:13 "I can do all things through Christ who strengthens me." While enduring medical treatments, he played various sports from wheelchair basketball to sled hockey, he even was an honorary player for the Grizzlies 90LB American team where the team put him in the game and he got to score his first and only touchdown for a tackle football team!
Alex embodied strength and loved competition; despite the harsh medical treatments he was enduring, he set a daily reminder on his phone to do twenty push-ups. When Alex went on hospice care in early 2016, the community started doing his push-ups for him and the hashtag #Twenty4Alex was born. Alex passed away in June of 2016, however his legacy continues to live on. Alex, like many boys his age, used to like to look through the GUINNESS WORLD RECORDS™ books and we cannot think of a better way to honor him on what would have been his 13th birthday. We KNOW that we can do this because like Alex we know that we "can do all things through Christ who gives us strength".
FAQs
How are the push-ups to be performed?
For purpose of the record attempt a push-up is defined as such that the body must remain straight throughout, i.e. no bending at the knees or waist. The body must be lowered until atleast a 90-degree angle is attained at the elbow. The body is then raised until the arms are straight althought they do not need to be locked at the elbow.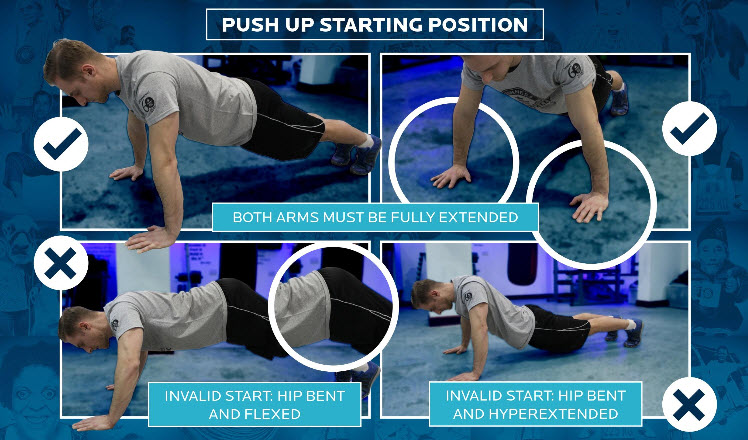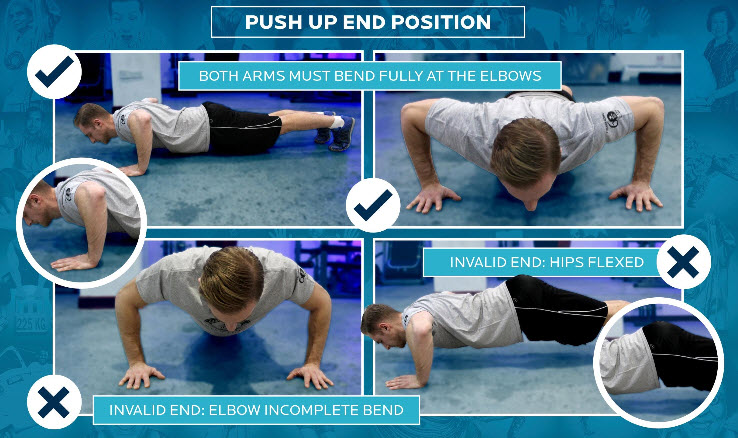 Are minimum age requirements to enter the event?
Push-up participants only must be atleast 8 years old and in 3rd grade & able to perform straight-leg push-ups for 1 minute in order for our qualification of this attempt to be successful. **Parents of younger children, please observe your child to make sure he/she can do standard push-ups for 1 minute. Refer to picture above for valid push-up form.
What are my transportation/parking options for getting to and from the event?
Parking can be found on the Battlefield High School campus. Carpooling is highly recommended. Stay tuned for announcements regarding overflow parking instructions.
Do I have to bring my printed ticket to the event?
If you are participating in the push-up event, please bring your printed ticket with you to the event.
What happens in the event of inclement weather?
In the event of inclement weather forecast, we will send email communication and will announce on our Facebook page and website, 24-48 hours in advance. A rain date has already been scheduled for Saturday, April 22nd. In the event we need to postpone the April 8th attempt, we will include correspondance on how to re-confirm or cancel your attendance for the new date.
How can I contact the organizer with any questions?
Please email Alex's Army at info@alexsarmyccf.org with any questions regarding this event.
Who can I contact about sponsoring this event?
Please email Alex's Army at sponsor@alexsarmyccf.org to confirm your sponsorship no later than March 24th, 2017.