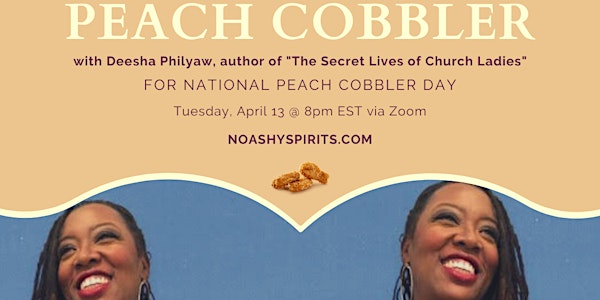 #AlexGottaEat Cookalong: Peach Cobbler with Deesha Philyaw
To commemorate National Peach Cobbler Day, we're making peach cobbler with Deesha Philyaw, author of "The Secret Lives of Church Ladies."
Refund Policy
Contact the organizer to request a refund.
Eventbrite's fee is nonrefundable.
About this event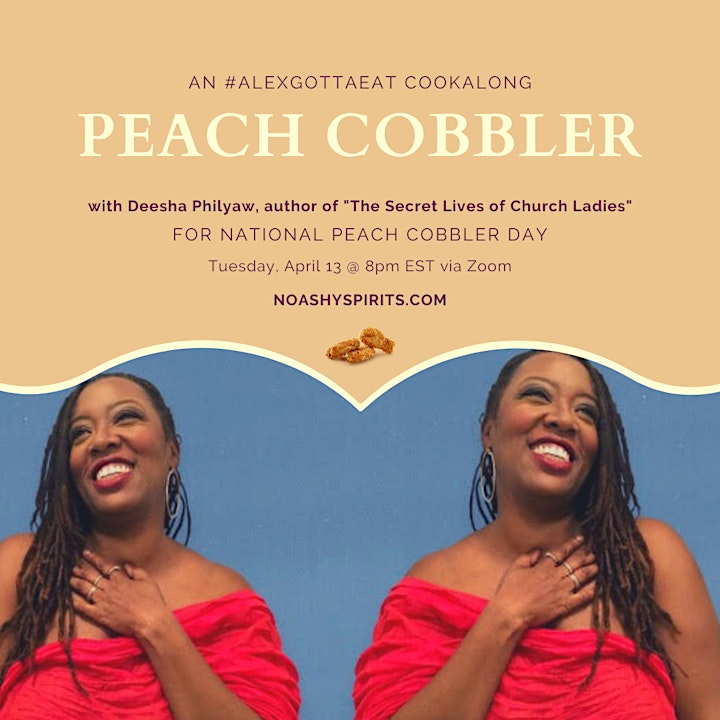 Oh, hey! For #AlexGottaEat Cookalong #2, we're making peach cobbler with author Deesha Philyaw (The Secret Lives of Church Ladies & Co-Parenting 101: Helping Your Kids Thrive in Two Households After Divorce). Just in time for National Peach Cobbler Day. Rejoice.
The peach cobbler recipe below comes from the Book Club Discussion Guide for The Secret Lives of Church Ladies. Save time during our session by having your ingredients set up in advance. We'll chat, prep, and assemble our cobblers together.
Bring your beverage of choice and invite a friend if you like.
Register and Join Zoom Meeting
https://us02web.zoom.us/j/89038927945?pwd=Q2hrTjJwamtmK1JNYzZLYUdTVjFQdz09
In the meantime:
---------------------------------------
Peach Cobbler Recipe, courtesy of screenwriter & artist Tony Puryear (passed to him by his grandmother, Virginia Puryear)
For the filling:
-1 stick of butter
-4 cups of sliced peaches
-1 cup of white sugar
-1 tablespoon of lemon juice
-optional: 1/4 to 1/2 cup of any brown liquor
For the crust:
-1 cup of white sugar
-1 cup of white flour
-1 cup of milk
-1 tablespoon of baking powder
-pinch of salt
Instructions:
1. Preheat oven to 375°.
2. Combine the peaches, sugar, and lemon juice in a pot. Bring to boil over medium heat. Remove from heat. Add the rub or other liquor (optional).
3. Melt the butter in a 13x9" pan in the oven.
4. Mix the flour, sugar, baking powder, salt, and milk in a bowl just until combined. Don't over mix. Lumps are okay.
5. Pour the batter on top of the melted butter in the pan. Pour the peaches on top of the batter. Do not stir.
6. Bake at 375° for 40-45 minutes. The crust will bubble up, brown, and partially cover the peaches.
7. Serve warm.
Note: Tony lets the skins dissolve away in the heat of the oven, but if you want to remove the skins, here's an easy way. No knife required:
1. Prepare a large bowl full of water and ice.
2. Bring a big pot of water to a rolling boil.
3. Drop peaches into the boiling water for 30 seconds.You may have to do this a few peaches at a time so they don't crowd the pot.
4. Remove the peaches with a slotted spoon and dry.
5. Remove the skins by gently rubbing them off.