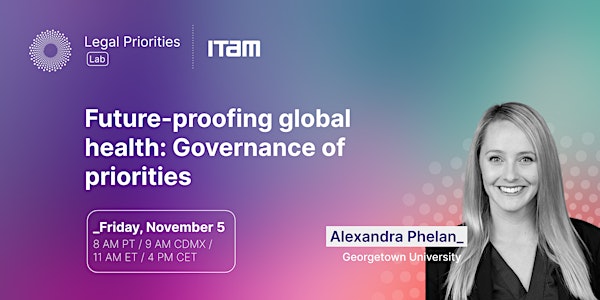 Alexandra Phelan: Future-proofing global health: Governance of priorities
Alexandra Phelan will speak about "Future-proofing global health: Governance of priorities"
About this event
Join Zoom Meeting: https://us06web.zoom.us/j/87349271139 | Meeting ID: 873 4927 1139
Alexandra Phelan: Future-proofing global health: Governance of priorities
Abstract: The year 2015 was a significant anniversary for global health: 15 years since the adoption of the Millennium Development Goals and the creation of the Global Alliance for Vaccines and Immunization, followed two years later by the Global Fund to Fight AIDS, TB and Malaria. 2015 was also the 10-year anniversary of the adoption of the International Health Regulations (May 2005) and the formal entering into force of the Framework Convention on the Tobacco Control (February 2005). The anniversary of these frameworks and institutions illustrates the growth and contribution of 'global' health diplomacy. Each initiative has also revealed on-going issues with compliance, sustainable funding and equitable attention in global health governance. In this paper, we present four thematic challenges that will continue to challenge prioritisation within global health governance into the future unless addressed: framing and prioritising within global health governance; identifying stakeholders of the global health community; understanding the relationship between health and behaviour; and the role of governance and regulation in supporting global health.
About the speaker:
Dr. Alexandra Phelan is a member of the Center for Global Health Science and Security and an Assistant Professor on the tenure track in the Department of Microbiology and Immunology at Georgetown University. She also holds an appointment as Adjunct Professor of Law at Georgetown University Law Center. Dr. Phelan works on legal and policy issues related to infectious diseases, with a particular focus on emerging and reemerging infectious disease outbreaks and international law. She holds an Doctorate of Law from Georgetown University, an LL.M. from the Australian National University, a Bachelor of Laws and a Bachelor of Science in Biomedical Sciences from Monash University.
The Legal Priorities Lab is a series of informal, weekly online meetings in which we discuss the ongoing research of our members and invited related academics. Meetings are generally open to the public. More information about the Legal Priorities Project: www.legalpriorities.org.
(Our organization is currently participating in an ethnographic study conducted by Professor John Bliss of the University of Denver, who might analyze this event as part of the study. More details here.)