Alexander Valley Vineyards Signature Wine and Food Pairing Event at Curtis...
Description
OUR EVENT IS SOLD OUT. Please note: NO TICKET SALES AT THE DOOR
We are at capacity with limited wine for the attendees on the list and will turn away anyone who shows up at the door without a ticket. Thank you. Please do not email as we will not be picking up and responding to emails past 2:30pm
What: Alexander Valley Vineyards Wine and Food Pairing Event at the Curtis Hotel. Meet Western Regional Manager Stewart Vandenberg flying in from California for the event.
When: Tuesday June 14 2016 at 6:00 PM
Where: Curtis Hotel Downtown Denver
Curtis Hotel 1405 Curtis Street Denver, CO 80202
Dress: Business/Dressy Casual to Business/Dress to Impress
Cost: $29.99 includes tax and tip (Wine Party Only)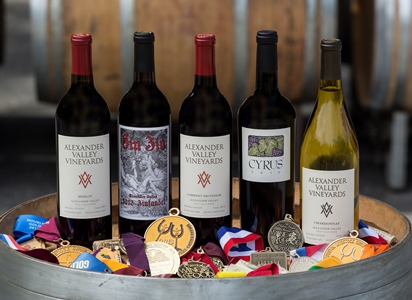 wines in photo are representative of the portofolio but not all are being presented.

Alexander Valley Vineyards: Family-owned estate, producing nine varietal wines and proprietary blends. Alexander Valley Vineyards is a favorite among wine lovers and critics. They are known for handcrafted estate wines including Cabernet Sauvignon, Chardonnay, Merlot, Syrah, Pinot Noir, Cabernet Franc, CYRUS and our trio of iconic Zinfandels – Temptation, Sin and Redemption. From the beginning history, tradition and excellence have guided the Wetzels, today you can taste it in every glass.
Wines
Reception 2014 Alexander Valley Vineyards Gewurztraminer (dry) Gewurztaminer is harvested exclusively from two small "organically certified" vineyards in Mendocino County: 93 points/Best Buy/Gold Medal - Beverage Testing Institute, 90 points Gold Medal Best Gewurztraminer Toast of the Coast,90 points Gold Medal World Wine Championship
Wines with Food Pairings:
2014 Alexander Valley Vineyards Estate Chardonnay 90 PtsTastings (Beverage Institute), 89 PtsWine Advocate, 89 Robert Parker, 90 points & Gold Medal Winemakers Challenge, Gold Medal Northwest Food & Wine Festival
with Pan fried crab cakes with remoulade
2014 Alexander Valley Vineyards Estate Pinot Noir 90 Pts Robert Parker, 90 Pts Wine Advocate, Double Gold Medal - San Francisco Chronicle Wine Competition, Double Gold Medal - Hilton Head Wine & Food Festival, 92 points & Gold Medal Press Democrat Wine Challenge
with Smoked duck with pomegranate- Citrus glaze
2013 Alexander Valley Vineyards Sin Zin Sin Zin is one of the most recognizable wines in the country. From the beginning Sin Zin was an elegant style of Zinfandel due to the region and winemaking style. AVV harvests grapes from throughout the Alexander Valley 90 Pts. Natalie Maclean 92 Wine and Spirits Gold Medal -Northwest Food & Wine Festival
with Indian-Spiced short rib
2013 Alexander Valley Vineyards Homestead Red Blend 88 Points CA State Fair, Double Gold Medal San Francisco Chronicle Wine Competition
with Wild mushroom arancini with tomato pesto
2014 Alexander Valley Vineyards Estate Cabernet Sauvignon Top of The List (27th Annual Restaurant Poll) Wine and Spirts Magazine (just starting to get rated) previous vintage 92 Pts 2013 Robert Parker
with Chorizo poached in wine