ALEXANDER: King of Jesters!

Multiple Dates
Event Details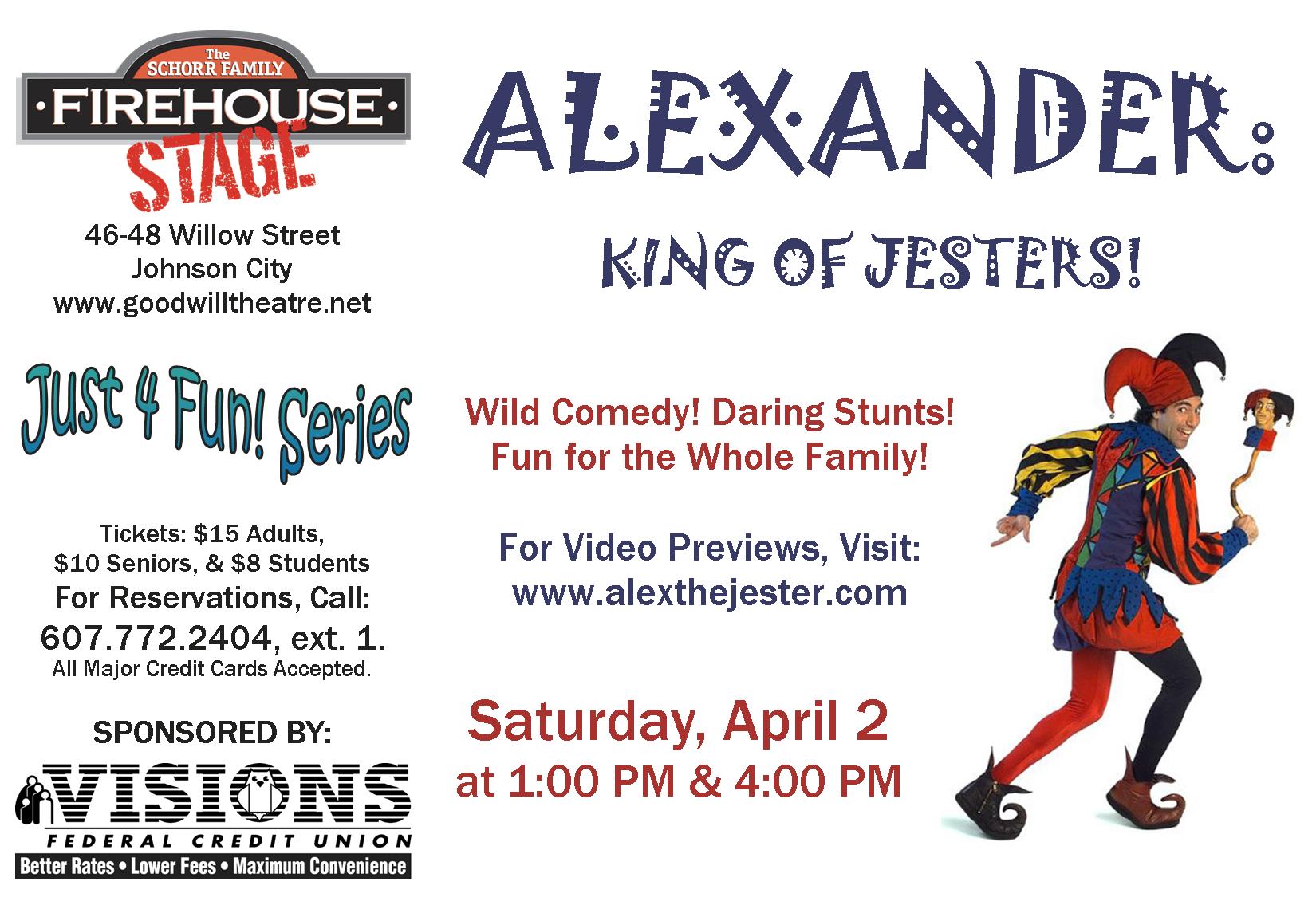 It's easy to imagine a court jester – the colorful trickster with bells jingling from his floppy hat. But have you ever seen one perform live?
Goodwill Theatre will offer families a chance to enjoy the wild comedy and breathless stunts of a professional Fool, Saturday April 2 at 1:00 pm and 4:00 pm, at the Schorr Family Firehouse Stage in Johnson City.
The show will include wild stunts and arresting visual gags inspired by the tradition of Renaissance comedy.
Alex the Jester's humor has many levels so three generations can laugh together, often for different reasons. He involves the audience in the comedy – not only in egging him on and cheering, but in assisting him with his pranks, if they choose.
"There is a wacky brilliance to Alex the Jester," Linda Lombraso wrote in Westchester County's Journal News. "Anything can happen when he takes the stage."
Alexander has thrilled audiences at theatres throughout the United States, and been featured at the Just For Laughs International Comedy Festival in Montreal, as well as festivals in Australia, Belgium, Bermuda, France, Japan, Singapore, and New Zealand. For video previews, visit: http://www.alexthejester.com!
Tickets are $15 for adults, $10 for seniors citizens, and $8 for children and students. Reservations, and information on all shows,
are available by calling the Goodwill Theatre Box Office at:
(607) 772-2404, ext. 1.
Where

Schorr Family Firehouse Stage
46-48 Willow Street
Johnson City, NY 13790


Multiple Dates
Add to my calendar
Organizer
The Schorr Family Firehouse Stage is the first performance venue of the Goodwill Theatre Performing Arts Complex and Professional Training Academy.
Goodwill Theatre, Inc. is a not-for-profit organization dedicated to providing quality arts and entertainment to the Greater Binghamton community, and to restoring the historic Goodwill Theatre.
The Schorr Family Firehouse Stage is located at the corner of Willow and Corliss in Johnson City.The box office opens 45-60 minutes before showtime. We accept cash, checks, and all major credit cards.
For reservations, please call: 607.772.2404, ext. 1. Our offices are typically open Monday-Friday, 9am-5pm.
For more information, visit our website at: http://www.goodwilltheatre.net