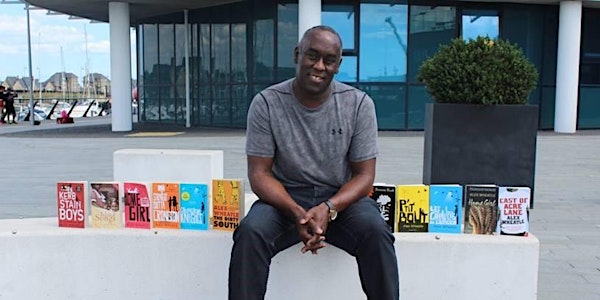 Alex Wheatle Schools Q&A with Manchester Centre for Youth Studies
Award-winning author Alex Wheatle answers questions from young people about his writing, his books, his life, his opinions ... you decide.
About this event
Award winning writer, Alex Wheatle looks forward to answering questions put by young people who have engaged with his work in some way. Whether you have read any of Alex's huge collection of YA fiction, his historic novel 'Cane Warriors', seen adaptations of his work at the theatre or watched the Steve McQueen 'Small Axe' films, on which Alex was a writing room consultant, as well as being the subject of one of the series, we want to hear from you.
Different aspects of Alex's work is suitable for different age groups, so this event should be of interest to anyone aged 12-18. If your students have already engaged with Alex's work in some way they may wish to ask a question about one this. It isn't necessary to do any special preparation before attending the event but, if you want a quick overview of Alex's work to share with your pupils, we have prepared a free teaching resource, which brings together various web links, video links and ideas for exploring ideas, including ways to respond creatively. (See https://www.mmu.ac.uk/mcbf/whats-on/detail/index.php?id=15711)
Alex will be in conversation with Chloe Germaine Buckley from the Manchester Centre for Youth Studies and Marie Molloy, from the Department of History, Politics and Philosophy at Manchester Metropolitan University.
The topics covered will be decided by the questions sent in. Teachers or parents/carers or young people themselves, can send in questions to k.tew@mmu.ac.uk by 8th March. Text or video questions or comments are very welcome. Please also include name, school and year group and a parent or teacher contact email. If your question is asked, we may name check but we won't use full names, only first names and schools.