Event Information
Location
Space 55
636 E. Pierce Street
Phoenix, AZ 85004
Description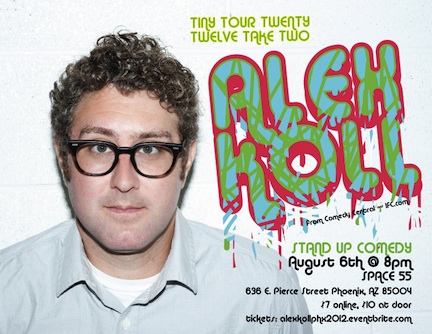 San Francisco based comedian Alex Koll is a self-described "Funnyman and Entertainmenter of variable power and speed." Developing a taste for the absurd at an early age, Alex's comedy has grown organically to reflect a far-reaching creativity that has two dirty sneakers planted firmly on the ground. His act dips and weaves between what's right in front of us all and unexpected forays into the strange.
Alex has performed at the prestigious Montreal Just For Laughs Festival, garnering a "Best of New Faces" nod, and appeared on Comedy Central's "Live At Gotham." He has also performed at the SXSW festival, ComedyFest Vancouver, The Bridgetown Comedy Festival, and SF SketchFest. As a comedic filmmaker, Alex has created award-winning videos for IFC.com, SuperDeluxe.com, Rooftop Comedy and Revision3. He has performed in short films and commercials, and was the host for the popular "ROFL" comedy show on the Revision3.com web network. His sketch group Boomtime with fellow comedians Moshe Kasher and Brent Weinbach has been featured on PBS. His debut album titled "Wizard Hello" on Rooftop Comedy's label is currently available on iTunes and showcases his signature plain-wrapped whimsy with a few odd musical treats thrown in for good measure. Alex is also the two-time winner of the San Francisco Regional Air Guitar Championship; No kidding.
"As you might expect, given his bizarre online trail, his standup is influenced by the nonsequitur-laden absurdism of Mitch Hedberg and Zach Galifianakis. But what makes Koll's act special is how he bridges the gulf between askew alt-comedy and grounded, observational humor. It's a rare quality in the alternative-comedy community, where many are intent on out-quirking one another. Whether going on obscure tangents or offering up more straightforward observations, Koll's comic voice is his own." - SF Weekly
Alex is currently flightless and unable to lay eggs.
Joining Alex will be Phoenix comics Chris Bennett, Matt Anderson and Jeff Wiles.
Doors open at 7:30, show starts at 8:00.
Date and time
Location
Space 55
636 E. Pierce Street
Phoenix, AZ 85004