Alex Honnold: Alone On The Wall Book Signing (San Francisco)

Tuesday, November 24, 2015 from 6:00 PM to 8:30 PM (PST)
Event Details
Join us for a talk and book signing with climbing dare devil Alex Honnold.  Alex will be on hand sharing his climbing adventures and the inspiration for his book Alone On The Wall. 
Alone On The Wall recounts seven of  Honnold's most extreme climbing experiences, including free soloing Sendero Luminoso in Mexico and climbing the Fitz Traverse in Patagonia. 
Alex will be sharing a bit about himself, a bit about his book and will be available for a Q&A. 
Alone On The Wall is $26.95 and will be available for purchase at the event.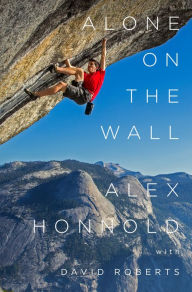 Organizer
Sports Basement
Sports Basement is a sporting goods retailer with 7 locations in the Bay Area. We take pride in selling the best brands at basement prices. We are a community center, a hangout, a hub. Our employees are local coaches, outdoor enthusiasts, teachers and students. We are all active in the community and in our sports and activities. We use the product we sell!
Alex Honnold: Alone On The Wall Book Signing (San Francisco)