Alex Gibney's Totally Under Control - FREE to watch on ScreeningRoom + Q&A
Alex Gibney, Ophelia Harutyunyan and Suzanne Hillinger's Totally Under Control - free screening and virtual live Q&A hosted by ScreeningRoom
About this Event
Join ScreeningRoom for a virtual watch party and special get-out-the-vote event. See the explosive new documentary film Totally Under Control and get fired up for the election on November 3rd. The film will be available to watch for FREE on ScreeningRoom starting on Sunday November 1st through the election.
Watch the film first anytime starting now and join us for a live Zoom Q&A with the directors on Monday November 2nd, at 8:00pm EST.

On January 20th, 2020 the US and South Korea both discovered their first cases of COVID-19. However, 9 months later, the novel Coronavirus has claimed the lives of almost 200,000 Americans and caused staggering economic damage, while in South Korea, there were no significant lockdowns and, in an urbanized population of 51 million, only 344 lives have been lost. Where did we go wrong? As the presidential election nears, Americans are increasingly enraged by a lack of clear leadership, endemic political corruption and left to wonder how did the wealthiest and most powerful country in the world manage to fail so thoroughly in its response to a global pandemic?
Academy Award-winning filmmaker Alex Gibney, directing with Ophelia Harutyunyan and Suzanne Hillinger, interrogates this question and its devastating implications in Totally Under Control. With damning testimony from public health officials and hard investigative reporting, Gibney exposes a system-wide collapse caused by a profound dereliction of Presidential leadership.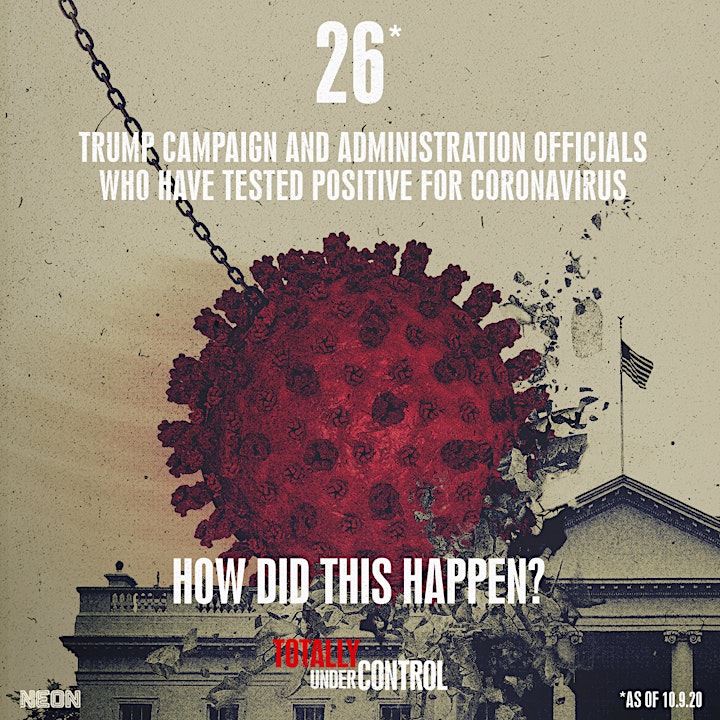 The film will be live on ScreeningRoom.org. When you request a free ticket, we'll use your email to invite you to a private Group on ScreeningRoom. Sign up for a free account and access the Group, either through the email invite or by locating it from the dropdown menu in the top righthand corner.
Feel free to email hello@screeningroom.org if you have any questions.