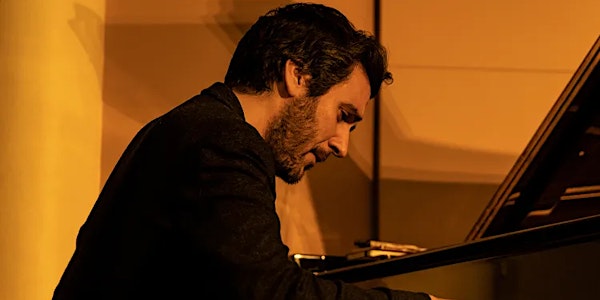 Alex Conde - Jazz Flamenco
Pianist Alex Conde has emerged as one of the most versatile contemporary performers of jazz-flamenco fusion.
By The Episcopal Church of the Incarnation, San Francisco
Date and time
Friday, June 9 · 7:30 - 9pm PDT
Location
Episcopal Church of the Incarnation 1750 29th Avenue San Francisco, CA 94122
Refund Policy
Contact the organizer to request a refund.
Eventbrite's fee is nonrefundable.
About this event
1 hour 30 minutes

Mobile eTicket
Date & Time: Friday June 9, 2023 at 7:30 p.m.
Venue: 1750 29th Avenue, San Francisco
Tickets: $25 General, $20 Seniors/Students. All ticket sales are final.
For more details visit https://sunsetarts.wordpress.com
Program
To be announced
HEALTH AND SAFETY: Masks are optional but highly recommended
In accordance with the recommended health and safety recommended guidelines from the City and County of San Francisco, the Episcopal Diocese of California, masking is now optional but highly recommended. We strive to make the concerts a safe place for everyone.
About the Artist
Flamenco music, with its passionate flourishes and virtuosic improvisation, has long captivated jazz musicians. Miles Davis, Charles Mingus and Chick Corea have all been obsessed with flamenco. Pianist Alex Conde has emerged as one of the most versatile contemporary performers of jazz-flamenco fusion, dazzling audiences and earning rave reviews across the world.
Conde delivered these performances on the heels of recording his fourth album, "Origins" (2018, Ropeadope) with Marcus Gilmore on drums, Luques Curtis on bass, Dayna Stephens on saxophone, Brian Lynch on trumpet, Conrad Herwig on trombone, John Benitez on electric bass, and gypsy singer Ismael Fernandez.
The album was released in May 2018 with an official presentation at the legendary Blue Note in NY, Symphony Space on Broadway, and collaboration at the Lehman Performing Arts Center, alongside flamenco singer Diego el Cigala, before a fantastic audience of flamenco and jazz lovers.
These performances are a mere handful among hundreds in a career that began in Conde's childhood in Valencia, Spain. A recognized prodigy, Conde demonstrated perfect pitch at the age of four. His parents gave him his first keyboard, and encouraged him as he began taking formal piano instruction. Conde practiced everything he heard from his father, Alejandro Conde, an acclaimed singer with more than 20 albums to his name, and one of the foremost performers of Copla, the flamenco-infused song book of popular works. Conde earned his first bachelor's degree in Classical from the Jose Iturbi Conservatory of Music in 2001. From there, he went on to study at L'aula de Musica de Barcelona and earned a Diploma of Excellence in 2006.
In 2006, Conde was offered scholarships to pursue a second bachelor's degree from Berklee College of Music. During his tenure at Berklee, his playing matured in his melding of musicality and increasing technical proficiency. He began playing professionally alongside jazz musicians and studied with trumpeter Mike Mossman, alto saxophonist Antonio Hart and pianist Jeb Patton.
In 2009, Conde met producer Fernando Brunet, with whom he released Jazz and Claps, an album featuring Alex original compositions. The album was released with Contraseña Records and opened the path of jazz and flamenco and stamped the music of Alex Conde as a center and as a mature composer and arranger for small ensemble.
In 2013, Conde self-produced and released his second album, Barrio del Carmen, a collection of music composed and arranged for the flamenco companies for which he has composed music over the years. The album features flamenco stars including gypsy singer Kina Mendez, nephew of the great Paquera de Jerez, and guitarist Jose Luis Rodriguez, long-time musical director for Cristina Hoyos. The album became a classic on TV programs such as Television Castilla la Mancha, presented by Rocío Sañudo, and in flamenco dance classes, where it is prized for its musicality and structure.
In 2015, Conde recorded an Iberian-inflected tribute to Thelonious Monk, Descarga for Monk (ZOHO), accompanied by seven-time Grammy-nominated percussionist John Santos and bassist Jeff Chambers, earning international recognition.
Today, Conde has become one of his generation's pivotal figures in flamenco piano. With a fluid technique, an innovative tonal palette, and an extensive repertoire, he plays with the passion of a young artist and the command of a seasoned veteran, and remains in constant demand as both a studio artist and a performer.
Selected Press Quotes
''… Origins is a tremendous calling card for Alex Conde as composer and pianist. But it's also a demonstration of the adaptability of Latin jazz, as the genre readily accepts Conde's flamenco influences. Easily recommended to Latin jazz fans, with the additional spice of a fresh Spanish flavor."
MARK SULLIVAN, ALLABOUTJAZZ
"… When Alex Conde turns up the power at any given time, he's like an orchestra all by himself. All of this firepower together with Marcus Gilmore, Conrad Herwig, Dayna Stephens and Luques Curtis makes Origins a very special experience. Mr. Conde is a pianist whose music is sustained by the fecundity of his Spanish roots. Through it all, of course, Mr. Conde is absolutely thrilling."
RAUL DA GAMA, LATIN JAZZ NETWORK
"… Gifted Spanish pianist Alex Conde, has his way with the high priest of bop in an adventurous all-Monk program.''
JAZZ CRITIC BILL MILKOWSKI
''… [Alex's] Thelonious Monk is rock solid. Its rhapsodic elegance is informed by all of the mystery and majesty of Monkish-ness. The elemental irreverence of Monk-music has been mastered by the young Spaniard. He worships at the altar of originality, as Thelonious Monk did, pouring his twisting duende into molten chords. His phrases make for lines that erupt with volcanic brilliance and a viscosity that is unlike anything that has been sung of Thelonious Monk in a very long time."
RAUL DA GAMA, LATIN JAZZ NETWORK
"… I have the honor of being part of this wonderful project. If you know Alex, you know what I'm talkin' about. If not, you need to check him out. He's a virtuoso pianist from Spain, and has prepared some extremely hip arrangements of classic and off-the-beaten-path Monk compositions — just when you thought you've heard Monk every way possible. The intimate setting and the sparkling musicianship of my colleagues is a ripe combination."
SEVEN-TIME GRAMMY-NOMINATED ARTIST JOHN SANTOS
About the organizer
The Episcopal Church of the Incarnation, San Francisco, is a welcoming, inclusive community where people come to be fed from the riches of God's love and grace. We live and share the Good News of Jesus Christ through worship, education, fellowship, pastoral care, and service to the world.
As a covenanted member of Oasis California, we commit ourselves to affirming lesbian, gay, bisexual, and transgender people and welcoming them into this Christian community.
The church is located in San Francisco's Sunset district, and worship services are normally offered in both English and Chinese. Our facility is wheelchair accessible, and assistive listening devices are available upon request.
We are a parish in the Diocese of California in the Episcopal Church, which, in turn, is a province of the worldwide Anglican Communion.
For more information visit http://www.incarnationsf.org/