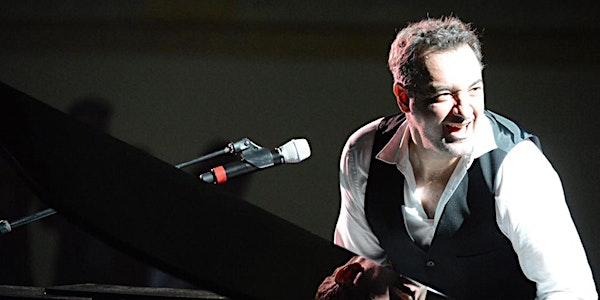 ALEX BUGNON - MICHAEL LINGTON - MARC ANTIONE at Live! at the Ludlow Garage
Location
Live at the Ludlow Garage
342 Ludlow Avenue
Cincinnati, OH 45220
Sales Have Ended
Ticket sales have ended
Live! at the Ludlow Garage has a full restaurant upstairs, The Ludlow Garage Bistro. Please consider joining us for dinner before the show. We do give priority for dinner reservations to ticket holders. Please call 513-221-4111 anytime after 2 p.m. Tuesdays-Saturdays to make your reservation.
Description
When: (Doors open at 7:00 PM)
Ticket Price:

$35.00 – $75.00
Door Time: 7:00 PM
Show Type:
Alex Bugono
Contemporary jazz keyboard player Alex Bugnon, nephew of trumpeter Donald Byrd, grew up going to the Montreux Jazz Festival in his hometown in Switzerland. He attended the Paris Conservatory of Music for two years, then moved to the U.S. and went to the Berklee School of Music, meanwhile performing as an accompanist to gospel groups. He spent four years working as a session musician in New York, backing urban and jazz performers such as Patti Austin, Freddie Jackson, James Ingram, and Keith Sweat. Signed to Orpheus Records, he released his debut album, Love Season, in 1989. It reached the pop charts and the Top 40 of the R&B charts, as did its follow-up, 1990's Head Over Heels. Subsequent releases — 107 Degrees in the Shade (1991), This Time Around (1993), and Tales From the Bright Side (1995), the last on RCA Records — all placed in the R&B charts. After five years away from recording under his own name, Bugnon signed to the jazz division of Narada Records, which marketed him as a jazz artist, and his sixth album, Alex Bugnon…As Promised, reached the contemporary jazz charts. He followed in 2001 with Soul Purpose.
MICHAEL LINGTON – SECOND NATURE:
The number nine in numerology is considered a magical and divine number. It symbolizes completion, wisdom and fulfillment. Multi-talented saxophonist, producer and composer Michael Lington has arrived in his own sacred space with the release of his newest and ninth solo project, Second Nature, due out on Copenhagen Music in April 2016. "The title of the album refers to being at one with my instrument and the music," shares Lington. "My vision for this project was Retro-Modern! While honoring the original vibe of the Memphis sound, I wanted to put my own stamp on it. This recording is about going back to my roots, to the music that inspired me to play the saxophone and move to America," explains the handsome and charismatic saxophonist. Second Nature brings Lington full-circle as he pays tribute to the music he first fell in love with while a teen in Copenhagen, Denmark. Nearly 5,000 miles away from the Mecca of blues and soul, Lington listened to the radio and dreamt while falling in love to the music of Sam Cooke, King Curtis and Jr. Walker, among others. "Even as a young musician I connected with the songs because they were written well and had great messages," recalls Lington. "The performances were outstanding and the artists were original and authentic." Michael Lington's own soulful spirited sound and the roots of Memphis soul converge on Second Nature.
Marc Antoine
Since emerging as a force in contemporary jazz in the mid-90s with a trademark sound captured in the title of his debut album Classical Soul, Marc Antoine has shared his joyous musical wanderlust on a discography infused with extraordinary exotic journeys. After living and recording in Madrid – his wife Rebecca's hometown – for 12 years, the multi-talented Parisian born acoustic guitarist relocated back to Southern California in 2015. While keeping his deep melodic flow and exotic textures front and center, he shares the lighthearted spirit of his exciting new life on his highly anticipated Woodward Avenue Records debut, an homage to his new hometown of Laguna Beach.
Though he recorded some of his most acclaimed recordings while living in Spain – including Hi-Lo Split, My Classical Way, Guitar Destiny and Foreign Xchange, his dual guitar album with current Woodward Avenue labelmate Paul Brown – Antoine often felt stylistically limited when working with locals who were versed mostly in pop and flamenco. He deeply missed the kind of versatility of his musician friends that lived in California, and the camaraderie they shared. Though he began a handful of the nine tracks at his home studio in Madrid, Antoine – who plays nylon string, steel string, electric guitar, keyboards and percussion – was excited and freshly inspired by the musicians he invited to play on Laguna Beach.