Alex Boye - Promise: New Hope for a Century Old Dream
When and where
Location
The Christensen Academy of Music and Dancing 58 N Main St Brigham City, UT 84302
Refund Policy
Contact the organizer to request a refund.
Description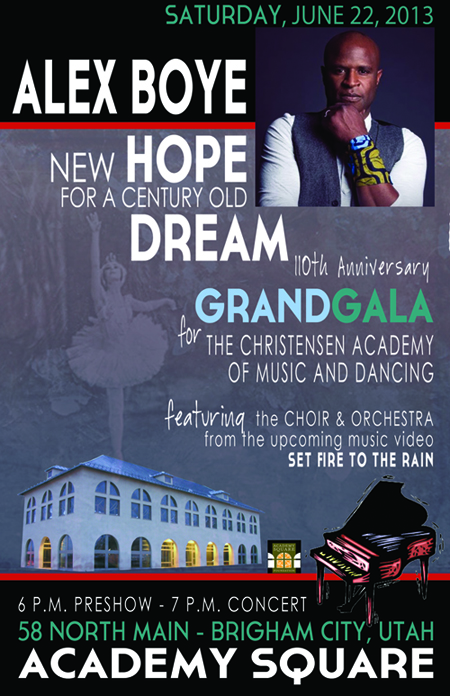 Tickets are now on sale for this year's fundraiser concert for the Christensen Academy of Music and Dancing. 2013 marks the 110th anniversary of the grand opening of the ballroom. Featured at this year's event will be the premier of the new music video 'Set Fire to the Rain' produced by Alex Boye and The Silver Slipper Symphony. Music for the video was rearranged by Nathaniel Drew of the Salt Lake Pops.
The city has given us the opportunity to hold another fundraising concert on June 22, 2013. The night is called Promise: New Hope for a Century Old Dream. It will be a gala celebration to commemorate the 110th Anniversary of the building as well as to honor the Christensen Brothers: Willam, Harold and Lew. We have food vendors coming to hold a food court including Idle Isle fresh strawberry pie, Beehive Grill Italian Ice Bar, The Nut Lady, and a barbecue stand by Ace Hardware. The concert will be guest hosted by Alex Boye. The concert will also serve as the premier for a music video filmed in the building on May 7: Set Fire to the Rain. The original choir and orchestra from the video will also perform live with Alex Boye.
The time is from 6 until 8 p.m. with an intermission that will feature a silent auction. From 5 until 6 that evening, there will be an open house so the public can see the building. During the open house there will be a video presentation playing that will tell of the history of the building. Please come and participate in this special evening!
Donations and ticket price will go directly to The Academy Square Foundation. For tax ID questions and information please contact:
Paul Larsen AICP
Community and Economic Development Director
Brigham City Corporation
20 N. Main Street
Brigham City UT 84302
(435) 734-6603 (Office)
(435) 230-0522 (Cell)