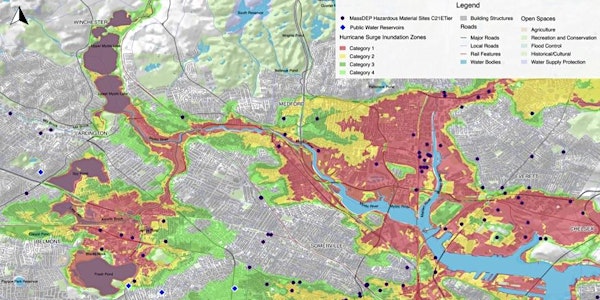 Alewife Corridor Resilience Symposium: Collaboratively Framing Scenarios
When and where
Location
Arlington Town Hall (Friday) & Tufts University (Saturday) 730 Massachusetts Ave, Arlington, MA & 40 Talbot Ave, Medford, MA
Refund Policy
Contact the organizer to request a refund.
Description
PLEASE NOTE:
Friday evening's kickoff Keynote is at Arlington Town Hall, 730 Mass Ave, Arlington

The Saturday symposium is at Tufts University, Alumnae Lounge, 40 Talbot Ave, Medford
Please join us! Earthos Institute and Tufts University invite you to a symposium on Alewife corridor collaborative resilience. The symposium will bring together the Alewife corridor communities of Belmont, Arlington, Cambridge, Somerville, Medford, and Winchester to look at the Alewife floodplain in its entirety, and explore collaborative scenarios for tackling issues of resiliency and climate adaptation. Together, we will engage systems-based analysis with multi-community and cross-disciplinary approaches.
Post-symposium, we envision creating task groups—with representatives from multiple towns, universities, and nonprofits—to further develop intercommunity scenarios and seek funding to support and implement them. The goal of the symposium is to create a collaborative environment to build adaptive resilience in this corridor. Symposium topic areas include water quality, flooding, local biodiversity, regional biodiversity, social & economic justice, hazardous waste, and collaborative infrastructure (hard and soft).
For more information, go to the symposium website: www.alewiferesilience.org
For questions, contact the symposium co-organizer Sarah Howard at sarah-earthos@LDParch.com.
Conference Details
FRIDAY Evening Reception and Keynote at Arlington Town Hall Auditorium, Co-Sponsored by Sustainable Arlington
6:00PM-9PM Keynote by Dr. Robert France. Dr. France's work focuses on integrating watershed planning & management, with environmental restoration and the renewal of urban and cultural sites. Edited and authored books include: Water Sensitive Planning and Design, Handbook of Regenerative Design, Integrated Urban Agriculture
SATURDAY Symposium at Tufts University
8:00AM-8:45AM Registration, coffee, and muffins
8:45AM-9:20AM Introduction & Welcome with Opening Keynote by Alexander Felson, Associate Professor, Yale University, School of Architecture and Yale School of Forestry & Environmental Science
9:30AM-10:45AM Panels A
11:00AM-12:15PM Panels B
12:30PM-1:30PM Lunch Roundtables*
1:45PM-3:00PM Panels C
3:15PM-4:00PM Share findings-large group
4:00PM-4:45PM Closing panel and discussion
*The conference is FREE, but pre-registration is required. A box lunch is available for purchase for $15.