Sales Have Ended
Ticket sales have ended
Thank you for your interest in our Specialty Bottle Release Series. For more information on these releases and advance notice on when these bottles will go on sale, please sign up for our newsletter via AleSmith.com.
Sales Have Ended
Ticket sales have ended
Thank you for your interest in our Specialty Bottle Release Series. For more information on these releases and advance notice on when these bottles will go on sale, please sign up for our newsletter via AleSmith.com.
Description
ALESMITH SUBLIME MEXICAN LAGER
40oz to Freedom (ABV 5.2%)
In celebration of what would have been Bradley Nowell's 50th birthday, we will be releasing a limited number of fresh 40oz bottles of Sublime Mexican Lager. This beer is a thirst-quenching, 5.2% ABV twist on a traditional Vienna-style lager highlighted by a grainy, malt-forward sweetness and easy drinkability. It's clean, crisp and balanced with a smooth finish. Cheers!
* * *
Purchasing Instructions (please read ALL instructions before purchasing):
1) Starting 11AM PST on Monday, February 12 you will be able to purchase one (1) 40oz bottle of AleSmith Sublime Mexican Lager ($9.99) via Eventbrite (prices exclude tax, CRV, and service fee)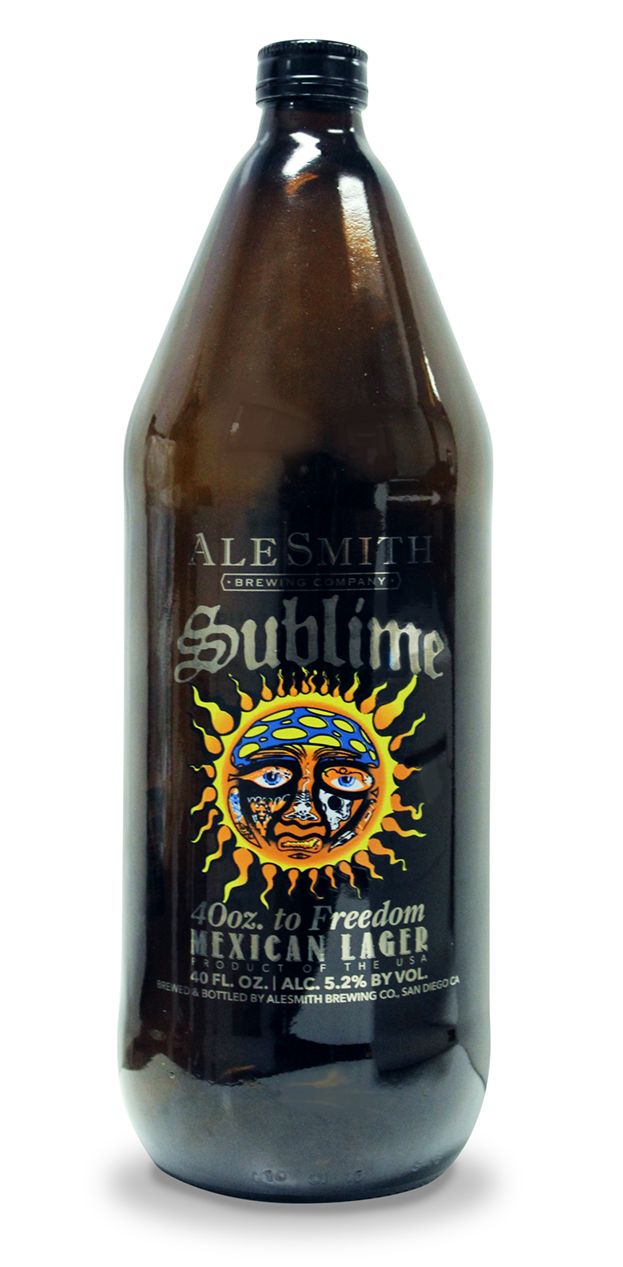 2) Bottles can be picked up starting at 11AM on Thursday, February 22 during our 50th Birthday Celebration for Bradley at the AleSmith Tasting Room (9990 AleSmith Court, San Diego, CA). Bottles can be retrieved during tasting room hours from February 22 through April 8, 2018. NOTE: Any bottles not retrieved by SUNDAY, APRIL 8 will be surrendered back to the brewery (no exceptions).
3) **NEW** Shipping Available for CA & NV! We are now able to ship to CA and NV — If you're interested in having your bottles sent directly to you, be sure to fill out your shipping address on the order form and click into the 'Additional Items' at the bottom of the form to choose your shipping state and add this cost to your total order. CA Shipping Fee: $13.25; NV Shipping Fee: $14.80. (Please note, we will not ship bottles unless additional shipping fee has been paid as an additional item)
4) During your transaction, you will be asked to enter the first and last name of the person who will be picking up the bottles ("pickup person"). If you are picking up your own bottles or having them shipped, please enter your name; if you are not able to pick up your own bottles, please enter your designated pickup person's name. Whoever's name is entered as the pickup person must be the one to pick up the bottles (no exceptions).
5) You will be required to show valid ID matching the name listed as the pickup person and confirmation of purchase from Eventbrite in order to retrieve your bottles during the dates listed.
6) Do not purchase more than the maximum number of bottles allowed! Once you place your order, your name will be registered and any additional sales to the same purchaser/purchaser info will be voided. Any overages for whatever reason may be cancelled without notification.
7) Note from Eventbrite - Once you've selected your desired bottle quantity and hit Checkout, Eventbrite treats the registration page (order form) as a waiting room reserving your tickets for a six minute time limit. Have your pickup person confirmed and form of payment on hand and ready to go. You'll want to move through that screen as quickly as possible - the tickets are officially yours once you've completed the order form and the credit card payment has been processed. You should see an order confirmation page immediately thereafter and will receive an order confirmation email at the address you've provided.
* * *
AleSmith Brewing Company - Policies, Terms and Conditions

Shipping Policy
AleSmith Brewing Company can only ship beer directly to consumers located in CA & NV for an additional charge. All other beer purchases are only available for brewery pickup in our tasting room in San Diego, CA. For hours and location please visit http://alesmith.com/contact.

Returns & Refunds
We do not accept returns under any circumstances. No refunds or exchanges will be made. All sales are final.

Order Acceptance Policy
Your receipt of an electronic or other form of order confirmation does not signify our acceptance of your order, nor does it constitute confirmation of our offer to sell. AleSmith Brewing Company reserves the right at any time after receipt of your order to accept or decline your order for any reason or to supply less than the quantity you ordered of any item.

Privacy on Other Web Sites
Other sites accessible through our site have their own privacy policies and data collection practices. Please consult each site's privacy policy. AleSmith Brewing Company is not responsible for the actions of third parties.

Links
This site may contain links to other sites on the Internet that are owned and operated by third parties. You acknowledge that AleSmith Brewing Company is not responsible for the operation of or content located on or through any such site.

Copyright and Trademark Notice
Unless otherwise specified, all materials appearing on this site, including the text, site design, logos, graphics, icons, and images, as well as the selection, assembly and arrangement thereof, are the sole property of AleSmith Brewing Company, Copyright © 2002, ALL RIGHTS RESERVED. You may use the content of this site only for the purpose of shopping on this site or placing an order on this site and for no other purpose. No materials from this site may be copied, reproduced, modified, republished, uploaded, posted, transmitted, or distributed in any form or by any means without prior written permission of AleSmith Brewing Company. All rights not expressly granted herein are reserved. Any unauthorized use of the materials appearing on this site may violate copyright, trademark and other applicable laws and could result in criminal or civil penalties.
* * *
FAQs
Are there ID requirements or an age limit to enter the event?
21+ Must show a valid ID when picking up the bottles.
Do I have to bring my ticket to the event?
Yes, you will need to bring your tickets (printed or mobile) in order to recieve your bottles.
Organizer of AleSmith Sublime Mexican Lager 40oz Bottle Release
Forged in 1995, AleSmith has been recognized by consumers and critics alike as one of the world's
foremost craft brewing companies behind accolades that include medals won at prestigious national
and international beer competitions. In addition to being well established within its hometown of San
Diego, AleSmith was acknowledged by the RateBeer community as the 6th Best Brewery in the World in 2018. The brewery is also a three-time winner of the Champion Brewery Award at the San Diego
International Beer Competition, where it received a Gold Medal in 2019 for Nut Brown English brown
ale. Further recognition for individual beers includes a 2016 Gold Medal for Old Numbskull, and a
2017 Bronze Medal for Wee Heavy at the Great American Beer Festival. AleSmith is celebrating its
24th year in business and occupies a 109,942 square-foot facility with a state-of- the-art brewery.
AleSmith's range of acclaimed beers, which includes Speedway Stout, Nut Brown Ale, and San Diego
Pale Ale .394 is distributed in 28 U.S. states and 8 countries.