Ales for Alzheimer's - Madison's Largest Happy Hour

Thursday, October 24, 2019 from 4:30 PM to 7:30 PM (CDT)
Event Details
Madison's Largest Happy Hour benefiting Alzheimer's & Dementia Alliance of Wisconsin is back for its 4th year! And this year we're adding a band!
Our goal has been up'd and we will raise $100,000 and put even more money into the Pat Wilson Caregiver Respite Grant. Join us to support this great cause while having a fantastic time!
1001 Wisconsin Place Madison, Wisconsin 53703
$30 and include: entry to event, 1 raffle ticket ($2500, $1000, $500 prizes), beer tasting, and food. Tickets can be found at
First Weber Realtors
,
Lynn Holley Real Estate, Keller Williams Realty Madison
,
Alvarado Real Estate Group
, and online at Eventbrite.
- Edgewater parking garage $5 (located across from main entrance)
- $15 Edgewater Valet and Street parking also available
Silent Auction - Closing at 7pm
Live Auction - Bidding will be in breaks throughout the evening
Wine Pull - $20 and pull a bottle of fun
SILENT AUCTION ITEMS: More are being added all the time. Minimum value of each auction item is $250!!!
2) Bel Aire Tequila Tasting
3) Hand built Adirondack Chair
4) State Street Date night (with hotel stay at the Concourse Hotel)
5) Eno Vino dinner & AC Hotel overnight
6) Golf Packages at: Nakoma, Bergamont, Bishop's Bay, and Maple Bluff
12) Moscow Mule /Margarita Package
13) Oil Painting from Kate Speer Ely
14) Monroe Street Package
1) J.Henry Tasting Party -
2) Bonfyre Wine Tasting Party
4) Wheel Barrows full of liquor
5) Jar O Cash and other presents
6) Week stay in Mexico with golf package for 16 rounds of golf. Value $5000
7) Sand Creek Golf Package including dinner and overnight stay
8) Flight with Peter Aarsvold Over Madison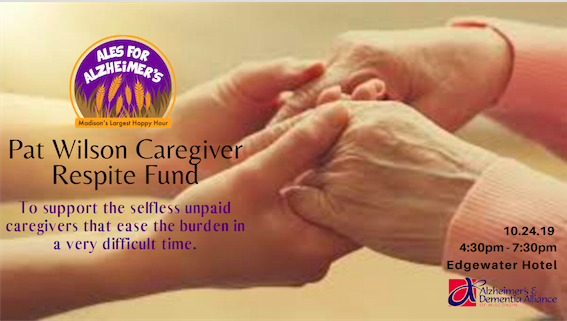 About the Pat Wilson Caregiver Respite Fund:
Over $25,000 from this event goes specifically to this fund to create much-needed opportunities for caregivers of their loved ones with Alzheimer's to get away for a coule of hours or a day.  Respites like this allow caregivers to keep their loved one at home as long as possible.  
110,000 Wisconsinites (8012 Dane County residents) serve as unpaid caregivers to someone with Alzheimer's or other dementia, you continue to help ease the burden in a very difficult time. We are proud to offer this fund and share this resource with the community.
16.1 million Americans (mostly family members) provide unpaid care for people with Alzheimer's or other Dementias. Both caregivers and their loved ones suffer in silence because of this disease and our goal is to raise money for the Alzheimer's and Dementia Alliance of WI with focus on respite for caregivers of family members and fund support groups to educate on their journey ahead.
Who is the Alzheimer's & Dementia Alliance of Wisconsin (ADAW)?
They're the organization with resources that help you navigate the complex issues associated with memory loss, Alzheimer's disease or other dementias. They're the prescription to providing the best quality of life possible for those impacted by Alzheimer's disease or other dementias. For more on this worthy organization go to http://www.alzwisc.org/.
If you would like to be involved or donate a silent auction or live auction item please email madisonales4alz@gmail.com
THANK YOU SO MUCH TO OUR SPONSORS!!!!! ONLY BECAUSE OF YOU IS THIS POSSIBLE!
PLATINUM- Lynn Holley Real Estate, Keller Williams Realty Madison
Alvarado Real Estate Group
Sergenian's Floor Coverings
UHP (Universal Home Protection)
Preferred Title, LLC - Madison
North Central Group Hotels
Mid-West Family Broadcasting
Dave Grauwels, Guild Mortgage
Restaino and Assoc Realtors
Homestead Title Company, LLC
Savant Capital Management
If you are interested in sponsoring, email Gregg at Madisonales4alz@gmail.com
Save This Event
When & Where

The Edgewater
1001 Wisconsin Avenue
Madison, WI 53703


Thursday, October 24, 2019 from 4:30 PM to 7:30 PM (CDT)
Add to my calendar
Organizer
Two years ago, Lynn Holley and Molli Babler had this idea to hold a fundraiser to support the Alzheimer's and Dementia Alliance of Wisconsin, a cause near and dear to our hearts. Never in a million years would we believe that it could be as big as it is today. Year one, we raised $4,000 with very little planning and a lot of help from the Realtor community. Year two, we raised $45,000, with the help of Jim Imhoff, Sara Alvarado, 16 sponsors, our friends and family, dozens of silent auction items, and community support. Now we have grown to be the city's largest happy hour! This year, our goal is to raise $100,000 and impact the Dane County community more than we could have ever imagined.