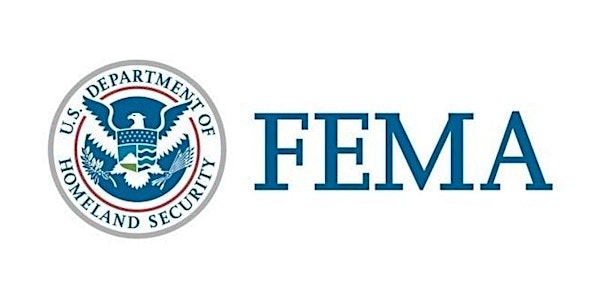 Alert and Warning Technical Assistance Workshop: Nationwide Delivery
FEMA is offering an Alerts and Warnings Technical Assistance Series for US public sector emergency management.
About this event
If you cannot attend this delivery but would like to be notified about future deliveries and events, please complete this form: Interest in 2022 Alert and Warning Events.
This invitation seeks to identify jurisdictions who have an interest in participating in a two half-day workshop to be delivered virtually.
The schedule includes:
Pre-Workshop Webinar: Tuesday, April 12, from 3 to 4:30 PM Eastern.
Day 1 Workshop Delivery: Tuesday, April 19, from 11 AM to 4 PM Eastern.
Day 2 Workshop Delivery: Wednesday, April 20, from 11 AM to 4 PM Eastern.
Emergency Alert and Warning (A&W) is a rapidly evolving field. A&W technology improvements, increasing use of social media during emergencies, advances in social science research into effective message design, and public expectations of warning services is transforming the A&W landscape.
To help jurisdictions implement more effective notifications to the public, the Federal Emergency Management Agency (FEMA) National Integration Center (NIC) has developed a technical assistance workshop to support jurisdictions with improving the speed, reach, and effectiveness of A&W messages.
At the conclusion of this TA, participants will have developed jurisdiction-specific strategies to:
Reduce process delays in issuing A&W messages, including clarifying issuing authorities and approvals for pre-scripted templates.
Leverage the range of available communication channels to reach everyone in the community, including those with access and functional needs.
Incorporate social science research on how to structure an alert message to maximize public action, including vulnerable populations.
Develop a social media plan with trusted community leaders to maintain accurate public information and correct misinformation.
Coordinate with neighboring jurisdictions.
Participants should be public sector employees with a role in communicating protective action guidance to the public immediately preceding and during an event. This may include public sector emergency managers, public information officers, social media communicators, and public outreach coordinators. Due to high demand, we ask that no more than two employees per jurisdiction register for this event. This TA is designed to support participants from a mix of jurisdictions.