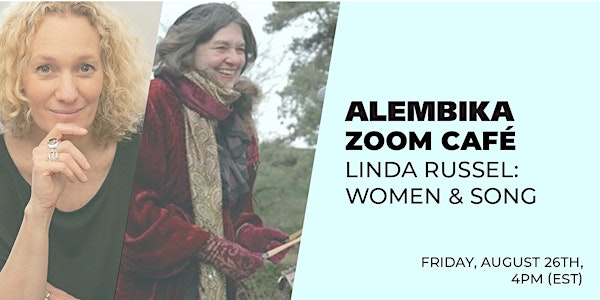 ALEMBIKA ZOOM CAFÉ: LINDA RUSSELL: WOMEN & SONG
LINDA RUSSEL: WOMEN & SONG
About this event
Join us for a conversation with Linda, who explores the history of women in America and how they are reflected in the popular songs of the day—from the Revolutionary War to the 19th Amendment (women's right to vote). Gather with us for a mixture of songs, quotes from women's diaries and letters and historical commentary. Recognized as an expert, Linda's performances include: A Prairie Home Companion, Carnegie Hall, Avery Fisher Hall, Symphony Space and National Archives.
About Linda:
From the boisterous ballads of the 18th Century to the sentimental melodies of the Victorian age, Linda Russell recreates a lost national treasure.
While performing on guitar, mountain and hammered dulcimers, penny whistle and limberjack, Linda's rich singing voice illuminates our American heritage through patriotic anthems, broadsides, hymns and dance tunes.
Possessing a "majestic voice that makes stirring renditions of old English hymns, French carols, Welsh tunes and American compositions"(Utne Reader), Linda Russell leads us on a historic journey that is both entertaining and enlightening by punctuating her musical performances of actual songs from the period with anecdotes and facts from primary source material. The pioneers, patriots, and other figures of America's past come to life before our very eyes as Linda sings and shares stories of their joys and hardships.
Location:
Virtual Meeting Room (Zoom web-based platform). Link to the show will be sent on the day of the event.
Our tickets are selling out fast. Sign up today to guarantee your spot.
Tickets are free, and the quantity is limited!
For 24/7 Updates:
Check our website:
www.alembika.com
Follow us on Instagram:
www.instagram.com/alembika_usa