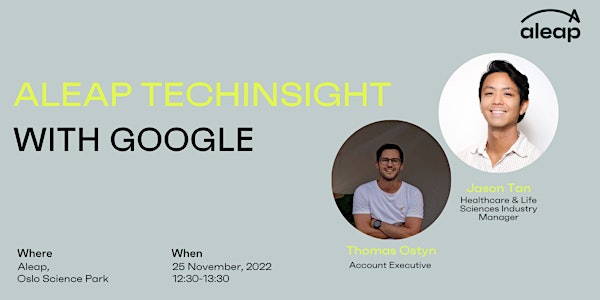 Aleap TechInsight with Google
Aleap TechInsight: Google Cloud presents how they innovate and what their focus is towards healthcare and life sciences.
When and where
Location
Aleap 21 Gaustadalléen 0349 Ullevål Norway
About this event
Aleap invites members from Aleap and other innovation communities in Oslo Science Park to learn how Google innovates, both within culture and healthcare. Representatives from Google Cloud will be present @ the Aleap office in our social area on November 25th, 12:30-13:30.
Google Cloud will cover the following topics
Google Cloud Norway: an intro
Innovation at Google: The Importance of Culture & Innovation for Success
Innovation in healthcare & life sciences
The Speakers
Thomas Ostyn: Thomas has a strong interest in all areas where people and (industrial and information) technology meet, especially in B2B. With a background in political science and economics, he is determined to help solve important societal challenges. People and society first, technology as an enabler, and biosphere preservation as a motivator. At Google Cloud, I work with today's and tomorrow's unicorns of Norway helping them accelerate their success.
Jason Tan: Jason Tan is the Healthcare & Life Sciences Industry Manager for Google Cloud. Coming from a background where healthcare was always top of mind, he now operates at the intersection of healthcare and cloud technology. Within this field, he is determined to help companies of the future move healthcare forward.
About Aleap TechInsight
Aleap TechInsight is a series we arrange where we invite several of the largest tech-companies to present for Aleap members + alumni and Corporate Partners. Apple, Microsoft and Amazon Web Services is some of the previous big tech-companies that we have arranged sessions with, and this is time we are ready for what Google Cloud has on their agenda.