Description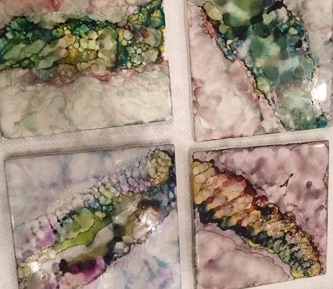 Alcohol ink is an easy and creative way to decorate ceramic tiles. Using rubbing alcohol and alcohol inks, you can create very unique, one-of-a-kind pieces of art. There are endless combinations of color, design and pattern in this art. The most common use for the tiles is coasters. However, the decorated tiles can also be placed in a picture frame or on mini wooden easels as a nice way to display your art.
In this workshop, students will learn how to prepare the tiles and apply the ink to achieve their desired color and pattern. Each student will take home four completed tiles.
Instructor: Alexis Gadola - Alexis is a math teacher in the Hazleton Area School District and loves all things crafty. In her spare time, she dabbles in many creative endeavors and is always open to try new craft projects. She has created many beautiful alcohol ink tile art works.