Description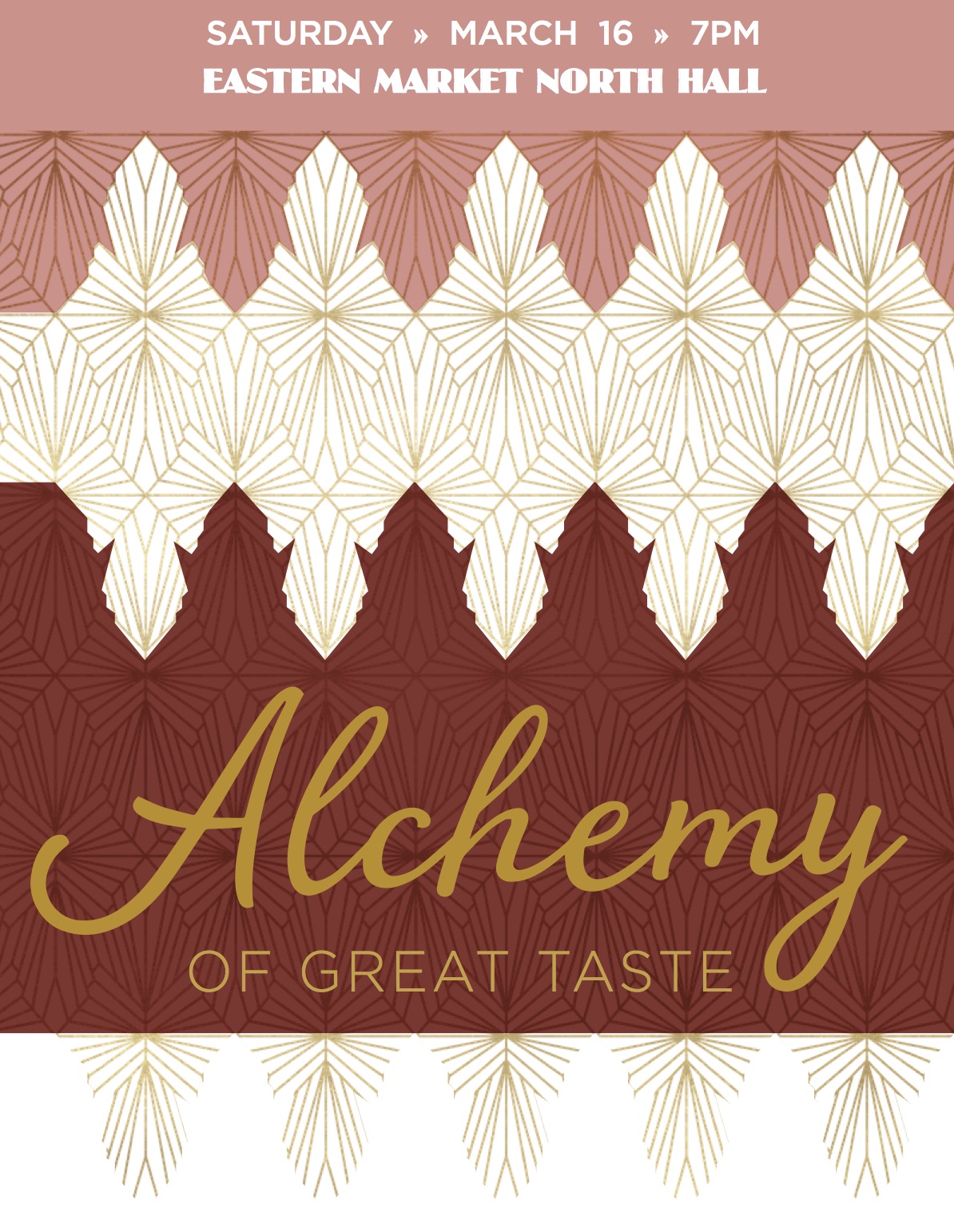 Don't miss this year's Alchemy of Great Taste in the North Hall of Historic Eastern Market!
A great way to start spring in DC.
Join us for a fun evening out with the Tyler Elementary community! Alchemy is the school's biggest fundraiser, bringing together food from local restaurants and drinks from local breweries and wine distributors, as well as music and dancing. Come see what the Tyler arts community has been working on, and have a chance to browse the Hill's greatest silent auction all while raising money for Tyler Elementary.
Buy a ticket now for $50. Tickets will be available for purchase the evening of Alchemy for $75.
NEW this year!
Alchemy will again feature the same great silent auction. But new this year, you will be able to preview the auction items via our new online tool, Bidding Owl. All of our preview auction items will be available for online purchase at special "Buy Now" prices from March 4th through March 15th at noon. Remaining auction items will be taken to Eastern Market North Hall for the event and a live silent auction on March 16th. This allows our Tyler community members that can't attend in person to still participate in the auction. Still want to bid on items the night of Alchemy? No problem! All auction items that have not been purchased in advance will on display that evening for bidding (not on-line). Please sign-up as a bidder through Bidding Owl to get a bidding number. Even if you don't plan to take advantage of the "Buy Now" option on our preview items, we will be using those numbers for the live silent auction the evening of the event to process our auction winners more efficiently. More info coming soon!
An important Capitol Hill tradition.
Every ticket provides funding for the Tyler Elementary PTA. The Tyler PTA enhances the educational opportunities of children by:
Supporting the FoodPrints DC program, which integrates hands-on gardening and cooking with science, math, and language arts standards. Children get excited about growing, preparing, and enjoying fresh, local, whole foods.
Funding Tyler's signature performing arts projects, including the Drama Club's annual musical and the Spanish Film Club.

Providing support to our teachers and staff to purchase extensive tools, services, and supplies to improve our students educational experience. This year our goal is to provide nearly $10K directly to our teachers and staff to ensure they have the supplies the need and to enhance their classrooms and programs.
Enhanced after school enrichment programming.
Additional community enrichment activities for our school throughout the school year.
Your ticket supports our public school.
With your help we would like to continue the programs above, expand them, and add more. The more money we can raise, the more we can do for Tyler kids! To sustain the success of Tyler we will continue to require the investment of families and community members. Your support allows us to keep our community public schools strong.
---
Special Thanks to Our Generous Alchemy of Great Taste Sponsors:
May Riegler Properties
Compass Real Estate
Akin Gump
Fowler Architects
Elevation Burger
Featuring Delicious Food and Drinks From:
Food and Beverage Sponsors
Neighborhood Restaurant Group (Bluejacket and Red Apron)
Valor Brewpub
Food Sponsors
b DC Penn Quarter
Buffalo Wild Wings
Pupatella Neapolitan Pizza
Tortilla Coast
Beverage Sponsors
ANXO Cidery
Chat's Liquors
New Columbia Distillery (Green Hat)
Premium Miller-Coors
Schneider's of Capitol Hill
TannicTongue
---
FAQs
Are there ID or minimum age requirements to enter the event?
Yes, it's 21 and over. We'll be serving drinks from local breweries, wineries, and distilleries.
Is the event formal?
Come however you wish, anything goes. In the past, people have dressed in a mix of casual, semi-formal, and fun party attire. This year's theme is "Gatsby", so you may also choose to dress like it's the 1920s again.
What type of food and drinks will be served?
We will have food from some of the Hill's best restaurants and drinks from local breweries, wineries, and distilleries. See above for a list of participating businesses.
Can I buy a ticket to support Tyler Elementary PTA even if I can't attend?
Yes! You can buy a ticket for someone else, or to donate to a school teacher or staff. But you may also make a donation to Tyler Elementary. All of the options are available under the "tickets" section (you'll see an option to make a donation without buying a ticket).