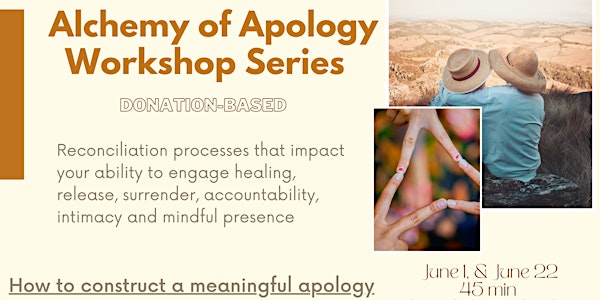 Multiple dates
Alchemy of Apology Series - Online
Reconciliation processes that impact your ability to engage healing, release, surrender, accountability, intimacy and mindful presence
Date and time
June 1 · 10am - June 22 · 10:45am PDT
Refund Policy
Contact the organizer to request a refund.
About this event
DO NOT DONATE VIA PAYPAL
Though an apology may seem to some like common sense, the reality is many peopel do not know how to give a meaningful impactful and validating apology. As a result some of us need to know how to do process work to construct the apologies we wished we received, some need to know how to reverse engineer an apology to support social capacity and emotional intelligence in the systems and spaces we reside, while others still are learning and hoping to finally take home the skill of giving meaninful apologies. 
Modifying Eve Ensler's Alchemy of Apology this live series will support you in walking through understanding and constructing the parts of an apology. This is relevant in healthy sustained relationships, JEDI Justice equity diversity inclusion and community care, as well as a means to mend and heal conflict in our lives, take accountability for our actions, and move forward within healthy systems having engaged practices that increase intimacy and mindful presence. 
DO NOT DONATE VIA PAYPAL
TO DONATE USE THIS LINK: https://revolut.me/sahardatm
About the organizer
Trauma & Somatic Informed Diversity Equity Inclusion
Trauma & Somatic Informed Energy Healing
EFT (emotional freedom technique) or trauma tapping, acu-point tapping
Trauma Release Exercises TRE
Qi gong (Tian gong, Falun Dafa, 5 elements, Spiral, Sheng Zhen, Wu Chan Zheng, and more) 
Jin shin jyutsu acu-point holds
Taoist exercises 
Yoga Asanas and Kundalini Kriya pranayam 
Pranic Healing 
Theta Healing
Heartmath
Foundation for Spiritual Development: visualizations for grounding, clearing, and protecting your energy body.
Diversity Equity Inclusion Social Justice
Training
Lectures
Game Theory
Practice Dialogue
Theater Skits
Comics
Case Studies
Mindfulness Practices
Systems Theory
Strategic Planning