ALCHEMY EVENT LIVE STREAM PAY PER VIEW JUNE 15-16, 2013

Saturday, June 15, 2013 at 9:00 AM

-

Sunday, June 16, 2013 at 5:00 PM (PDT)
Event Details
Streaming live event to celebrate the unity and freedom of our consciousness movement the new humanity.   ALCHEMY EVENT 2013 QUANTUM LEAP JUNE 15-16, 2013
9 AM TO 5 PM DAILY, RADISSON LOS ANGELES AIRPORT HOTEL  
CO-CREATING A NEW HUMANITY WITH NEW IDEAS, SCIENCES, SACRED ANCIENT KNOWLEDGE & INFORMATION   Time Travel, Secret Space Programs, Project Pegasus, Mars Base, Consciousness, Alchemy, Sacred Geometry, Health, Healing, Cancer Prevention, DNA Activation, Wellness, Free Energy, ET Disclosure, Ufology, ET Contact Studies, Cosmology, CERN LHC, HAARP, GMO, Human Rights, Civil Rights, Islamic Ufology, Ascension, Spiritual Freedom, Enlightenment, Forming a new America, Peace, Liberty, Meditation, Leadership & Forming a New Future for a New Humanity.
ALCHEMY EVENT 2013 QUANTUM LEAP   JUNE 15-16, 2013 RADISSON LAX HOTEL, 9 AM TO 11 PM DAILY   MASTER OF CEREMONIES: EBEN REY (KPFK 90.7 FM) Producer/ Host of Project Next.   JUNE 15-16, 2013
Speakers:   Andrew D. Basiago, Bernard Mendez, Dr. Roger Leir, Dr. Rauni Kilde, Sean David Morton, Jordan Maxwell, Charles L. Gilchrist, Dr. Susan Shumsky, Princess Kaoru Nakamaru of Japan, Saeed David Farman, Arnoux Goran, Dr. Basia Durnas, Edwin Harkness Spina, Dr. Marek Roland, Dr. Turi, Dr. Robert Newton, Dr. Nisim John, Dr. Rita Louise, Karen Ann Macdonald, Vajra Acharya Douglas Sutton, Bob Oliver, E-RA SunChild, Julian Michael, Reuben Langdon, Lori Spagna, Andrea Adler, Miche'le (MAX) Wasa, Abby Namazi, John Martin, Shima Moore & Mark Appleman.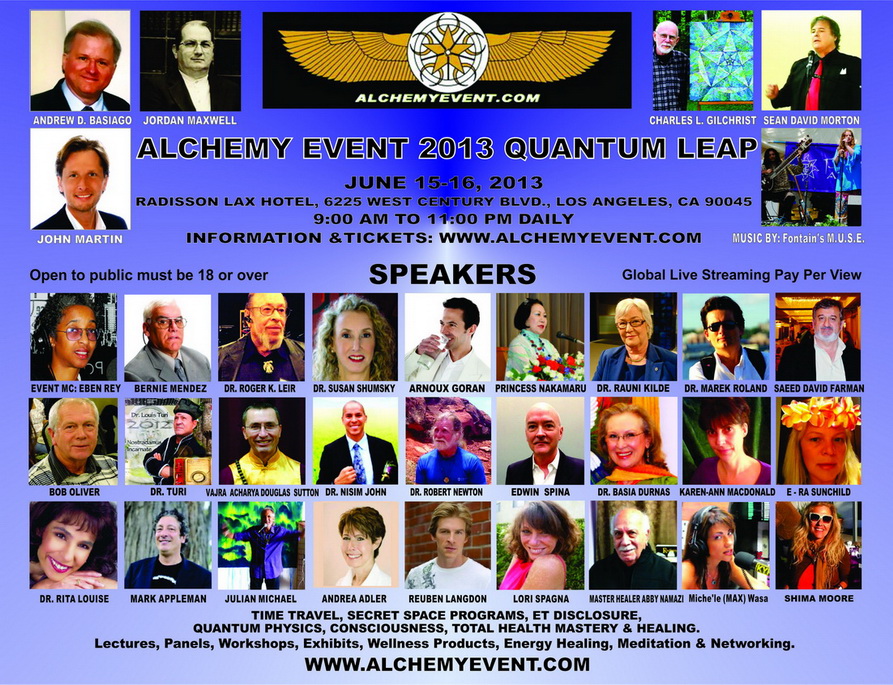 When
Saturday, June 15, 2013 at 9:00 AM

-

Sunday, June 16, 2013 at 5:00 PM (PDT)
Add to my calendar