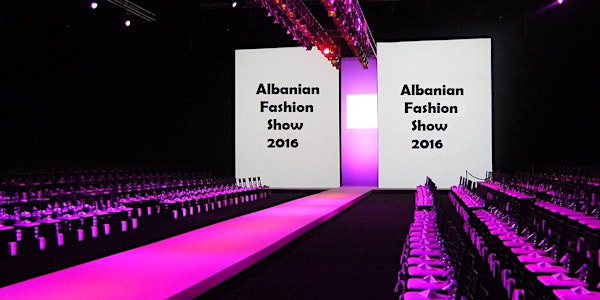 ALBANIAN FASHION SHOW 2016
When and where
Location
Stage 48 605 West 48th Street New York, NY 10036
Refund Policy
Contact the organizer to request a refund.
Description
The Albanian Fashion Show is being held on Sunday March 27, 2016 in Manhattan. This event is open to public (Tickets: $30.00 general, $50 VIP).

Red Carpet for the VIP, media and A-List Celebrities commences at 4.00PM; the Fashion show follows at 5:00PM.

The Albanian Fashion Show is part of the Albanian Fashion Week 2016 NY, private events which are held as well as at various other venues throughout the city.

The Albanian Fashion Show in New York promises to be a memorable show and one of Fashion's Top Runways for the Albanian celebrities and world famous designers such as Blerina Kllokoqi- Rugova, Valdrin Sahiti, Vjollca Llapashtica, Lexi Spaqi, Flora Krasniqi etc. We will also have special guest appearance from Albanian well-known Stylists Sellma Kasumoviq & Kaci Leshi. The presence of designers, stars and the hottest clothes guarantee global headlines for the Albanian Fashion Show in New York.

The week long event (March 25-30, 2016) features clothing designs, jewelry creations, shoes and bags collections, scarfs and hats accessories as well as traditional Albanian clothes as well as other surprises, performance and VIP appearances.

March 27th event (Albanian Fashion Show) is open to public, other Albanian Fashion Week events (March 25, 26, 28,29 and 30) are private by invitation only.