Description
Day 1: Vancouver, British Columbia
Day 2: Inside Passage (Cruising)
Day 3: Ketchikan, Alaska
Day 4: Icy Strait Point, Alaska
Day 5: Juneau, Alaska
Day 6: Skagway, Alaska
Day 7: Hubbard Glacier (Cruising)
Day 8: Seward, Alaska
Oceanview stateroom $2,741.14 Special Rate! ONLY 8 staterooms left!
Includes $50 onboard credit!
Early Booking Promo ++++ $50 additional onboard credit when booked by Jan. 10 = $100 OBC!!!
Book today with a deposit of $500 per stateroom.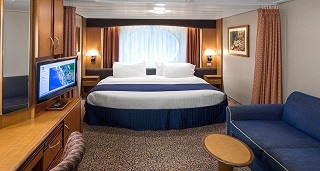 (price includes *TWO* (2) guests, taxes, fees, and port expenses!) Triple and Quad staterooms available. Balcony and suite upgrades with limited availability—call for pricing.
+PLUS choose from MANY Custom Wildlife Excursions: glimpse humpback whales, Dall's porpoises, Harbor seals, and bald eagles by kayak; bike or hike through an old growth rainforest to an active salmon spawning stream; explore the Alaska Rainforest Sanctuary; zipline through scenic Bear Creek...and many, many more!
++PLUS a wide array of 3- to 6-night Pre/Post Cruise Tours available.
Call or email Lynn Riley for more information: 410-725-1001; lriley1137@comcast.net
---
FAQs
Is airfare included?
No. Air is additional. Book your own airfare through your preferred airline or Life of Riley Travel can book for you through Royal Caribbean's Air2Sea package. LRT recommends arriving at least one day prior to embarkation to account for flight delays, missed connections, etc. If you are flying home the day of debarkation in Seward, the closest airport is Anchorage. Book a return flight no earlier than 1:00pm.
What's included in the cruise ticket price?
The price of your cruise vacation includes:

• Ship accommodations
• Ocean transportation
• Meals from many onboard venues, such as the Main Dining Room and Windjammer Café
• Some beverages onboard (tap water, lemonade, iced tea, coffee, juice, milk, hot chocolate)
• Most entertainment onboard

What travel documentation is required?
All travelers, including children, require a valid passport. For your protection, your passport should have at least 6 months validity from the end of your cruise expiration. For additional United States passport information, visit the United States Department of State travel information website or VisaCentral.
Can you help with pre-cruise night hotel and transportation?
Yes! We can book your hotel stay and transfer to/from hotel and cruise port.
When is final payment due? Do you offer a payment plan?
Final payment is due April 10, 2020. After deposit is paid, contact the travel agent to process additional payments in any amount at any time or frequency before your final payment due date.
What payment forms are accepted?
Life of Riley Travel only accepts major credit/debit cards. Payment will be made on your behalf directly to Royal Caribbean.
How do I book my cruise vacation?
Call Lynn Riley, Life of Riley Travel, at 410-725-1001 or email lriley1137@comcast.net.
What's the refund and cancellation policies?
Cancellation Schedule:
Days Prior to Sailing / Penalty / Date
89 to 75 / 25% per Guest / 12 APR 2020
74 to 61 / 50% per Guest / 27 APR 2020
60 to 31 / 75% per Guest / 11 MAY 2020
30 to 0 / 100% per Guest / 10 JUN 2020
Do you offer travel insurance?
Yes. It is optional but highly recommended. Call for pricing.