AlanAction.Com Presents the CFM and B Event Wednesday 6/16/2021 7 P.M.
World Famous Comedians "Q" Quentin Heggs and JJ Ramirez headline the, CFM and B Event Produced and Promoted by Alan Action.com.
About this event
World Renowned Comedy Producer Alan Action brings two of his world class comedy performers, "Q" Quentin Heggs and JJ Ramirez, that have headlined at New York City's most prestigious Stand Up Comedy Clubs in NYC to Connecticut for a night of Fantastic Comedy , Fashion, Music and Business Networking and Aura at Plantsville Connecticut's own ART OF YUM that is known for its superior food, decor and intimate ambiance. The Comedy show will be two hours long and will be an interactive night that will be a special treat and celebrating the END od our Pandemic Situation and very relevant and needed. Comedy Combats Covid will be a limited seating of only 90 guests and the showtime will be at 8:30 P.M. The night will begin with featured Vocalists, Photo Opportunities, Business Networking and Viewing of Sponsor Booths, an amazing Fashion show with tow outstanding NYC designers and the comedy show will immediately follow. All guests will be required to enter with a mask covering or protective mask. and observe all CDC protocol for the event. The charge for this NYC type stand up show will be $25.00 per person with a two item minimum required for all guests. The fine food prepared by proprietors of the Art Of Yum and drink specials are known throughout the area, and the amazing food, ambiance and comedy will make this one special night to remember. that will make enjoyment and business happen for you!
A portion of all revenue generated from this fantastic event will be donated to area hospitals and front line responders that protect us and serve us during the Covid 19 Pandemic. Masks and Hand Sanitizer will be provided to all attendees at no charge and as a token of your ticket purchase and COURESY OF OUR SPONSOR WISH HAND SANITIZER!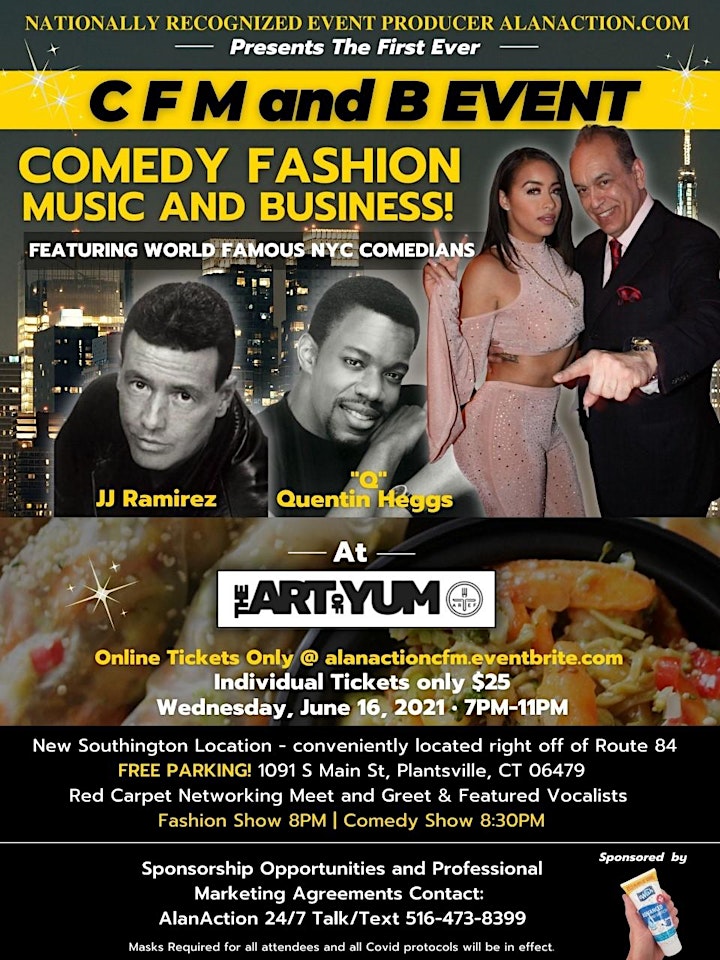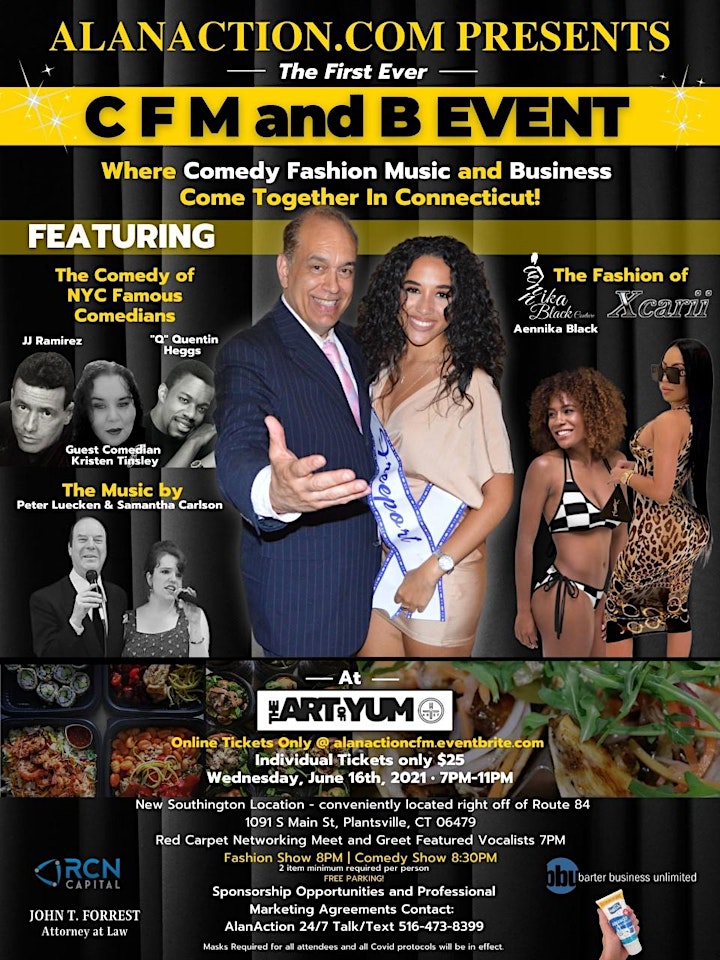 Organizer of AlanAction.Com Presents the CFM and B Event Wednesday 6/16/2021 7 P.M.