AlanAction.com Presents a Complimentary Night at Sapphire, New Yorks Most...
Description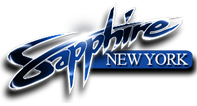 AlanAction.com the purveyor of the finest restaurants and nighclubs and venues in Manhattan is proud to reccomend to his most distiunguished clientele, the Sapphire New York Preferred VIP card, which entitles the holder to Complimentary Admisison any night of the week except Sunday night at Sapphire 60th Street and one free complimentary drink at both locations, 333 East 60Th Street and on 20 West 39th Street between 5th and 6th Avenues. These cards for simply FOR FREE. with NO CATCH AND NO GIMMICK AND NO COST! Once you book the Eventbrite Ticket, we will send you a confirmation email and we will request your physical address to send you your cards. Sapphire is New York's only East side Gentlemans Club, with a high end steak house that is open very late and is attached to it, and has the finest dancers, that know how to accomiodate the most discerning of clients.
Take a look at the Video of Accomodations
According to Sapphre's own website:
Sapphire NY will pamper New Yorkers with provocative dancers, full bottle service and an extensive list of wine and champagne, plus our complimentary concierge services with VIP amenities! Guests of Sapphire NY will be treated to a wide array of lovely ladies as the gentlemen's club has over 8,000 entertainers. Sapphire New York is- The Premier NYC Gentlemen's Club in the tri-state area!
In addition to the upscale gentlemen's club, Sapphire New York is home to Prime 333, an exclusive New York Steakhouse with amazing cuisine and exceptional world class steaks! Sapphire New York also features deluxe amenities including designer VIP suites with private butlers, to satisfy your every indulgence. Visit Sapphire New York today and experience the best Gentlemen's Club in NYC!
CALL ALAN ACTION PERSONALLY TO ARRANGE ANY VIP EVENT OR GROUP OUTING AT SAPPHIRE AT 1-888-611-8267 EXTENSION 5 or Text 631-671-9067 24/7.