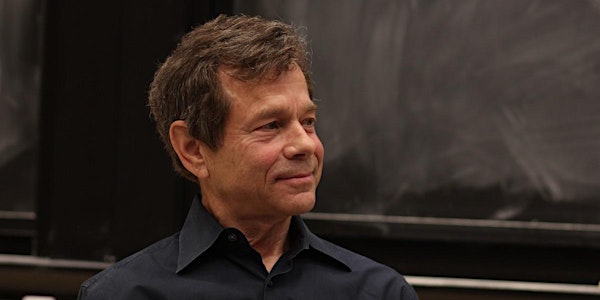 Alan Lightman: The Physicist as Novelist
When and where
Location
Thomas Jefferson University 1001 Locust Street Hamilton Building, Connelly Auditorium Philadelphia, PA
Description
The Jefferson Humanities Forum is pleased to present Alan Lightman.
Alan Lightman, who worked for many years as a theoretical physicist, is the author of six novels, including the international best seller Einstein's Dreams, as well as The Diagnosis, a finalist for the National Book Award. In 2018, he published two new books: Searching for Stars on an Island in Maine, about science, religion, and their different ways of knowing the world, and In Praise of Wasting Time. He is also the founder of the Harpswell Foundation, an organization devoted to the advancement of women in Southeast Asia.
After serving on the faculty of Harvard for a dozen years, Lightman moved to MIT, where he became the first person to receive a dual faculty appointment in the sciences and the humanities. His short story, "The Second Law of Thermodynamics," was the first fiction published by the physics journal Physics Today, and his essay "In the Name of Love" was the first essay on that subject in the prestigious international science journal Nature. Elsewhere, his essays on science and the human condition have been published in The Atlantic, Harper's, The New Yorker, Tin House, The New York Times, and many other places. Check out his articles in Harper's Magazine and Nautilus.
In astrophysics, Lightman has made fundamental contributions to our understanding of black holes, radiation processes at the centers of galaxies, and the foundations of Einstein's theory of gravity. He is a past chair of the high-energy division of the American Astronomical Society and an elected fellow of the American Physical Society as well as the American Academy of Arts and Sciences. At MIT, he has been the John Burchard Professor of Humanities and Senior Lecturer in Physics and is currently Professor of the Practice of the Humanities.
---
Each academic year, the Jefferson Humanities Forum explores a thought-provoking theme from a wide range of perspectives, inviting reflection and action around how we improve lives. During 2018-2019, the Jefferson Humanities Forum investigates the theme Fusion.
This event and all Jefferson Humanities Forum events are open to the public. Lunch or other refreshments provided; first-come, first-served.