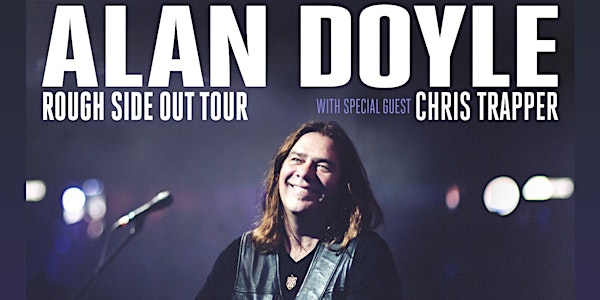 ALAN DOYLE with Chris Trapper
Event Information
Location
Neighborhood Theatre
511 East 36th Street
Charlotte, NC 28205
About this event
Covid Policy: We ask all Neighborhood Theatre patrons to follow the current CDC guidelines when attending an event at our venue. *If you are sick or test positive for Covid-19, isolate and do not attend any public events. *If you were exposed to Covid-19 and are not up-to-date on Covid-19 vaccinations, stay home and quarantine for at least 5 full days after exposure.
Thank you in advance for helping keep Neighborhood Theatre as safe as possible during these difficult times.
Tickets: $30 - $35 (plus sales tax and service fee) *Tickets available online only*
18+ Valid ID required for entry into venue / Under 18 permitted with parent - Accepted forms of ID: State Issued ID or Driver's License, Military ID, Passport.
ALAN DOYLE
There are few artists capable of appealing to music fans of all stripes, and Alan Doyle is one of them. From the moment he burst onto the scene in the early 1990s with his band Great Big Sea, Canadians fell in love with the pride of Petty Harbour, Newfoundland, whose boundless charisma and sense of humour was eclipsed only by his magnetic stage presence.
His influence is now being heard in a new generation of artists as his solo work continues to endear him to roots music fans everywhere. That's clearly evident on Alan's new EP Rough Side Out, which finds him collaborating with Canadian country music superstars Dean Brody and Jess Moskaluke, while at the same time offering his own distinctive interpretation of contemporary country.
Now as we enter a new decade of music, the notion of genres feels even more antiquated. Connecting with as many listeners as possible continues to be Alan's top priority, and he cheekily admits he tried to stack the deck in his favour with the EP's final track "I Gotta Go." It's a tailor-made concert staple if there ever was, containing the soon-to-be immortal line, "20 songs if they love me, only 18 if they don't." At this point, it would be hard to find any Alan Doyle fan who would choose to leave a show until he's expended every ounce of energy on stage.
Ultimately, Rough Side Out is an Alan Doyle record, which remains a category all its own.
Date and time
Location
Neighborhood Theatre
511 East 36th Street
Charlotte, NC 28205
Refund policy